On Friday, June 7th,  Clay Aiken will be a featured star in the musical – Grease.
Clay will play the role of Teen Angel in the Pittsburgh CLO Theater company
at the Benedum Center in Pittsburgh.
The Pittsburgh CLO has posted a lot about Clay's role in this production of Grease and now the press is picking up the news.
On Wednesday, June 5th, The Pittsburgh Post-Gazette posted a great interview with Clay.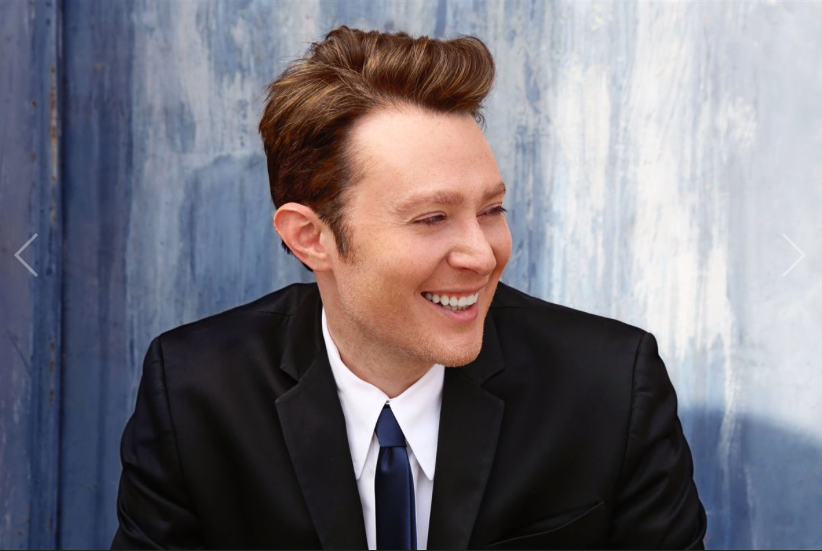 Clay Aiken breaks free of Simon Cowell's dire Broadway warnings
by SHARON EBERSON
"American Idol" judge Simon Cowell hurled the word "Broadway" as a weapon at contestants who harbored pop-star dreams. Clay Aiken, who finished second in season 2, was one of them.

He recalls, "Simon used it to criticize us: 'You'd be better in musical theater than here.' 'You should be on Broadway but you shouldn't be a pop singer.'"

That was 2003, and Aiken has never forgotten those words. But he broke free when he replaced David Hyde Pierce in "Monty Python's Spamalot" in 2009. Speaking within days of Friday's opening as Teen Angel in Pittsburgh CLO's "Grease," Aiken was relating how, 16 years after "Idol," he has performed in professional musical theater productions sporadically — in his hometown of Raleigh, for North Carolina Theatre, and in "Spamalot."

"And I did another one in Ogunquit, because it was a month on the beach during summer in Maine," he says. As for Pittsburgh, "There are only a few other companies in the country that are as good as CLO at what it does. That was the main motivation for coming here."

He has played Pittsburgh many times as a solo artist, but this is his first time in the Benedum Center and "it's just beautiful," he says. As "Grease's" Teen Angel (Frankie Avalon in the film; Billy Porter, among others, onstage), he has one song — "Beauty School Dropout" — and plenty of time to watch the youthful, energetic CLO ensemble. At 40, he is busy with concerts, recordings or as father to Parker, 11, but he says these CLO kids make him feel old…

…When you did "Spamalot," how did that change the way you look at musical theater?

I didn't have any plans to do Broadway when I did "Spamalot," and part of that was having Simon Cowell tell me not to do that for however long. But I didn't expect to absolutely love it. And part of the reason is that you are part of a community and a family when you are on stage, and prior to having done that, everything I had done had been just me. I toured with Kelly Clarkson in 2004 and that was the closest I had to a cast member. While that can be fun, it's also a lot of pressure, and it can be lonely. … I'm just going to say it. It's kind of nice sometimes to not be the star. I think I fell in love with that more than the musical theater part of it.

And that brings us to your Broadway Christmas show with "AI" winner Ruben Studdard: "Ruben & Clay's First Annual Christmas Carol Family Fun Pageant Spectacular Reunion Show." You had a New York City run in December with sold-out shows and great reviews. Any chance of reviving that?

We can't do it this Christmas, but it's something we would love to do again … we just like working together. We went back to the "Idol" Fox finale, and we were the only two people who have kept in touch with each other from their season. Bo Bice hadn't spoke with Carrie Underwood in years. Fantasia and Diana DeGarmo didn't talk, and he and I, we had just talked the previous week. We always thought that was so strange. We just like being together.

What's your experience of Pittsburgh and CLO previous to this?

I knew about CLO because it's one of the best summer stock companies, and it's got a national reputation. I just hosted the Triangle [Rising Star high school musical awards for Central and Eastern North Carolina] a few weeks ago, and that's a part of the national Jimmy Awards, and that was started in large part because of CLO. So I knew that, too. And I have been to Pittsburgh multiple times on tour, starting in 2003 … and it is just amazing what you've done. I'm thinking, "I could live here." … I'm looking out right now onto your Theater Square and it really is spectacular. I hope people in this city realize what they have….
If you want to read the entire article you can find it HERE
~~~~~
The program for this production of Grease has a great  Who's Who of Clay:
CLAY AIKEN (Teen Angel) most recently starred on Broadway, alongside Ruben Studdard, inRuben & Clay's First Annual Christmas Carol Family Fun Pageant Spectacular Reunion Show at the Imperial Theater. The New York Times called the production 'A Christmas Miracle'. This came ten years after Clay's critically lauded Broadway debut in Monty Python's Spamalot. On the heels of Idol, he became the first artist in history to have his first single debut at #1 on Billboard's Hot 100 chart. His subsequent album, Measure Of A Man, also debuted at #1 with the highest first week sales by a debut artist. His 2004 holiday release, Merry Christmas With Love, set a record for the fastest selling holiday album of the SoundScan era and remains tied for the highest charting debut of a holiday album in Billboard history. He served 9 years as a UNICEF Ambassador and in 2003, he co-founded, with Diane Bubel, what is now the National Inclusion Project to advocate and increase opportunities for children with disabilities to be included in extracurricular activities (such as summer camps and after-school programs) with their non-disabled peers. Additional TV appearances include: 30 Rock, The Office, Scrubs, Days Of Our Lives, and Law & Order: SVU. Additional 2nd place finishes include: The Celebrity Apprentice in 2012 and the NC 2nd District US House race in 2014. Beyond all of his successes (and near successes) his proudest accomplishment remains his son, Parker.
With the show opening in just 2 days, I look forward to hearing more about the show and seeing some pictures of Clay in his Teen Angel Costume.
As you know, CANN will post news and pictures as soon as they are available.
Clay Aiken News Network is an unofficial fansite. We are not affiliated in any way with Clay Aiken or his management. This website was made by fans for fans and makes no impression or impersonation of the official site, which can be found under the domain
clayaiken.com.