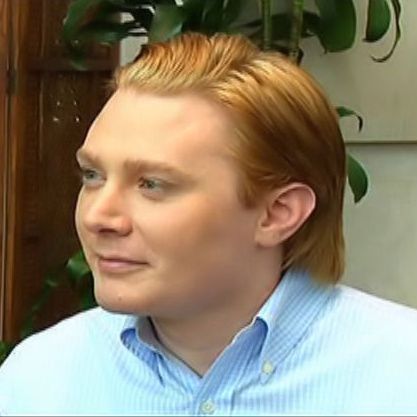 Clay Aiken seems to garner a lot of Buzz!
The Timeless Tour by Clay Aiken and Ruben Studdard is filling the pages on the internet.  With a small mention on American Idol Wednesday night and the announcement of the tour itinerary on Thursday morning, Clay and Ruben are getting some great PR.
The following are just a few of the many mentions that are on the internet.  If you have the time, it is important to comment at these articles.  If an author gets lots of hits and comments, they will know that they are attracting readers.  If they have readers, they will post more about Clay Aiken to get hits.   Yes, a vicious circle, but articles are important PR for any star.
Here is just a small list of what has been posted in the last 24 hours!!
Idol Chatter
"Hey, there's some big news. A tour named "Timeless," featuring Ruben Studdard and Clay Aiken, from July to September.
I'd heard rumors about such a tour, but nothing confirmed. Sounds like Ruben just confirmed that it will be happening. Should be a huge boost for both of those former contestants. I've got to think it'd be a huge draw for two great vocalists.
Fans seemed to love Clay's recent concert in North Carolina, featuring songs from his upcoming album."
CNN: The Marquee Blog….
"I forgot that Ruben Studdard was performing tonight. He sings his new single, "Don't Make Them Like You," and he looks good. He's still the Velvet Teddy Bear, but now there is less stuffing.
He's going on tour with Clay Aiken, and I can't wait to see them on stage together again."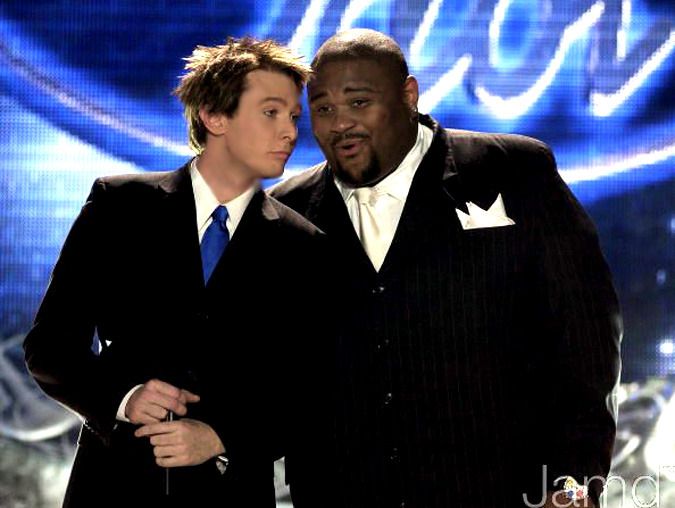 The Wall Street Journal
First off, season two champion Ruben Studdard paid a visit to the set. How long does Idol hold on to these former contestants! Tough to say whether the slimmer Velvet Teddybear was going for R&B, pop or gospel this time. Like a lot of returning heavyweights, he was polished. Wow, Ruben is going on tour with Clay Aiken. Those two deserve a buddy comedy.
BillBoard.com
Clay Aiken  and Ruben Studdard, the two contestants who battled for the "American Idol" title in 2003, announced today plans for a co-headlining summer tour. Studdard, who was voted the winner, and Aiken, the close runner up, will play dates on the East Coast and the midwest, kicking off the trek on Jul. 23 on Asheville, NC and winding up Aug. 14 in Biloxi, MS.
The two former adversaries, who have shared a seven year friendship throughout their post-Idol careers, are touring together for the first time ever. The two singers plan to perform separately and together, and promise surprise guests at different tour stops.
USA Today
American Idol alums Clay Aiken and Ruben Studdard will reunite this summer when they travel North America on tour together. The Season 2 winner (Studdard) and runner-up (Aiken) will kick off the Timeless tour in Asheville, N.C. on July 23 and make 16 more stops from New York City to Biloxi, Miss.
Together, they will put their spins on classic songs from the past 50 years.
They have a poll on the site and as I write this, 78% of the responses think the two stars will put on a great show.
The Advocate
Clay Aiken and Ruben Studdard have announced they will hit the road  together this July for a multicity tour performing "renditions of classic hits from the past five decades."
The two became close when they competed against each other on the second season of American Idol. Studdard ended up winning the competition, but Aiken went on to sell more albums.
Aiken made headlines when he delivered a moving speech at a Human Rights Campaign fund-raiser in North Carolina in February. The singer came out as gay in People magazine last year.
E-Online
American Idol fans, get ready to party like its 2003!
Season-two finalists Clay Aiken and Ruben Studdard  — does it even matter anymore which one was crowned the winner?   — are heading out on a 17-city North American tour. And they're calling it "Timeless" because, well, it totally is.
LaLate:
TICKETS! A Clay Aiken 2010 Tour has been announced. Clay Aiken's 2010 Tour with Ruben Studdard was unveiled tonight.
What are Clay's tour dates? What are Clay's concert locations? For Clay Aiken fans on the west coast, the news has yet to air. But moments ago, on Wednesday's broadcast of American Idol, the exciting news was given to east coast viewers.
Yes, Clay and Ruben are touring together. Amazing!
The Fifth Judge by   Kirsten Coachman
Okay, seriously what is going on with this season of American Idol? There is something wrong when the highlight of the results show for me is the announcement that season two's winner and runner-up, Ruben Studdard and Clay Aiken are going on tour together this summer.
And who else wants to attend the Cluben tour?
Tampa Bay Times:  Soundcheck by Jay Cridlin
What the what? Since when do mortal enemies decide to team up with one another?
Yes, American Idol Season 2 winner and runner-up Ruben Studdard and Clay Aiken  are teaming up for a joint 17-city tour this summer, and it'll hit Clearwater's Ruth Eckerd Hall on July 26.
"I couldn't ask for a better tour mate. To be able to share the stage with him again is so exciting," Aiken said in a statement. "He is such a talented artist. He inspires me daily and I think that respect and admiration will truly be reflected in our show."
No ticket info has been announced just yet. But this show will definitely sell out immediately, because Clay Aiken fans are insane dedicated, and will do anything to see their dude in the flesh.
And yeah, we know Clay and Ruben probably aren't "mortal enemies." But it's fun to pretend.
Well, it is impressive to read all this and what is listed here is only a small slice of what is out there.  In fact, Clay and Ruben's tour news is at the top of the "Wots Hot Right Now" list.  This site lists "What's Hot in Celebrity, Entertainment, Movies, TV and Music News."
April 1st, 2010 was not a "Fools" Day for Clay Aiken fans.  It ended up being a day with much news and excitement.  Bring it on.  This is going to be an amazing summer.
Late breaking News!!  The following picture is now posted at Amazon as the album cover for Tried and True!!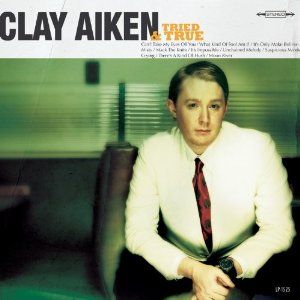 Clay Aiken News Network is an unofficial fansite. We are not affiliated in any way with Clay Aiken or his management. This website was made by fans for fans and makes no impression or impersonation of the official site, which can be found under the domain
clayaiken.com.