Brian Mansfield writes an article called IDOL CHATTER on USA Today.  Today, he wrote a track-by track review of Tried & True.  Brian has never been a big fan of Clay or his music,  but this review is pretty good.  Make sure you visit the site and, as always, leave a positive comment.  Brian needs to know that Clay has lots of support.
Go to any estate sale with a stack of vinyl, and, invariably, you'll find a selection of singers whose music seems left behind by time and popular opinion, acts like Perry Como, Jack Jones, Andy Williams. These were the pop singers whose careers were the last bastions of adult resistance against the onslaught of rock 'n' roll. During their day, they recorded prolifically and sold well, but — with the exception of Johnny Mathis, whose ethereal, vibrato-laden voice seemed to drift in from another, dreamier universe — any lasting impact on contemporary artists has proven to be the exception rather than the rule.

These are the acts to whom Clay Aiken pays tribute on Tried and True, his debut for Decca Records. Unlike Tony Bennett and Frank Sinatra, they weren't jazz singers at heart, though you could hear the vestiges of big-band music in their lavish arrangements. Every once in a while, they'd even cut a Beatles song or sneak onto Top 40 radio, though no one ever mistook them for cutting-edge pop music. They were old-fashioned even 40 years ago, but they always had exceptional voices and impeccable, if conservative, taste in songs.


Can't Take My Eyes Off You. This song, originally a hit for Frankie Valli & the Four Seasons, then the easy-listening Lettermen trio, has two sections so radically different they sound like they originated in different songs: First, a quiet verse extolling a lover's virtues, followed by a grand declaration — "I love you BAY-bee!" Everybody makes that chorus swing, but Clay's arrangement leans on the backbeat harder than most — think the theme from Bewitched — until you can practically see the Rockettes legs kicking in union.

What Kind of Fool Am I? Clay's one foray into Rat Pack territory comes via this ballad, a 1962 hit for Sammy Davis Jr. Given the headlines he has made during the past year, it's easy to its lyrics — "Why can't I cast away this mask of clay and live my life?" — resonate with him. David Sanborn is featured on saxophone.

It's Only Make Believe. Conway Twitty sang this as a baritone's rockabilly ballad on his 1958 chart-topper. Even if Clay grew up listening to Twitty's version, that's absolutely not his style. Instead, he completely transforms the tune, with a walking bass line; some subtle reharmonization; and an easy, swinging groove. The handclaps during the instrumental breaks are just silly, though.
Misty. Clay totally cops his opening phrasing from the Johnny Mathis version. The arrangement is sumptious, with piano, strings, vibes and a muted trumpet solo.

Mack the Knife. Clay fans should enjoy this one, since it's likely to bring back fond memories of his "judge's choice" performance of the song on during Top Three Week on American Idol. But, really, what's left to be done with this song? It's been sung for dramatic effect, for shock value, for irony, for laughs. Clay's take sounds like the easy-listening version of Bobby Darin's arrangement.

It's Impossible. By the late '70s, this song, made famous by Perry Como, had become a punchline, thanks to a Steve Martin routine that parodied it — "It's impossible … to put a Cadillac up your nose." Most singers have considered the song off-limits since then, but Clay's sincere attempt revitalizes it somewhat, its arrangement highlighted by subdued strings, acoustic guitar and trumpet.

Unchained Melody. Another favorite from Clay's Idol run (sung the same night he did Mack the Knife), and, if you liked it then, you'll love it now, with its multiple modulations and a fully realized vocal performance from Clay that expresses yearning both tenderly and powerfully.

Suspicious Minds. Clay largely succeeded in removing the country and rock elements from Conway Twitty's It's Only Make Believe. He's less successful attempting the same thing with the Elvis Presley hit Suspicious Minds, a song that drew its power not from its over-the-top arrangement but from a desperation in Presley's performance that bordered on paranoia. In Clay's version, the horns and strings and cooing background singers don't accent Clay's interpretation, they cover for it.

Crying. Roy Orbison once said that "when [Crying] came out I don't think anyone had accepted the fact that a man should cry when he wants to cry." And the sort of hyper-emotional pop in which Aiken specializes would have been almost unimaginable without Orbison as a predecessor. Some singers lose any pretense of restraint when singing this song, but Clay, performing it as a duet with Linda Eder, keeps his voice in check, making this a perfect number when it's time to revel in a little self-pity.

There's a Kind of Hush. Like The Carpenters, who revived this song in 1976, Clay doesn't improve on Herman's Hermits 1967 hit, but he does give it a fresh-sounding big-band arrangement that anybody who feels this song needs a new version should enjoy.
Moon River. Clay's version of Henry Mancini's Breakfast at Tiffany's classic begins with the motif from Beethoven's Moonlight Sonata, and Clay sings the first verse accompanied solely by piano. When you see Vince Gill's name on the bill for this one, you expect to hear his high harmonies (which would have blended beautifully with Clay's slightly darker tenor); instead, he contributes a lovely acoustic guitar solo.

Favorites: Unchained Melody, Moon River, It's Impossible
Front Stage is a online site that has written a nice review about Tried and True. Be sure and visit the site and leave a comment.
New music releases for the week of June 1st. There are not as many releases as usual, but have some potential good releases.

Clay Aiken(American Idol 2nd place contestant) will release his new album of standards, which is expected to be quite interesting. With songs such as "Can't Take My Eye's Off You", "Suspicious Minds", and "Crying"

Other songs from "Tried & True" include Unchained Melody, It's Only Make Believe, What Kind of Fool Am I, Misty, It's Impossible, There's a Kind of Hush, and Moon River (Duet with Vince Gill

Clay Aiken, was the surprise talent of American Idol season 2, coming in second place. Aiken had proven to be the most successful signed recording artist of season 2 American Idol.
Don't forget to turn on the TV tomorrow to see Clay Aiken!!
Tune into ABC and watch Good Morning America.  I wonder who will interview Clay?
In the evening,  join Joy Behar as she chats with Clay.  Joy's show is on HLN and in my area, she is on at 9:00pm.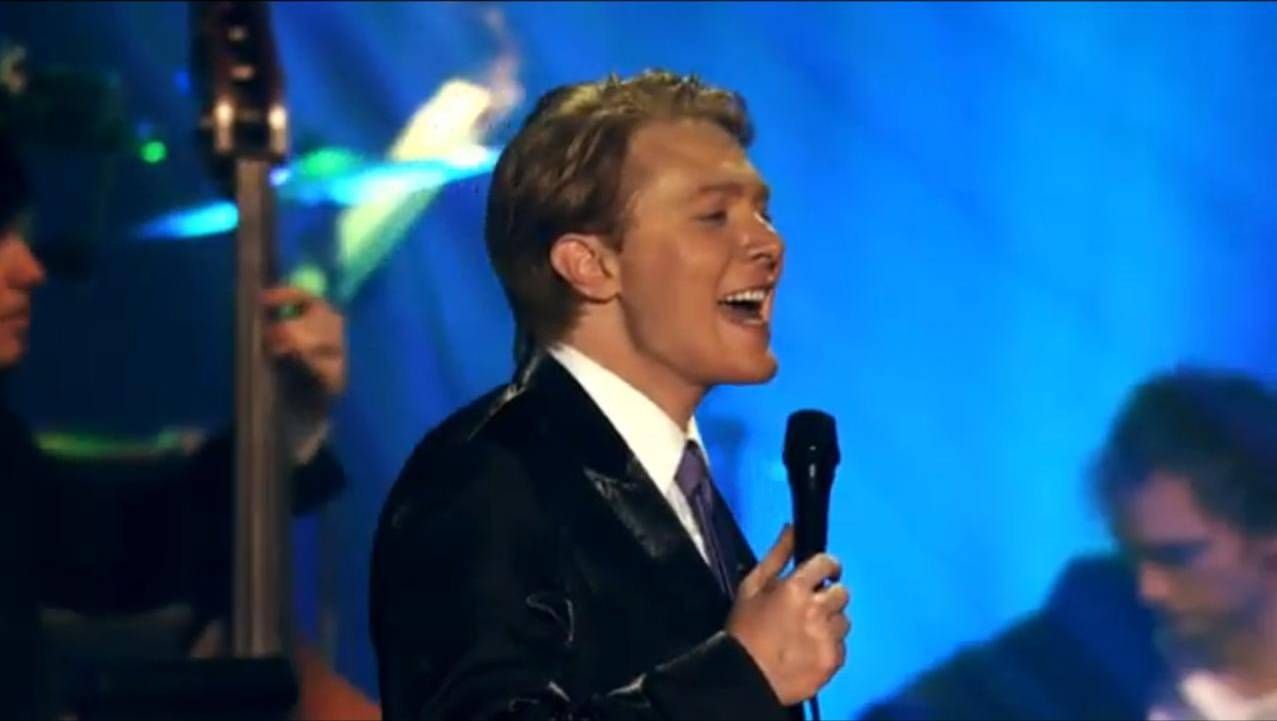 Clay Aiken News Network is an unofficial fansite. We are not affiliated in any way with Clay Aiken or his management. This website was made by fans for fans and makes no impression or impersonation of the official site, which can be found under the domain
clayaiken.com.