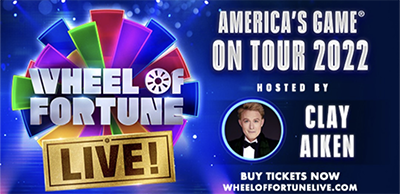 It is interesting to find many posts about Wheel of Fortune – Live! And, of course, that means information about Clay Aiken.
Clay is the host of the show and it seems he is having a fun time. He has said more than once that it is fun to see people getting prizes for the correct questions!
One interesting program was posted as:
"Reviews, news, & News from Jackson
Jackson wrote: "The Price Is Right LIVE" has been a national, touring success for two decades. It's "Wheel"'s turn (at the wheel) to enjoy the cross-country fun. "Wheel of Fortune LIVE" recently came to my neck of the woods in Albany NY, featuring host Clay Aiken and co-host Kalpana Pot….
….Aiken was jolly, cracking one-liners, like when the Dinner & A Movie prize came-up on the wheel: "We pick the movie. It's 'From Justin to Kelly'"…..
If you want to read more, you can see it at https://lights-camera-jackson.com/wheel-live-buy-a-ticket-buy-a-vowel/
Another fun place to find information is an article about Clay Aiken and Wheel of Fortune.
From The Scotsdale Progress -Your Hometown Newspaper
It is written by: Christina Fuoco-Karasinski, Progress Staff Writer She wrote–
Clay Aiken wasn't overly sold when he was approached to host the "Wheel of Fortune Live" tour.
"I wasn't skeptical, I'd say," Aiken explains.
"'Wheel of Fortune' is legendary and there's no game show that's more popular in the America, etc. How to make it work live was something I was very curious about and — holy crap — it does work. It really does."
Christina said:
Aiken recently starred on Broadway, alongside Ruben Studdard, in "Ruben & Clay's First Annual Christmas Carol Family Fun Pageant Spectacular Reunion Show" at the Imperial Theater.
This came 10 years after Aiken's Broadway debut in Monty Python's "Spamalot." On the heels of "American Idol," he became the first artist to have his first single debut at No. 1 on Billboard's Hot 100 chart.
His subsequent album, "Measure of a Man," also debuted at No. 1 with the highest first week sales by a debut artist. His 2004 holiday release, "Merry Christmas with Love," set a record for the fastest-selling holiday album of the SoundScan era and remains tied for the highest charting debut of a holiday album.
The father to son Parker, Aiken served nine years as a UNICEF ambassador and in 2003, he co-founded, with Diane Bubel, what is now the National Inclusion Project to advocate and increase opportunities for children with disabilities to be included in extracurricular activities (such as summer camps and after-school programs) with their nondisabled peers.
Aiken is looking forward to bringing "Wheel of Fortune" back to Arizona.
"Everyone in America is a fan of 'Wheel of Fortune,'" he said. "It's been on for 40 years. Even if you're not a nightly viewer, you've seen clips on YouTube. Holy crap. It's the game that more people play in their living room than anything else."
Thank you to Christina for sharing the information about Clay!
There is another short message about Clay onWheel of Fortune:
~~~~~~~~~~~~~~~
James McDowell is with David Kowalski at Kodak Center.
rneptSoodsm5878258t2mhtt002927102im322c1ig5u834fhc9mhum9t9fc · Rochester, NY ·
Wheel of Fortune twice in one week! If you thought of coming, tonight is the night at Kodak on the Ridge. No Pat or Vanna, but Clay Aiken is the host as he was in Syracuse this past Friday when David Kowalski and I worked.
Clay is an awesome host of this event. A very funny guy that is amazingly versatile in a fast paced event with excited people called up to play the game.
I was a little indifferent to the game, but after watching it live last week it is pretty funny and entertaining.
It is fun to see Clay being successful and having fun. I hope we get more pictures and information.
Since I live in Northern California, I won't be able to go to the show until just before Thanksgiving….but I am looking forward to being there.
If you get more information about Wheel Of Fortune – Live. I hope you will share it with CANN.
Thanks to all of you! I can't wait to get more pictures and news…
Clay Aiken News Network is an unofficial fansite. We are not affiliated in any way with Clay Aiken or his management. This website was made by fans for fans and makes no impression or impersonation of the official site, which can be found under the domain
clayaiken.com.