Clay Aiken Official Biography
Since coming to national attention on the second season of American Idol in 2003 — where he was the unexpected runner up, only to become the biggest selling male artist the show has ever featured — Clay Aiken has evolved into a versatile and beloved popular entertainer.
He has toured nine times, written a New York Times bestselling memoir, sold more than six million albums, produced and hosted television programs, starred on Broadway, and devoted considerable energy and resources to improving the lives of children all over the world. He has done all of this while maintaining an enviable humility and down-home charm. Appealing to both kids and parents, Aiken is that rare find — a celebrity with integrity.
Aiken's clear and unshakable value system was formed during his often challenging childhood in Raleigh, North Carolina, where, in church and in his southern home, he learned the importance of hard work, self respect, and good manners. Early on, he also embraced the merit of a sense of humor, especially about oneself. Because of this, Aiken remains unfailingly modest and at ease; "You should never take yourself too seriously," he says. "Believe me, not a day goes by that I don't laugh at myself."
This accessible, genuine personality, along with his powerhouse voice, has given Aiken a legendarily loyal fanbase. In 2005, TV Guide readers voted Aiken "the most-loved reality star of all time." In February 2006, People magazine readers chose Aiken as their favorite American Idol. While slightly embarrassed by the attention and unbridled devotion of his so-called Claymates, Aiken remains gracious and appreciative of their continued, unwavering support — even the ones who throw their panties onstage. ("Especially them!" jokes Aiken.)
In just a few short years in the public eye, Aiken has released five well-received albums. In October 2003, he launched his first solo album Measure of a Man. The record, which featured the hits "Invisible" and "This is the Night," sold 3 million copies and debuted at number one on the Billboard 200. With 613,000 copies sold in the first week, it was the highest selling first album for a solo artist in ten years, going double-platinum and netting Aiken an American Music Award. In addition, he won Billboard's best-selling single of 2003 for "This Is the Night/Bridge Over Troubled Water."
In 2004, Aiken released Merry Christmas with Love (2004), the fastest selling Christmas album in Nielsen Soundscan history. He followed that success with A Thousand Different Ways (2006), All is Well (2006), and the just released On My Way Here (2008). Notably, Aiken earned the distinction of being only the eighth artist to ever have his first four albums debut in the Billboard Top 5.
For his current album, On My Way Here, Aiken selected songs that he believes will resonate with anyone who has endured the trials of growing older and growing up. He chose songs that not only spoke to him, but mirrored his own experiences of learning who he is as an adult and where he belongs in the world at large. As he sings on the stirring title track, "I've seen the best, I've seen the worst, I wouldn't change what I've been through. I've touched the sky, I've hit the wall, but I did what I had to do."
With On My Way Here, Aiken is hopeful that listeners will identify with the message and the singer. "I would like to have signature songs," he explains. Of how he selects which tunes to sing, Aiken says simply, "I like songs that hit me right in the gut."
While he worked on the album, Aiken — a self-confessed "glutton for punishment" — simultaneously began his critically lauded stint as the inept yet endearing Sir Robin in the Broadway musical "Monty Python's Spamalot." Variety reported that his January 2008 debut benefited the show with a huge uptick in sales. Clay proved to be a tour de force that prompted director Mike Nichols to label Aiken "an excellent comic actor and a master of character."
While admitting Broadway is "a challenge" he'd love to tackle again, Aiken considers the small screen his second home and has made numerous television appearances as both guest and host. He was a correspondent for The Insider for the 2005 Emmy Awards, co-hosted The Morning Show with Mike and Juliet, and Live with Regis and Kelly, both in 2006, and appeared on the sit-com Ed (2004), the legendary soaps All My Children (2005) and Days of Our Lives (2006), he also made a guest appearance on the comedy, Scrubs (2006), where he stole the show amid seasoned comedy actors.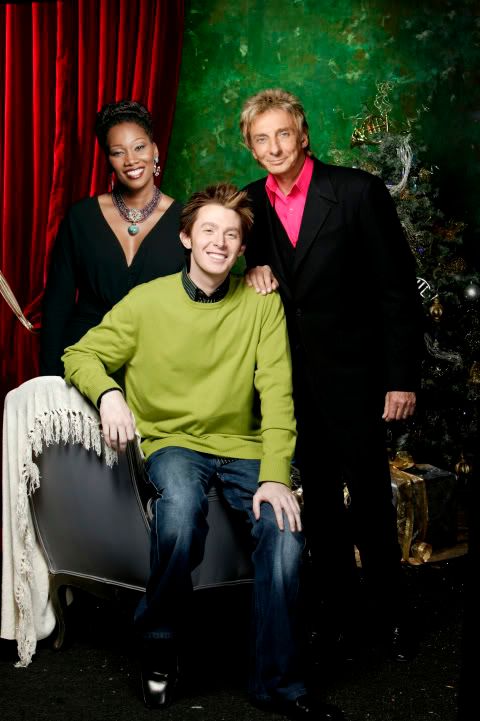 Additionally, Aiken has starred in and executive produced his own NBC television special. A Clay Aiken Christmas aired in 2004, and included such luminary guests as Barry Manilow, Yolanda Adams, and Megan Mullally.
Popular among late night talk show hosts, Aiken has made memorable appearances on Saturday Night Live, (where he was the first reality show participant to do so), Late Night with David Letterman, Larry King Live, and The Tonight Show with Jay Leno. He has a particular bond with Jimmy Kimmel, guesting on Jimmy Kimmel Live multiple times, usually participating in skits that allow him to stretch his comedic muscles.
He has also been seen on Oprah, Ellen, the Tyra Banks Show, Primetime Live, Nickelodeon, MTV, TRL, The Today Show, Good Morning America, the CBS Morning Show, and Martha Stewart.
Prior to his latest accomplishments, Aiken wrote a 2004 best-selling memoir, detailing the path his life has taken thus far, paying special attention to his spiritual development. Learning to Sing: Hearing the Music in Your Life, detailed his formative influences, telling the story of his childhood through his rise to fame in candid and revealing language that offered an unfiltered peek into Aiken's private life. Readers and critics embraced his style and his message, making the book an instant New York Times best seller, a prestigious spot it occupied for seven weeks.
While all of these successes matter to him, what gives Aiken the most joy is his activism on behalf of children. As he has often explained, "My music career has allowed me to do the same thing I was doing before — work with kids. It has just given me a bigger stage, so I can enact change on a grander scale."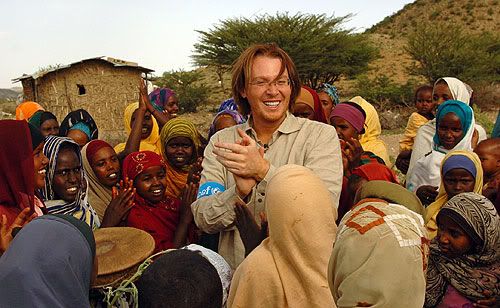 Because of this calling, Aiken has been a goodwill ambassador for UNICEF since 2004, his chief mission being to enable all children in the world to obtain primary education.
Education has long been a passion of Aiken's, starting with his initial ambition to be a teacher and continuing today with his work for UNICEF and his own Bubel-Aiken Foundation.
His college tutoring of Mike Bubel, the autistic son of his friend Diane, impelled Aiken to start the Bubel/Aiken Foundation, which supports the integration of children with disabilities into the same environment as their non-disabled peers.
In March 2005 Aiken toured the tsunami-ravaged Indonesia and heightened awareness about the need to restore schooling to displaced children.
"School provides stability and hope when little else can," Aiken explains. "Just to have someplace safe and meaningful to go can mean so much to children in tragic circumstances."
In May 2005 Aiken traveled to Uganda, where he saw children on the run from kidnapping and involuntary enlistment in the local guerrilla army. He has also traveled to Mexico to aid children affected by recent floods, and will depart again soon on an as yet unnamed UNICEF mission.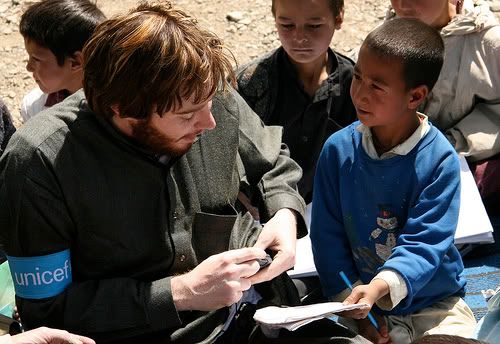 In April 2007 he returned from Afghanistan where he toured schools and marveled at the resilience of the children he met there. His experience prompted him to launch the "$100,000 in 10 Days" campaign to continue offering lifesaving support for kids in that country. The campaign ended up netting $250,000 in fewer than five days.
"It makes me thankful for my life," says Aiken of all his work abroad and with children in need. "These kids, many of them struggle with unimaginable hardships and yet they have positive attitudes. They don't feel sorry for themselves. Kids who suffer the most never do. You see that, and it keeps all your own nonsense in perspective."
Not surprisingly, Aiken chooses to eschew Hollywood and live in his hometown of Raleigh, where he can remain close to family and friends who have known him his whole life.
"One thing I have learned from all this is that you can't wait until it is too late to tell the people you love that you care about them. Being home lets me do that everyday."