On December 11, 2009, Billboard announced the Decade-End Charts in the field of music.  Since Clay Aiken was included in 6 of the charts, I wondered what the criteria was for the lists.  The following article from the Billboard Staff helps to understand how the lists are compiled.
How Billboard's Decade-End Charts Are Compiled

By Billboard staff

Most of the decade-end music tallies in this special online section represent aggregated sales or radio airplay (audience impressions or total plays) for each artist and title from the weekly charts on which they appeared from the start of the 2000 chart year (Dec. 4, 1999 charts) though the end of the 2009 chart year (Nov. 28, 2009 charts).

The sales totals are based on data compiled by Nielsen SoundScan, with radio airplay measured by Nielsen BDS.

Sales or airplay registered before or after a title's chart run are not considered in the Billboard decade-end standings. That detail accounts for some of the differences between these lists and the decade-end recaps that are compiled independently by either SoundScan or BDS.

Because of changes in Billboard chart methodology during the decade, some ranking are based on a point system, instead of aggregated sales or airplay compiled during a chart run. All recaps for the Hot 100, R&B Songs, Country Songs, Gospel Songs, Christian Songs, Christian AC and the four Latin sub-genre radio charts (Regional Mexican, Pop, Tropical and Triple A) utilize an inverse point system, with weeks at No. 1 earning the greatest value and weeks at the lower end of the chart earning the least. This explains why some songs might be ranked in a different order than they appear in their corresponding year-end rankings.

The top artists of the decade category is based on a formula blending sales point totals from the Billboard 200 recap and recap points from the Hot 100. The top overall artists category for Latin, Country and R&B were determined by employing an inverse point system based on an artist's weekly ranking on each format's respective albums and songs charts.



The following charts from Billboard all contain Clay Aiken.  His popularity during the decade has been amazing.
Billboard 200 Albums
1 NO STRINGS ATTACHED 'N Sync Jive/Zomba
2 CONFESSIONS Usher LaFace/Zomba
3 THE EMINEM SHOW Eminem Web/Aftermath/Interscope
4 COME AWAY WITH ME Norah Jones Blue Note
5 HUMAN CLAY Creed Wind-up
6 OOPS!…I DID IT AGAIN Britney Spears Jive/Zomba
7 THE MARSHALL MATHERS LP Eminem Web/Aftermath/Interscope
8 1 The Beatles Apple/Capitol
9 SUPERNATURAL Santana Arista
10 COUNTRY GRAMMAR Nelly Fo' Reel/Universal/UMRG
….
170 MEASURE OF A MAN Clay Aiken RCA/RMG
Billboard 200 Artists
1 EMINEM
2 BRITNEY SPEARS
3 TOBY KEITH
4 NELLY
5 LINKIN PARK
…
120 CLAY AIKEN
…
200 BOB DYLAN
Billboard Hot 100 Singles Sales *
1 MARIA MARIA Santana Featuring The Product G&B Arista
2 MUSIC Madonna Maverick/Warner Bros.
3 HOT BOYZ Missy "Misdemeanor" Elliott Featuring NAS, EVE & Q-Tip The Gold Mind/East West/EEG
4 INCOMPLETE Sisqo Dragon/Def Soul/IDJMG
5 THIS IS THE NIGHT/BRIDGE OVER TROUBLED WATER Clay Aiken RCA/RMG
6 BREATHE Faith Hill Warner Bros. (Nashville)/WRN
7 GET IT ON TONITE Montell Jordan Def Soul/IDJMG
8 FROM THE BOTTOM OF MY BROKEN HEART Britney Spears Jive
9 FLYING WITHOUT WINGS/SUPERSTAR Ruben Studdard J/RMG
10 I LIKE IT Sammie Freeworld/Capitol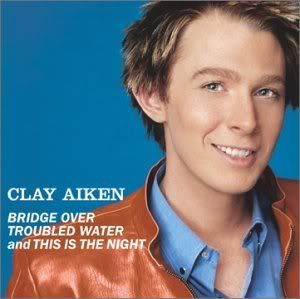 Singles Sales Artists*
1 MADONNA
2 CHRISTINA AGUILERA
3 DESTINY'S CHILD
4 JANET JACKSON
5 MARIAH CAREY
6 SANTANA
7 CLAY AIKEN
8 WHITNEY HOUSTON
9 LEANN RIMES
10 BRITNEY SPEARS
Holiday Albums
# Title Artist Label
1 NOEL Josh Groban 143/Reprise/Warner Bros.
2 NOW THAT'S WHAT I CALL CHRISTMAS! Various Artists EMI/Zomba/Sony Music/Universal/UMRG
3 CHRISTMAS EXTRAORDINAIRE Mannheim Steamroller American Gramaphone
4 FAITH: A HOLIDAY ALBUM Kenny G Arista/RMG
5 CHRISTMAS EVE AND OTHER STORIES Trans-Siberian Orchestra Lava/AG
6 THESE ARE SPECIAL TIMES Celine Dion 550 Music/Epic/Sony Music
7 A CHARLIE BROWN CHRISTMAS (SOUNDTRACK) Vince Guaraldi Trio Fantasy/Concord
8 THE LOST CHRISTMAS EVE Trans-Siberian Orchestra Lava/AG
9 DREAM A DREAM Charlotte Church Sony Classical/Sony Music
10 MERRY CHRISTMAS WITH LOVE Clay Aiken RCA/RMG
Christian Albums
1 SATELLITE P.O.D. Atlantic/Word-Curb
2 THE BEAUTIFUL LETDOWN Switchfoot Columbia/Sparrow/EMI CMG
3 PRECIOUS MEMORIES Alan Jackson ACR/Arista Nashville/Provident-Integrity
4 ALMOST THERE MercyMe INO/Word-Curb
5 SONGS 4 WORSHIP: SHOUT TO THE LORD Various Artists Integrity/Time Life
…
12 MERRY CHRISTMAS WITH LOVE Clay Aiken RCA/Provident-Integrity
…
50 (SPEECHLESS) Steven Curtis Chapman Sparrow/EMI CMG
Congratulations to Clay Aiken.  I am looking forward to  seeing his name on many lists in the next decade.
Clay Aiken News Network is an unofficial fansite. We are not affiliated in any way with Clay Aiken or his management. This website was made by fans for fans and makes no impression or impersonation of the official site, which can be found under the domain
clayaiken.com.