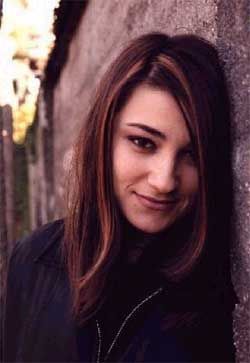 It was announced yesterday on many websites that Clay Aiken would be a guest on Larry King Live tonight.  Larry is interviewing Jennifer Knapp and has asked Clay to join in the discussion.  I knew very little about Jennifer, but after reading about her, I found her to be a fascinating young lady who is a Christian and just happens to be gay.  It is amazing that Jennifer and Clay have so much in common.   It would be interesting to hear a bit of their interaction with each other.  It certainly seems like they would understand each other and the ups and downs of their lives.
Jennifer Knapp was a rising star on the Christian music scene a few years ago, but in 2003 she simply vanished leaving fans to wonder where she had gone.  There were many theories as to why Knapp disappeared.  Rumors began to swirl—she was burned out, she needed a rest, she was upset about something, she was gay. Turns out that all the rumors were true.
In an interview with Relevant magazine, Knapp said:
"It was definitely time for a break. I was touring Lay It Down while recording The Way I Am, and then went directly into touring that record. It got to where I was just doing shows to support the record, rather than having a record support the heart of the people I was supposed to be serving. I don't want to make and tour another record just because that's what people expect, or because 'it's about that time.'"
Knapp quit the industry and moved to Australia, she said, because she was simply exhausted by all the performing and unprepared for the challenges being a music star brought her way.
At the time of her break from music, Jennifer was not sure if she would return to the field.  But Jennifer is back onto the music scene.  She has a new album that will be released in May and she has announced that she has been in a same-sex relationship for the last eight years.
The Christian music scene has been rocked by this announcement.  Knapp, who is a very private person, said that she is not surprised by the reaction.
"I'm aware that the evangelical community has problems with divorce and many other facets of their artists, let alone homosexuality," Knapp said. "I really felt a strong obligation to be able to address that because for many people, it was really clear that they wouldn't participate in buying a record because it was against their beliefs."
"For many people who buy Christian music or have been familiar with me and my writings as a person of faith, I felt like it was the honest thing to do.  The last thing I wanted to do was to have someone go out and buy a record and feel like they had been hoodwinked."
Knapp is a 36-year-old Kansas native and dated men during her college days.  She says she is ready for a backlash from religious fans that faithfully shot down whispered rumors about her sexuality over the years. On the other hand, she said in a recent interview with Reuters, "I'm definitely getting a lot more friendly winks from the girls (at her concerts) than I have in the past!"
Before Knapp met her girlfriend in the United States, she was celibate for 10 years, which she says is in line with the general expectation for unmarried members of the evangelical community.
"Anyone who has a decade of celibacy has 'complete loser' written on their back," she joked, although she still respects those who do abstain.
Mark Moring is the senior associate editor for Christianity Today.  He was one of the first to interview Knapp and write about sexual revelation.  He told CNN that
"it has been extremely polarizing among his publication's audience. People have vacillated between anger that Christianity Today would even write the story and praise for Knapp's honesty.
"There are people who will always love Jennifer Knapp, no matter what decisions she may make. I think the word that I've read the most often [among those commenting on the Christianity Today web site] is 'sad' as in 'I'm sad that she has made this choice, but I still love her music.' I think that has been a recurrent theme."
Rev. DL Foster is the founder of the Gay Christian Movement Watch Web site and said he believes as society has become more accepting of homosexuality, Knapp and other artists are finding it easier to go public.
"For a person to try and combine [being gay and being a Christian music artist] is not biblically correct, and I would hope that the church would reject such music because it does not represent us," he said. "To me, it doesn't matter if you are openly gay or closeted gay, sin is still sin."
Knapp has made it clear that she is no longer marketing herself as a Christian artist.  She is no longer on a Christian-based record label and her new album is made up of folksy rock songs that are about "inner-conflicts, spirituality and life lessons."
Knapp's new sexual identity is clearly a major talking point, but she does not view herself as a crusader in the gay community. She jealously guards her privacy and that of her girlfriend, who "doesn't want to be famous in any way whatsoever at all."
At the end of her interview with CNN, Jennifer said that she had always struggled as a person of faith to be the person she wants to be, and her sexuality was only a part of that.  She said in closing:
"God has always known I would walk this path.  I would rather be judged before God as being an honest human being, If I am in any way unpleasing in his sight, I can only hope and pray that he gives me the opportunity to find who I am supposed to be."



Clay Aiken News Network is an unofficial fansite. We are not affiliated in any way with Clay Aiken or his management. This website was made by fans for fans and makes no impression or impersonation of the official site, which can be found under the domain
clayaiken.com.