Official Fan Club – Clay Aiken
Pre-sale Concert Tickets Available
Monday, September 20th
10:00am pdt,  11:00am  mdt,  noon cdt, 1:00pm edt.
for
Waterbury, Ct. – Charlotte – New York – Glenside, PA – Waukegan – Dallas – San Francisco
Get your tickets before they go on sale to the public.
No Password Necessary – Sign in to the OFC and relieve the stress!!
Waterbury, Ct.
Sunday, Feb. 20, 2011
Palace Theatre
The Palace Theater is located in the center of the state of Connecticut, 100 East Main Street, Waterbury – 35 miles from each state border and conveniently located off I-84 and Route 8. The Palace Theater is a culture and tourist attraction as a historic venue recently renovated as part of a $200 million economic redevelopment project for the City of Waterbury and the State of Connecticut. Boasting grand lobby spaces and ornate dome ceilings, the Palace Theater provides a palatial setting fit for a king – but intended for the people of Waterbury.

Charlotte, NC.
Wednesday, Feb 23, 2011
The North Carolina Blumenthal Performing Arts Center
The Belk Theater is the largest venue in the North Carolina Blumenthal Performing Arts Center, seating 2100 at its full-capacity configuration. It features state-of-the-art equipment, production and support capabilities and can host any event – from grand opera to rock to corporate annual meetings and lectures.  The theater is designed in a contemporary European horseshoe arrangement for an intimate atmosphere and world-class acoustics.  The most distant seat is less than 135 feet from the stage.  A hallmark of the theater's design is some 2,400 "points of light" in the audience chamber, part of a dazzling fiber optic network with multi-color capabilities.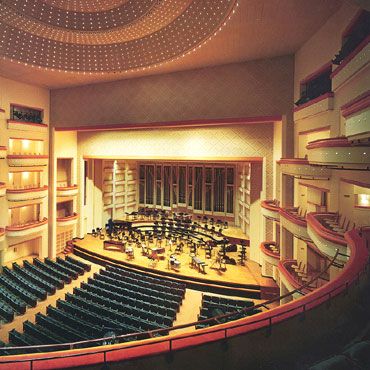 Long Island, New York
Saturday, February 26, 2011
Capital One Bank Theater at Westbury
Out with the old, in with the new. The Capital One Bank Theatre at Westbury is now known as The NYCB Theatre at Westbury. The venue, which is located at 960 Brush Hollow Rd., was originally constructed in 1966 at the site of an abandoned lime pit and became known as the Westbury Music Fair. Since its inception it has gone through several name changes, including North Fork Theatre at Westbury and Capital One Bank Theatre at Westbury. Today, it boasts 3,000 seats and a rotating stage.
Glenside, Pennsylvania
Sunday, February 27, 2011
Keswick Theater
The Keswick Theater is a gem of a venue that is just a train ride away from Philadelphia. Located in Glenside and designed by Horace Trumbauer, the same architect who graced our fair city with its breathtaking Art Museum, the historic theater opened its doors on Christmas night in 1928 as a vaudeville and movie house. In 1955, when blockbuster movies were booming out of Hollywood, it took on one of those totally 50′s neon movie theater signs, still there today.
After changing hands many times and being threatened by demolition, the Keswick stands today as one of the technologically best venues in the Philadelphia area. It is "nationally recognized by audiences and performing artists as the most comfortable, friendly, acoustically-perfect listening room in the Philadelphia area-presents a broad range of internationally acclaimed performers geared to virtually every entertainment taste and interest."
Waukegan, Illinois
Friday, March 4, 2011
Genesee Theatre
After sitting vacant for twelve years, the Genesee Theatre began its $23 million renovation in July of 2001 as part of the City of Waukegan's downtown renovation project.  Now an 115,000 sq. ft. state of the art facility, the Genesee has expansive lobbies and lounges, stage size has been doubled and a balcony expansion has raised seating capacity to over 2,400, making the Genesee Theatre one of the largest facilities of its kind in the region. In addition, to ensure that there is no question to the splendor of this facility, a one-of-a-kind, 18 foot, Baccarat crystal chandelier has been added to the grand lobby. The chandelier, which originally hung in Seattle's Orpheum theatre, is valued at $350,000 and weighs 2,200 pounds, includes thousands of pieces of crystal and features gold plated sconces. Kept in boxes since 1967, the chandelier was sold for only $100,000 to the Genesee Theatre by Mr. Louis Bianchi, and the remaining $250,000 was donated to the renovation efforts.
The Genesee Theatre re-opened its doors on December 3, 2004.  It provides the highest quality  performances including comedians, Broadway productions and national and regional musical acts. The Genesee Theatre is located in downtown Waukegan.
Grand Prairie, Texas
Tuesday, March 8, 2011
Verizon Theatre
One of the most flexible and advanced indoor performance spaces in the United States, Verizon Theatre is the first venue of its kind. Many touring artists have already called Verizon Theatre at Grand Prairie "the theater of the future."
Featuring comfortable, spacious seating, elite luxury suites with private entrances, upscale catering, corporate hospitality areas and convenient parking, Verizon Theatre sets a new standard in the concert and theatrical touring industry.
With its 6,350-indoor seating capacity, this venue was conceived and designed to accommodate a wide range of stage productions, including pop, rock, country, comedy, magic, Broadway and family shows.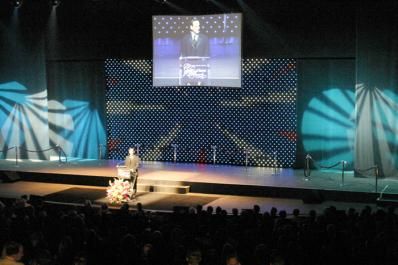 San Francisco, California
Saturday, March 12, 2011
The Regency Ballroom
This stunning room features blonde hardwood floors, a horseshoe-shaped balcony and a built-in stage. Noted as a fine example of Scottish Rite architecture, which includes neoclassic and beaux arts styles, the Regency Building was built in 1909. The Grand Ballroom is a beaux-art treasure with thirty-five foot ceilings and twenty-two turn-of-the-century teardrop chandeliers.  The Ballroom, in concert formation, holds approximately 750 people.
Clay Aiken News Network is an unofficial fansite. We are not affiliated in any way with Clay Aiken or his management. This website was made by fans for fans and makes no impression or impersonation of the official site, which can be found under the domain
clayaiken.com.