Because of Clay Aiken, many people were made aware of the  National Inclusion Project and support it in many ways.  This wonderful organization became a reality in July, 2003.  According to the National Inclusion Project, their website list the following as their mission:
The National Inclusion Project serves to bridge the gap that exists between young people with disabilities and the world around them. We partner with communities and inclusive programs creating awareness about the possibilities that inclusion can bring.
On January 24, 2011, Pepsi Refresh officially announced that the Project won a $50,000 grant.  Think of all the kids that will be helped by this money.
There are many other ways that fans can help in the fund-raising for The National Inclusion Project.
On Tuesday, a new fundraiser was launched by Clay to help support the Project.
One of a Kind Clay Aiken VIP Package
The VIP package includes:
2 first row tickets to the show
Meet & Greet with Clay for you and your guest
2 Gift bags from the National Inclusion Project
There are 2 auctions for each tour stop and the minimum bid is $250.  The National Inclusion Project states that 95% of final sale price for this auction will benefit National Inclusion Project -and 5% will be reserved to cover eBay and PayPal fees.  For more information and a link to the E-Bay site, visit Clay's Official Fan Club.
Another fundraiser that centers around the Tried & True Tour is:
The Way We Make a Difference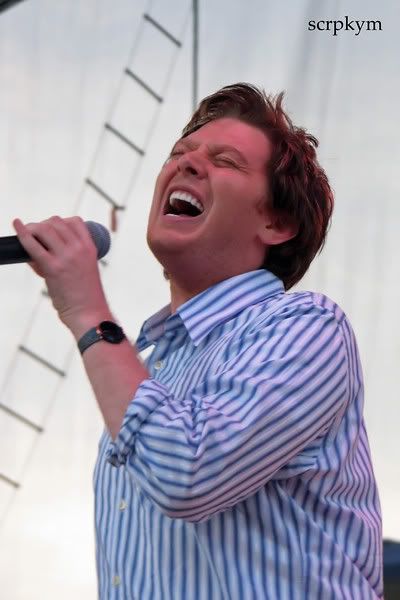 This project began with a simple idea – that of fostering the cause of inclusion with a donated concert ticket. Thanks to your support, people with and without disabilities have been able to experience the joy of attending a concert together. Some of the organizations we have worked with include Best Buddies, Special Olympics, YMCA, The Arc of the United States and Ronald McDonald houses.
The Way We Make A Difference Ticket Project is currently seeking tickets and/or donations for Clay's upcoming Tried and True Tour!
If you would like to make a monetary contribution or if you have an extra ticket or two to donate, we would welcome them!
For anyone not familiar with our project, TWWMAD promotes inclusion by offering a chance for people with and without disabilities to share in the excitement of seeing Clay in concert.
If you have tickets you would like to donate, please email us at ticketdonation@thewaywemakeadifference.org
Thanks in advance for helping us to make a difference, one concert ticket at a time!
We were forwarded the following about another fun event to help the National Inclusion Project.
The Second Annual Clay Fan Fest
"A National Inclusion Project Benefit"                   
May 21 & 22, 2011
Yorktowne Hotel, York, PA
You are invited to join your fellow Clay Fans for a weekend of fun and surprises!!
Schedule of Events: Much different from 2010 event so please read carefully!
Saturday May 21st:
10AM until Noon: Registration in the Hotel Lobby. A self walking tour of Historic York will also be available.
Noon until 4PM: La' Clay Café and  La' Clay Market Place.
La' Clay Café will be a place to meet and greet all your Clay friends, enjoy refreshments and entertainment..oh and rest your feet from all your snooping in the La' Clay Market Place!
******** A cash bar will be available from 1:00PM until 3PM.*********
La' Clay Market Place will feature 3 rooms which will offer a Book Nook with both Clay and non Clay related books, audio books, DVD's, CD's, VHS Tapes and miscellaneous Clay related items for sale….who knows you may just find that long sought after item…or maybe a special treasure!! There will also be craft and vendor areas featuring a variety of  wonderful items! Also featured again will be the Pin and Pics for change! Raffle prizes will be awarded though out the afternoon.
6PM until 8PM: The Fan Fest Feast which will be held in the La' Clay Café area. (Limited to 110 guests). Entree selections will follow.
9PM until approximately 11PM : Live Auction with guest auctioneer Tom Saylor. (Yep the same fellow who donated his time this year that we had so much fun with!) We will be accepting checks, cash or Pay Pal for won auction items. Door Prizes will be awarded though out the evening.
***A cash bar will be available during the evening from 7:30PM until 10:30PM***
Sunday May 22nd.
8:30AM until Noon: The Round Table Breakfast.(Limited to 110 guests)
This event was a favorite last year so we are hoping to make it as much fun again in 2011.
All prizes not won on Saturday will be raffled off and there will be one very "Special Prize".
You will be enjoying the Hotel's Pfaltzgraff Buffet which features "an Omelet Chef who will make your Omelet to order".
SCHEDULE OF COSTS:
Saturday afternoon only: The La' Clay Café and La' Clay Market Place will be  $10 at the door and will include 2 free raffle tickets. This is for walk-ins only!! This is included in both of the package offered below.
Package # 1…….Saturday Afternoon and Evening Events: Limited to 110 guests.
Includes the afternoon festivities, the Fan Fest Feast and Live Auction…$65 per person and will include 5 free raffle tickets.
Entree choices are:
Chicken Piccatta..sauteed breast of chicken with Lemon Caper Butter Sauce, Rice Pilaf and seasonal vegetables.
Pan Seared Salmon Fillet..with Basmati Rice, Champagne Cream and Tomato-Basil Relish.
Both entrees include the wonderful Yorktowne Signature Salad, rolls and butter and coffee or tea.
Package # 2……..The Complete Package: Limited to 110 guests.
This includes the entire weekend activities: the Afternoon Event, The Fan Fest Feast, Live Auction and  Round Table Breakfast…$80*** per person and will include 10 free raffle tickets. There will be one very special raffle prize for those participating in this package that will be awarded Sunday Morning.
***Please note this fee DOES NOT include room accommodation at the Hotel. Contact the Yorktowne Hotel at 717- 848-1111 to make your reservations. Please use the code Clay Fan Fest for special rates. Valet parking is available free during the day. There is a $10 charge for overnight parking.
A deposit of $25 per person will reserve your participation in either of the 2 offered packages. Both packages are limited to 110 guests so get your reservation in early! Please note that the deposit is NON-REFUNDABLE after Jan. 1st, 2011. Payment in full is due by May 10th, 2011. NO refunds can be issued after this date. If you choose only to attend the afternoon event on Saturday you will just pay the $10 at the door. All other packages include entrance to the Saturday afternoon event.
We are accepting checks, money orders or Pay Pal payments. If you choose to use Pay Pal please include an additional $1.50 per reservation to cover their charges back to us. Pay Pal payments go to knappydl_jr@comcast.net. Please e mail the entree selection, names and e mail addresses of everyone in your party to djknappy.1@juno.com.
You can mail your deposit or payment in full along with your entree selection, names and e mail addresses of all those in your party to:
Diane (Cookie) Knappenberger
40 Oak Dr.
Mt Wolf, Pa 17347
Please make your payment out to: SCPAfansforCLAYAIKEN
************We will notify you when we receive your payment so please
so please  include  your e mail address.****************
SPECIAL NOTES:
We are currently accepting donations of Clay and non Clay related books, audio books, DVD's, CD's, VHS tapes and miscellaneous Clay items for the La' Clay Market Place as well as very special items for the Live Auction. Items can be forwarded to the above address.
Do you make or sell items that you would like to sell at this event..You can participate in the La' Clay Market Place. Spaces are approximately 5′ deep and 10′ wide and include an 8′ table. Spaces are limited. The cost per space is $25. For more info please contact me at 717-755-0579 or e mail me at djknappy.1@juno.com.
More to come….Check out our Face Book Events page at Clay Fan Fest 2011 for updates and special announcements. These announcements will be going out to all those who are registered for this Event via e mail
We hope you will consider joining us again in 2011 and help us reach our new goal of $5000 for NIP!
Diane (Cookie) Knappenberger
Clay Fan Fest Coordinator
"South Central PA fans for Clay Aiken"..Partners for National Inclusion.. A Beta Alpha Group!
The Clay Fan Fest…"Clay's Power Team for Inclusion…wanting to make a difference!                      
Any questions feel free to contact me at djknappy.1@juno.com.
A special thank you to all the folks who work so hard to support The National Inclusion Project!
Clay Aiken News Network is an unofficial fansite. We are not affiliated in any way with Clay Aiken or his management. This website was made by fans for fans and makes no impression or impersonation of the official site, which can be found under the domain
clayaiken.com.