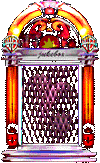 Do you remember where you were on August 5, 2005?  On that day, over 7,000 fans of Clay Aiken were at the Koka Booth Amphitheatre at Regency Park in Cary, North Carolina.  They were enjoying the Juke Box Tour starring Clay, his three back-up singers and his talented band.
The News and Observer asked Pamela Broadwell of Clayton, about what she liked about the concert.  She said:
"Who else would channel Elvis one minute and the Monkees the next? Who else would have the temerity to sing the Archies and Simon and Garfunkel in the same show? Name one other singer who would dare to sing the sweet Christopher Cross ballad 'Sailing' and then follow it with MC Hammer? … When I spend my hard-earned money on a concert ticket, I want to be entertained, to feel something, to laugh and have a good time. I was, I did, and I can't wait to do it again."
The Juke Box Tour was one of Clay's most popular tours.  The song list was diverse.  Starting with the "50s, Clay treated fans to songs representing each decade.  The show started with energetic crowd-pleasers such as Sam Cooke's "Twistin' the Night Away" and Bobby Day's "Rockin' Robin.  At one point, Clay was seen leaping atop the piano, an action that produced a standing ovation.
Whether it was Love Me Tender, Mandy, When Doves Cry or Livin' La Vida Loca, Clay managed to wow the audience through the concert.
At the concert's end, Clay's fans walked away with smiles and were filled with joy after enjoying a wonderful evening of fun!
The newspaper in Fayetteville wrote the following review of the concert.
Aiken takes fans through time

By Stacy Peterson
Staff writer

CARY – The '50s era jukebox center stage said it all.

Clay Aiken was back home and ready to take his die-hard fans on a journey back through the radio hits from the '50s til today.

On Friday night, he did just that with songs from The Four Tops to the Goo Goo Dolls.

For more than two hours, Aiken's summer homecoming show at the Koka Booth Amphitheatre at Regency Park, was a little bit of everything for the capacity crowd of 7,000, many of which traveled from states around.

Between songs, Aiken spoke several times about being back home, pointing out that his mother was seated on the front row and that he forgot how a Carolina August could be so hot.

"I'm sweating like Ruben," Aiken said, referring to fellow "American Idol" contestant and winner Ruben Studdard. "You would think for a homecoming it would be cooler."

Aiken's concert was divided into decades, the '50s, '60s, '70s, '80's, '90s and today.

For each decade, a different backdrop set the mood with a different style of jukebox, lettering and hints of things that were in style then.

Aiken, his back-up band of six musicians and three singers, also dressed in the style of the decade.

I'll use the word dancing liberally. But hey, Aiken is trying.

The show felt like a combination TV variety show and a Branson-style show-for-everyone.

It also provided a creative outlet for Aiken's sense of humor and quick wit.

Once, in the middle of another thought, Aiken looked down at the first two rows, looking for a fan to bring on stage.

"What could you possibly be looking at with binoculars from the second row?" he asked.

But it was his vocal performance that showed why fans love Clay Aiken so much.

He hit those famous high notes and held on to them for what seemed like a minute in each song. He was joined by an impressive group of singers who also took turns with songs from the years that Aiken felt they could do a better job with such hits as "Rock With You" by Michael Jackson and "I Will Always Love You" in the way that Whitney Houston made the song famous.

For Rod Edwards, seeing Aiken perform was nothing new.

Edwards, who performed with Aiken in the late 1990s as a member of a house band for local community college performances, saw Aiken's magic years ago. He also played with Just By Chance, a four-man vocal group that included Aiken.

Back then Edwards and others in the variety show band would audition young singers who wanted to gain experience in front of small crowds.

Edwards said he knew from the beginning that Aiken had something special.

"He hit those high notes and would hold it, and it just raised people to their feet," Edwards said as he waited for the concert to start.

That happened several times Friday night.

You could hear a pin drop between lines of "Unchained Melody" as the crowd hung on to every note.

Aiken channeled a slightly higher-pitched voice of Elvis in "Love Me Tender" before tackling a full-on version of "Suspicious Minds."

He brought out "I'll Be There," "Happy Together," "Car Wash," "All Night Long," a gospel intro version of "When Doves Cry" and even Ricky Martin's "Livin' la Vida Loca" just to name a few.

That last song might have been a mistake. Vocally Aiken sounded fine, but he actually tried to swing his hips like Martin. This didn't work.

One particularly strong moment came during Aiken's version of Barry Manilow's "Mandy." You could tell that Aiken really loves this song.

The only downside to the show was that most songs were medleys, which means only parts of the song.

I understand that he wanted to pack as many hit songs in as he could, but it got tiresome not hearing the full song.

On the upside, Aiken did debut new material from his upcoming album. The song "Back For More" sounds much better than his material on "Measure of A Man" and should introduce us to a whole new Aiken.

Not that his fans are not happy with the old Aiken.
The following videos are fun to see.  I hope you enjoy them!
Clay Aiken News Network is an unofficial fansite. We are not affiliated in any way with Clay Aiken or his management. This website was made by fans for fans and makes no impression or impersonation of the official site, which can be found under the domain
clayaiken.com.