It is always fun to be a Clay Aiken fan, but some times are more fun than others. There has been a lot of positive information about Clay on the Internet lately and that makes it exciting for Clay's supporters and fans.
On December 27th, Clay was one of the featured singers on the front page of the Universal Music Group website.  His picture and a short "blurb" was rotated at the top of the page.  The following is a copy of the picture.  While I am writing this, the picture is still in the rotation, however, I do not know how long it will be there.  To see the site, click on UMG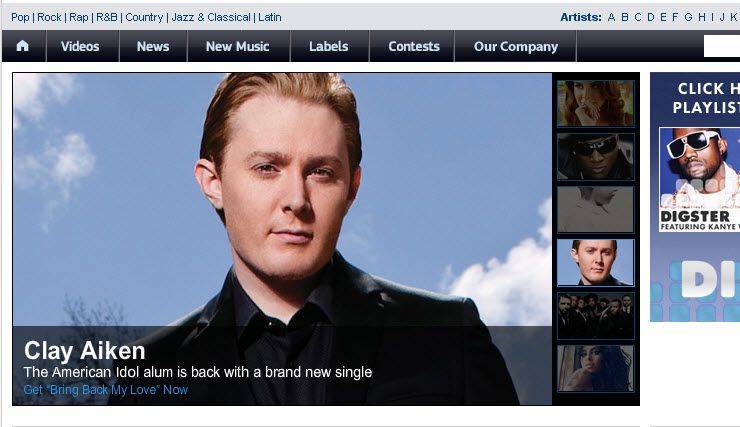 The following was tweeted by UMG on Tuesday.  Did any of you get the code and download the song?
QUOTE
Sign up for @UMG newsletter get code for 1 free dl including @clayaiken #bringbackmylove 
http://t.co/KhtTH2Zi
When was the last time you visited Clay's MySpace homepage?    I visited the site the other day when I read that Clay's new song,
Bring Back My Love
, was on the MySpace audio player.  At this moment, the song has 2,538 plays.  I wonder how long it would take for us to get the number up to 10,000?  If we all listened to the song from Myspace we could do this quickly.  Will you give it a try?  
MYSPACE
The entertainment website called Popdirt published a short paragraph about
Bring Back My Love
.  We can support this positive mention by leaving a short comment at the article.  It is the best way to let the site know we love to read positive reports about Clay Aiken and his career.  It's easy and will only take a moment to add a sentence or two.  You can get there by clicking at
POPDIRT.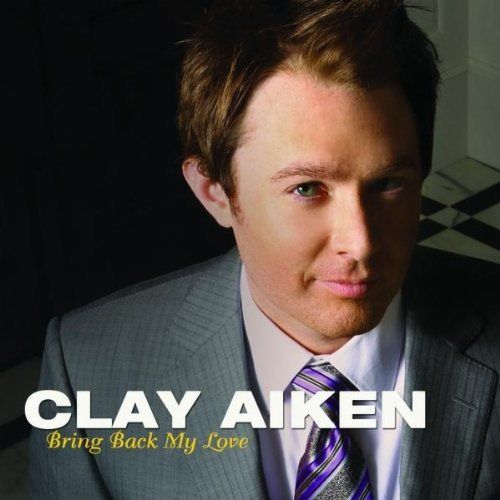 Some of the Internet Radio Stations are beginning to play Bring Back My Love.  If you hear it, please let me know.  I would love to keep track of the internet plays.
Oh…one more thing…
in 46 Days, 17 hours, and 55 minutes
Clay will be on the first episode of Celebrity Apprentice.
Clay Aiken News Network is an unofficial fansite. We are not affiliated in any way with Clay Aiken or his management. This website was made by fans for fans and makes no impression or impersonation of the official site, which can be found under the domain
clayaiken.com.