Welcome to the last week of Joseph and The Amazing Technicolor Dreamcoat at the Ogunquit Playhouse.  It's been wonderful run and a success for so many reasons.
1.  Clay Aiken and the entire cast have been wonderful in the show
2.  The Ogunquit Playhouse has had many sold out performances
3.  The entire town of Ogunquit has had many new visitors…restaurants, hotels, and stores are loving all the visitors from all over the world.
4.  AND…Clay Aiken fans have had weeks of fun tweets, reports, and pictures of Clay and his friends!
~~~~~
Although it was a day off for the cast of Joseph, there were still many reports from fans about the performances  Here are a few comments:
Seeing Clay's face when he sees Jacob at the end is heartrending… I also loved Clay's interaction with Keala particularly at the end of each act. You can see the love and respect they have for each other. I also got a kick out of Keala's cheerleading efforts at the end of Canaan days to get more applause for the brothers though really she didn't have to do it in the last 3 shows I saw. The audience gave them a great ovation and of course the brothers, particularly Ruben, milked it for all their worth–but they deserved it. 
Needless to say I loved the show. There was no weak link in the entire cast. I thought the children were great. It took a couple of shows for me to realize that only some of the children were miked, but they sounded very nice. The brothers were amazing. I don't know how they managed to do what they did on such a small stage. Their dancing was great as was their harmonies.
~~~~~
The place really was packed. No empty seats around me at all. My feeling was that the crowd was very appreciative of good theater and knew a good performance when they saw one. When Clay made his first entrance the crowd roared with approval but quickly quieted down to hear him sing. That made my heart soar to know that they already appreciated his talents. At the end of CED they roared with approval once again. To be fair, they did this after many of the performances throughout the show, not just Clay. The one thing that set reaction to Clay apart was how they reacted when he first appeared.
~~~~~
...Enjoy isn't the word for this play. It is right up there with the OMGod Performance of Unchained Melody at the Tried and True PBS Taping.
Everyone in the Cast is superb, the kids included, and left you in awe of their performances. The sound system is remarkable and the wall of sound they produce is stunning. And to hear Clay's voice raising so powerfully, just above the others every time he sang with any the cast throughout the show, was so impressive. His voice would sound so full above all the others, not overwhelming their voices but adding to the rich sound like a spice. People kept remarking that they knew about Clay from American Idol but didn't have a clue that he could sing like that.
Keala had a extremely strong voice that easily reached the back of the theater, but when they sang duets, Clay's voice definitely was stronger than hers.
I wasn't the only person over the top about the show. Take the well dressed 55+ New York City lady who pooh-poohed my seeing several shows in a row, (she asked if I had ever seen the show before-meaning Joseph in general) who started acting as wild as any teen age Claymate. After cheering loudly for Clay's song on the floor and dancing around with me during the oh so fun, energizing Go, Go, Go Joe Go-Go number, at Intermission shortly afterwards, she jumped up and yelled to her husband that she had to see the play again…and it wasn't even over yet. And he responded, "Oh yeah, we are going again!"
And the man at the Hotel in the next morning when I was printing my plane boarding pass who asked if I had gone to the play, and went on on and on about how he lived in NYC and went to Broadway Plays ALL the time and had never seen anything as good as this Joseph. When a lady asked if it was any good he raved about it some more and said that she had to hear "that song he sang lying on the floor."…
~~~~~
Clay looks handsome, Clay looks smart, he is a walking work of art. 
Be sure to watch Clay's facial expressions when he sings that line when he first gets his coat of many colors. He is adorable! One of my favorite parts of the show.
~~~~~
Thanks to Grandma Jane, Cincy, snarkystripes, and siclayfan for their comments!
Also…a huge thank you to Wowsers Home for making the following screencaps of the video interview.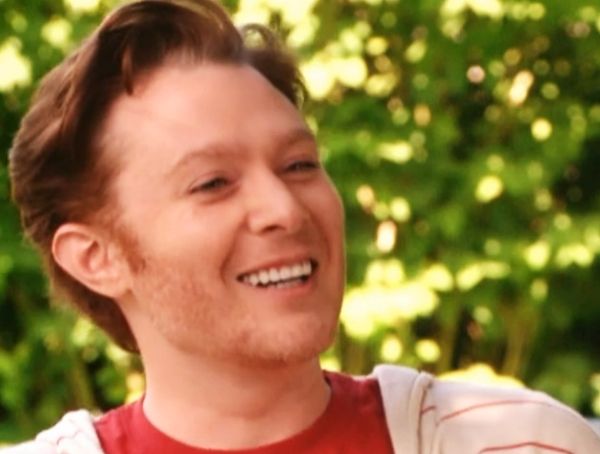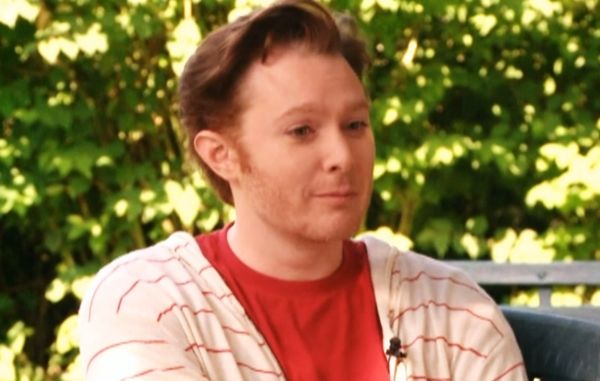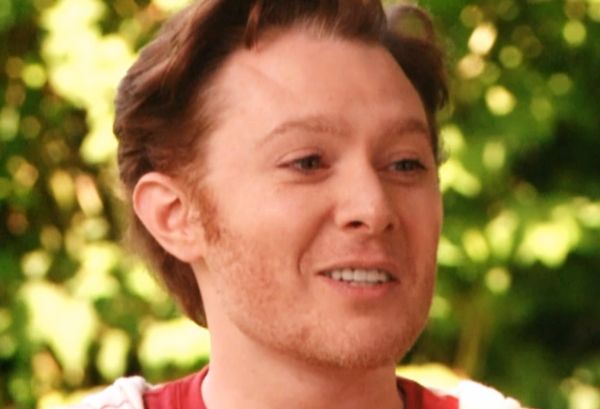 Our dear friend, Gaymarie , is sharing her stage door video with us!
What Fun!!
I want to make sure you know that we have been having a few problems with the program that sends out the e-mails for CANN.  They have not been updating correctly.  Deona is working on the problem and hopefully it is fixed.  If, for some reason, you do not get an e-mail, I hope you will check in as CANN is up-dated every day.  Also, it took us a few days to realize there was a problem.  Please let us know if there is a problem so we can get it fixed ASAP.
Your support is amazing and CANN appreciates each one of you!
Clay Aiken News Network is an unofficial fansite. We are not affiliated in any way with Clay Aiken or his management. This website was made by fans for fans and makes no impression or impersonation of the official site, which can be found under the domain
clayaiken.com.