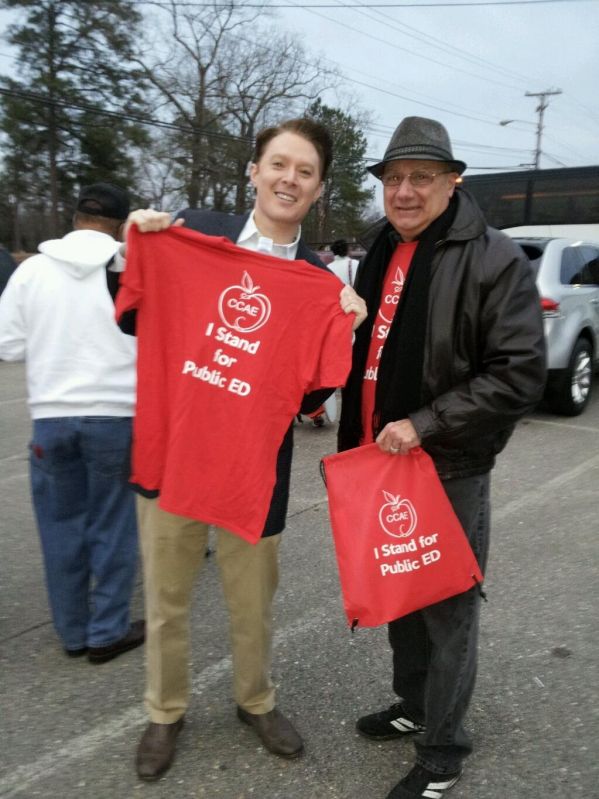 There are a few articles about Clay Aiken that have become available today.
Real Clear Politics – Clay Aiken Running for Congress as Defense Hawk
Former "American Idol" contestant Clay Aiken — the openly gay congressional candidate aiming to unseat Republican Rep. Renee Ellmers in November — may be a political novice, but he's apparently astute in at least one regard: The North Carolina Democrat has staked out hawkish positions on defense spending.

In his first campaign video, he criticized Ellmers for voting in favor of "massive cuts to the military" that were "bad for our country and our district." He accused the congresswoman of voting "against the best interests of North Carolina military families and those who depend on the military for their jobs."…

…Aiken's defense message could play well in the Tar Heel State, which is home to 750,000 veterans. The 2nd Congressional District, which the singer hopes to wrest from Ellmers if he can first win the Democratic nomination, includes Fort Bragg, one of the largest military installations in the country. Some 63,000 military personnel are assigned to the base, which also employs around 11,000 civilians. More than a quarter-million people use services provided by the installation, and sequestration budget cuts have disproportionately affected the Army, which is heavily concentrated at Fort Bragg.

Apart from his stance on military spending, the political newcomer has eschewed concrete policy positions on other issues. For example, he has chosen not to focus on same-sex marriage, referring to it as "a settled issue" in a state that recently passed a constitutional amendment outlawing gay marriage. (Aiken had previously been an outspoken proponent of such unions.)

Instead, the onetime reality-TV celebrity has emphasized his biography. In his campaign video, the 2003 "Idol" runner-up discusses growing up in North Carolina with an abusive father and later working as a special education teacher. He also highlights his bipartisan credentials, noting that he was "appointed by President Bush to serve on a special presidential commission to address the educational challenges of children with special needs."…
I have only quoted a small part of this article by Adam O'Neal.  To read the entire article, visit REALCLEARPOLITICS

~~~~~
Politics North Carolina – North Carolina Democrats: From tobacco fields to cul-de-sacs
…For the past twenty years or so, North Carolina Democrats succeeded by nominating white, business-friendly moderates, usually from small towns outside the urban/suburban corridor. However, the state is changing and so is the Democratic Party. Instead of needing to win more conservative voters in the rural areas, Democrats need to motivate a younger, more diverse base of supporters in urban/suburban ones.

Clay Aiken's entry into the primary in the 2nd Congressional against Keith Crisco highlights the change. Crisco fits the tradition model. He's been a successful businessman in Asheboro. His friends likely come from across the political spectrum and he has close ties to the old political establishment. In a district as rural and conservative as NC-02, that may be the better profile.

However, Aiken represents the future of a Democratic Party that will be younger, more diverse and more urban. It's his demographic that the Obama campaign sought and won in 2012. Aiken has family across the district but he grew up in Raleigh and chose to settle there. He's openly gay and to Aiken and most of his generation, that warrants a big shrug.

Aiken is a product of reality TV in a generation where everybody is a YouTube star. Following his announcement, Buzzfeed posted a list of controversial tweets that Aiken has supposedly deleted. (For the record, I didn't find them controversial. I found them funny.) I doubt Crisco had that problem.

While the Republican Party may be undergoing a painful internal war, the Democratic Party is undergoing a fundamental demographic shift. The next generation of Democrats won't tell us about picking tobacco on the farm. They will tell us about playing soccer or riding skateboards in cul-de-sacs.
This article is by Thomas Mills…you can read the entire article at the site.  Click on the title and you will get to the site.
~~~~~
Check back late.  We will post the news as it becomes available!
Clay Aiken News Network is an unofficial fansite. We are not affiliated in any way with Clay Aiken or his management. This website was made by fans for fans and makes no impression or impersonation of the official site, which can be found under the domain
clayaiken.com.