On Thursday, Clay Aiken was rather busy on Twitter.  Obviously upset, Clay posted the following in the morning:
#ncga proves once again that it prefers the title "NC Laughingstock" over General Assembly. #SB2
This was followed by:
Saw a doc the other day abt AL during the Civ Rights Movement. 50 years from now, NC will b seen as counterpart n the fight for #LGBT rights
So…what was Clay tweeting about?
SB2 is the so called Religious Freedom bill in North Carolina. Although Gov. Pat McCrory had vetoed the bill, on Thursday, the NC House voted to override the veto.  The law, taking effect immediately, means some register of deeds workers who assemble licenses and magistrates to solemnize civil marriages can decide to stop performing all marriages if they hold a "sincerely held religious objection."
Gov. McCrory had said in the past that no one who takes a government oath should be allowed to avoid performing duties required by that oath.
He released this statement just after noon:
It's a disappointing day for the rule of law and the process of passing legislation in North Carolina. I will continue to stand up for conservative principles that respect and obey the oath of office for public officials across our state and nation. While some people inside the beltline are focusing on symbolic issues, I remain focused on the issues that are going to have the greatest impact on the next generation such as creating jobs, building roads, strengthening education and improving our quality of life.
Utah is the only other state that has passed this exemption.
Obviously SB2 was intended to protect those government employees who have a problem with same-sex marriage, which became legal in North Carolina last fall.  But   the bill would actually harm every couple in the state by effectively allowing clerks to refuse to license anyone including interracial and interfaith marriages – as long as those clerks claimed a "sincerely held religious objection."
No wonder Clay was angry and upset!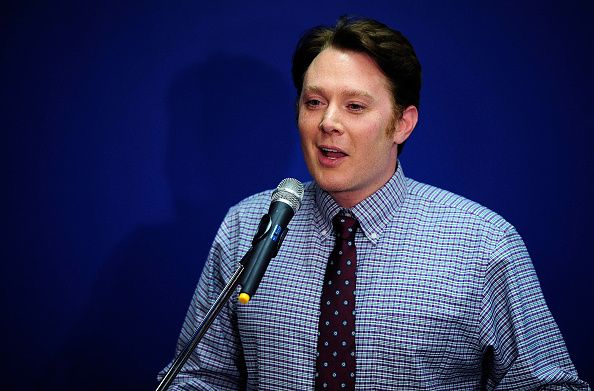 *****  
In the evening, Clay posted another tweet:
My first dreams of singing came while watch "You Can Be A Star" as a child. Thanks for that @JimEdBrown1 – Rest in peace.
I hate to admit that I did not know Jim Ed Brown so I looked him up.
Jim Ed Brown, has been a member of the Grand Ole Opry since 1963 and in 2015, he was  inducted into the Country Music Hall of Fame. On Thursday, Brown lost his battle with cancer. He was 81.
Brown sang with his sisters and the group was called The Browns. According to The Tennessean:
The family band would release their smash hit "The Three Bells" in August 1959. It spent 10 weeks atop the country chart, four weeks atop the pop charts and even cracked the Hot R&B Sides Top 10. The Browns' timeless version of this song would go on to sell more than 1 million records. Subsequent recordings "Scarlet Ribbons (For Her Hair)" and "The Old Lamplighter" were also crossover hits; however, the former would be the group's final Top 10 country single.
Mr. Brown  hosted "You Can Be a Star" for six years during the eighties.
Last January, at the age of 80, Mr. Brown released his first album in 35 years, "In Style Again," for Plowboy Records.
I am glad that Clay mentioned this country artist.  He is someone who loved music and entertained his entire life!
OK…Clay…It sure would be nice to see you on Periscope!  
Or…….a new blog about SB2.  I am sure you could explain it a lot better than I did!  
We all miss you!

Clay Aiken News Network is an unofficial fansite. We are not affiliated in any way with Clay Aiken or his management. This website was made by fans for fans and makes no impression or impersonation of the official site, which can be found under the domain
clayaiken.com.