On Thursday, November 18, 2010, Clay Aiken was in Washington D.C. to speak about the importance of two bills that address harassment and bullying of students at school.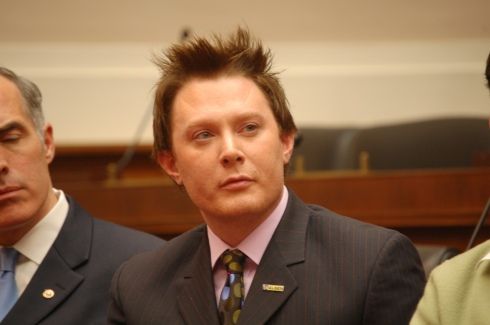 In his blog, Clay stated that he was asked by the Gay, Lesbian and Straight Education Network (GLSEN) to join them on Capitol Hill to advocate for the Safe Schools Improvement Act and the Student Non-Discrimination Act.
Clay joined Senators Bob Casey and Al Frankin, Representatives Jared Polis and Linda Sanchez, Louis Van Amstel from Dancing With The Stars and Sirdeaner Walker and Tammy Aaberg, two mothers who lost their sons to suicide after they faced in-school bullying as they told of the importance of the bills to protect all students. GLSEN Executive Director, Eliza Byard was also a part of the presentation.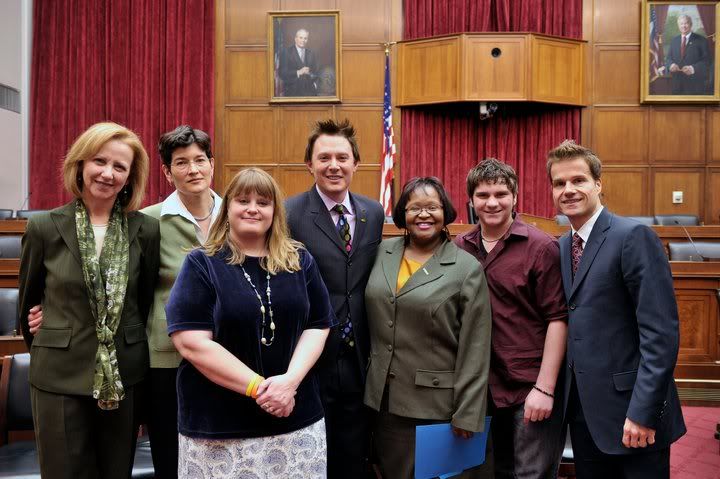 The Safe Schools Improvement Act (SSIA) would amend the Safe and Drug-Free Schools and Communities Act (part of the No Child Left Behind Act) to require schools and districts receiving federal funds to adopt codes of conduct specifically prohibiting bullying and harassment, including on the basis of sexual orientation and gender identity. The Act would also require that states report data on bullying and harassment to the Department of Education. The bill was introduced by Rep. Linda Sanchez and Bob Casey and currently has 130 co-sponsors in the House and 15 co-sponsors in the Senate.
The Student Non-Discrimination Act (SNDA) would prohibit discrimination against any public school student on the basis of actual or perceived sexual orientation or gender identity. Rep. Jared Polis and Sen. Al Franken presented this bill to provide protection to students from bullying, harassment and discrimination. The bill currently has 127 co-sponsors in the House and 30 co-sponsors in the Senate.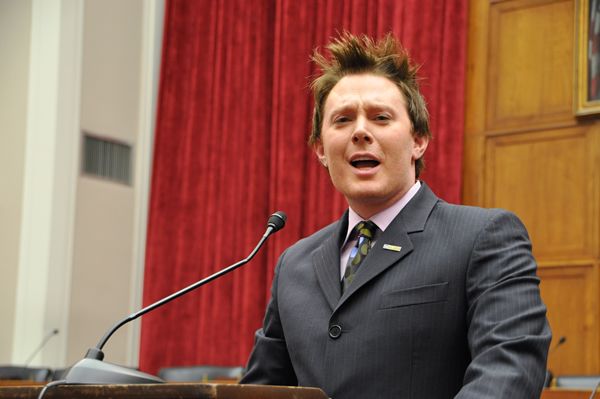 GLSEN published a wonderful article about Thursday's events. The paragraph about Clay's participation says:
Clay Aiken, known to many as an American Idol star, is also a father and a former special education teacher who feels strongly about enacting specific anti-bullying protections so that future generations have the opportunity to fulfill their dreams. "I never had someone who told me that it was ok to be different…that it was okay to be me. What I did hear was that it would get better once I was out of high school…that things would get better. But from where I sat, I could not possibly believe that to be true. We need federal leadership from Congress to encourage all states and districts and each and every school to create safe learning environments where all students can learn and succeed."
After the hearing, Clay stopped by the office of Senator Kay Hagan, the U.S. Senator for North Carolina. The senator posted a great picture of her visit with Clay.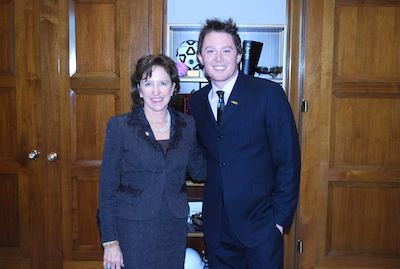 Congratulations to Clay Aiken for fighting for legislation that will directly affect the lives of bullied youth.
Lou Chibbaro, Jr writes for the WashingtonBlade. In the November 19th issue, he wrote a comprehensive article about the GLSEN meeting on Thursday. He said the following about Clay:
"American Idol" singer Clay Aiken and two mothers whose sons committed suicide because of anti-gay bullying at their schools appeared at a Capitol Hill briefing Thursday to urge Congress to pass two bills that would require schools to address bullying and harassment targeting LGBT students.

The Gay, Lesbian and Straight Education Network (GLSEN) organized the briefing as a means of drawing public attention to the two pending bills, the Safe Schools Improvement Act and the Student Non-Discrimination Act.

"Like many kids now in middle schools and high schools, I was bullied," said Aiken, who came out as gay in 2008 after winning the runner up title of best singer on the widely viewed television show "American Idol."

"I was picked on, I was called gay, I was called fag, I was called sissy, you name it," he said. "Fortunately, I was able to overcome it and live through it because of a number of friends who were supportive of me."
You can read the entire article at Washingtonblade.
It is wonderful to see Clay involved and taking a stand on something that he knows about and is dear to his heart.
It is difficult to imagine what Clay has endured in his life.
However, because of his experiences, he is a stronger person today and making a difference, one day at a time.
Do you remember this event?
Clay Aiken News Network is an unofficial fansite. We are not affiliated in any way with Clay Aiken or his management. This website was made by fans for fans and makes no impression or impersonation of the official site, which can be found under the domain
clayaiken.com.