Edison Research is a company that conducts market research and exit polling.  They provide strategic information for businesses and media organizations throughout the world.
Besides providing exit poll information to the top six news organizations, Edison is a leader in researching new trends and consumer behavior.
The Federal Communications Commission selected Edison to conduct a national study about localism in radio.  They also conduct yearly studies with Arbitron about the role of the Internet in today's media world.  They have more than 10,000 experienced interviewers that conduct research all over the world.
Last month, Edison published the preliminary results of a large study they conducted on American Youth in 2010.  It was a survey of the media and technology habits of people 12-24 and comparison of 2010 to 2000. This study was sponsored by Radio-Info.com
The study revealed interesting information about the radio, social networking, CD purchasing and concerts.
Because of the up-coming concert tour that Clay Aiken will be presenting in February and March, I thought I would report on some of the findings regarding music tours.
According to the Edison Research survey, 12 to 24 year olds are going to just 0.9 concerts per year on average, down from 2.1 in 2000.  That represents a 57.1 percent drop.
This downturn seems to be affecting all types of fans, from those who attend many concerts to those who only attend occasionally.
Look at the following:
In 2000, 24% surveyed attended 3+ shows annually
In 2010, that number moved to just 12%
In 2000, 43% reported not going to one concert
In 2010, that figure expanded to 64%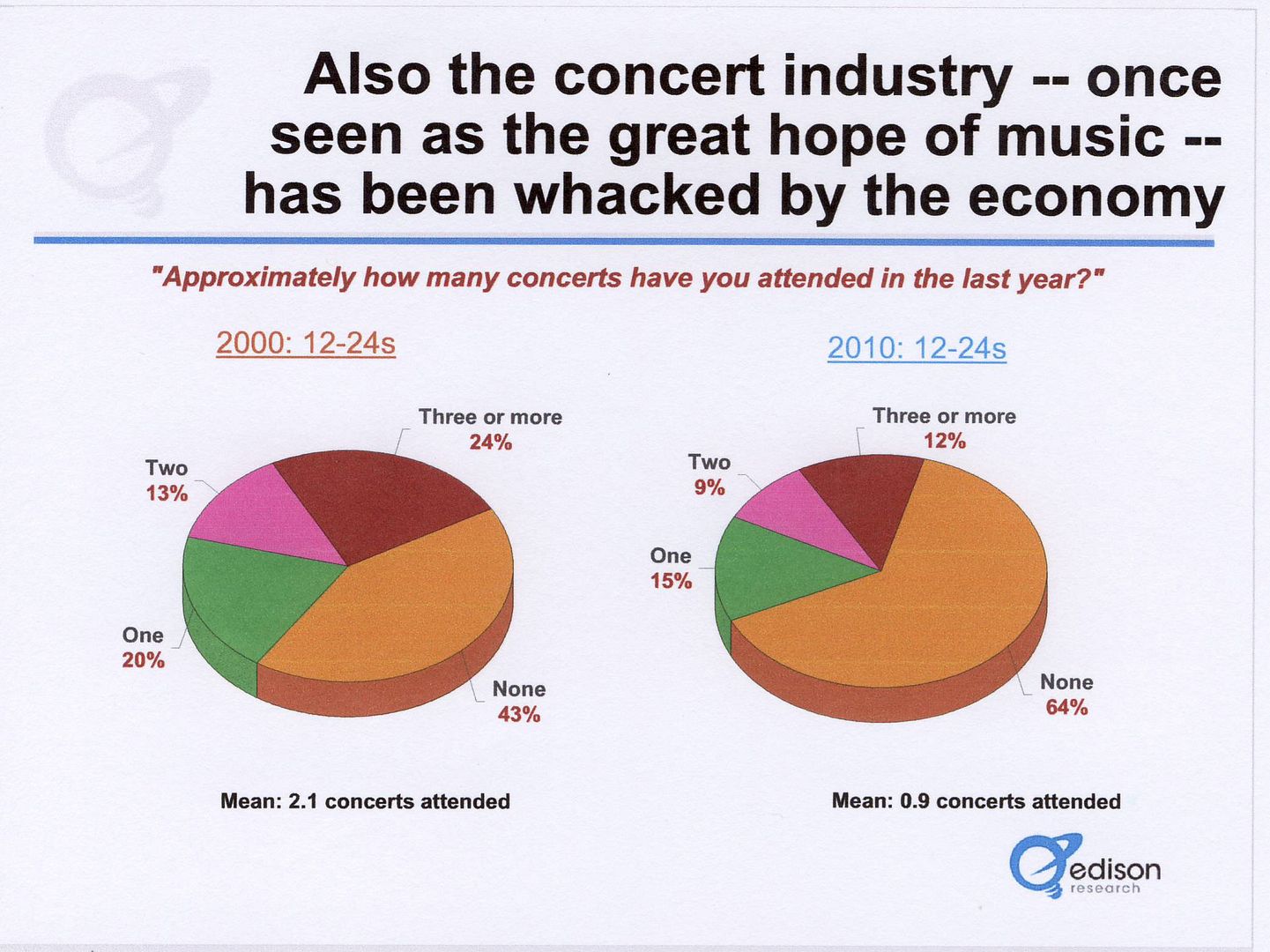 Why is this happening?  Edison blames the economy:
"The concert industry – once seen as the great hope of music – has been whacked by the economy."
However, some musical experts find other reasons for the decline in concert attendance.  In his daily blog, music mogul, Bob Lefsetz stated a different reason for the decline:
"Yes, the economy affects ticket-buying, just like it affects the consumption of so many other consumer goods.  But this recession has revealed the fact that we've got too few desirable acts charging too much for tickets.  Concerts are not like movies, something you go to on a whim, but vacations, which you plan for and experience once a year.

First and foremost you must have desirable talent.  There's a business in staging classic rock shows, just like there's a business in catalog movies and music.  But the lion's share of the revenue comes from new acts.  And new acts are overhyped and overpriced."
Bob suggests that everyone is still trying to get rich from the music business.  He feels that many musicians overcharge for tickets and go on the road too often.  He feels they are trying to make up for the lack of money in recorded music and so they are "burning out the market."  According to Bob, the audience is saying no more, especially at the inflated prices that are being charged.
Bob suggests that you will sell more tour tickets if you create music that people need.  It is not good enough to be a momentary hit.  He suggests that musicians need to touch souls and speak from the gut!
So, there are two different ways to look at the poll results.  Edison Research reads the numbers and blames the economy.  Bob Lefsetz blames the greedy concert world, including ticketmaster, venues, musicians and handlers. What do you think?
The Edison Research has a great deal of information about traditional radio listening.  The data from Edison shows huge dips in terrestrial radio listening.  However, the radio still plays a large role in the discovery of new artists, new music, and upcoming concerts.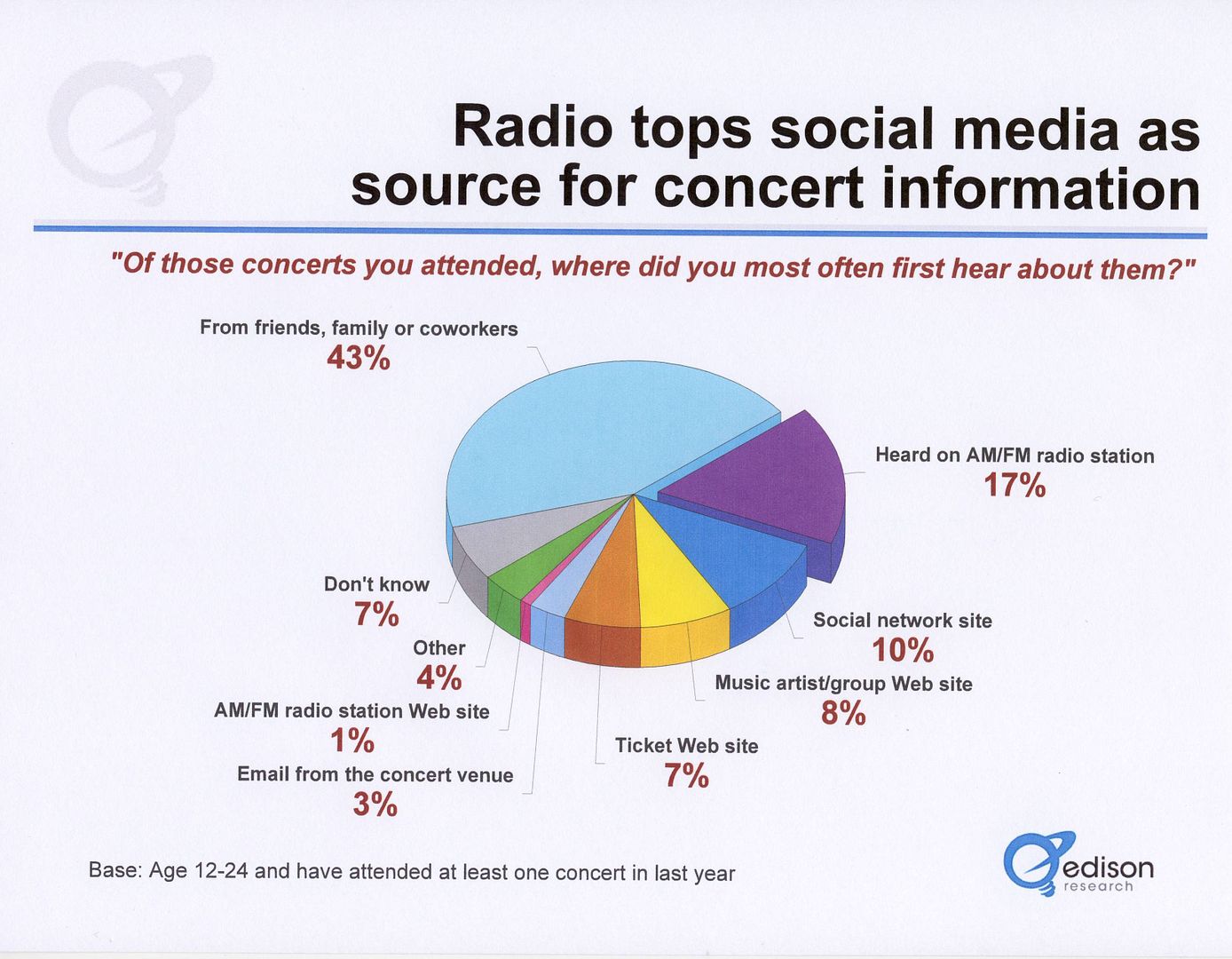 In this era of the changing music and concert business, I find it wonderful that Clay Aiken is able to continue to tour and presents concerts that are exciting and "Touch the Soul."
If you are interested in more information on the Edison Music Study, you can read the entire report at EdisonResearch.  It is certainly full of eye-opening information.  And, if you want to read more from Bob Lefsetz, you can visit his BLOG.
Clay Aiken News Network is an unofficial fansite. We are not affiliated in any way with Clay Aiken or his management. This website was made by fans for fans and makes no impression or impersonation of the official site, which can be found under the domain
clayaiken.com.