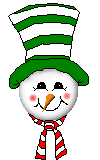 I was doing some research for a music article and came across a great positive article about Clay Aiken.  Published in December of 2003, the article was written by Dawn Holgren for Guideposts for Teens.  Sometimes it is fun to go back and read some of the early interviews with Clay.  After so many years, we see things so differently than we did when they were published.
I hope you enjoy this "Blast From The Past."
COVER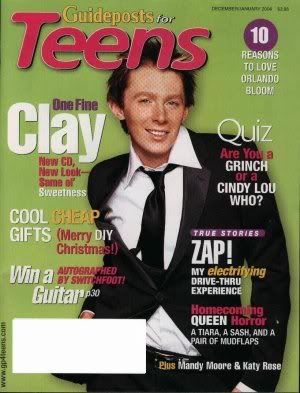 FIRST PAGE OF ARTICLE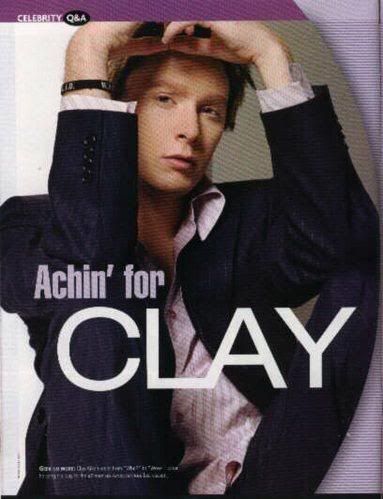 He's America's Idol- and the adorable guy next door.
A year ago, Clay Aiken could walk down the street without being mobbed. He could go to the mall in his hometown of Raleigh, North Carolina, work at the YMCA, and sing in church (man, could he sing!) without turning heads. But today, this friendly 25-year-old guy with the spikey red hair and sparkling green eyes needs his own security detail. His rapid rise to fame is, of course, thanks to a little show called American Idol.
Clay came in second to "teddy-bear" crooner Ruben Studdard, who earned the title of "American Idol" on the show's second season. No matter. Clay's singing career has taken off- he's now busy promoting his CD, Measure of a Man, which released in October to rave reviews.
So how does a former special-ed teacher adjust to life as a famous recording star? Just fine, thank you. He may have a new hairstyle, designer clothes, and a whole lot of shoes- but he's still the same Clay Aiken. Humble, charming, spiritual. A guy who is passionate about music and genuinely appreciates his fans.
Guideposts for Teens caught up with Clay in Seattle as he was wrapping up a 39-city tour across the U.S. with the eight other American Idol finalists.
GP4T: Did you really camp out at the American Idol auditions in Atlanta? What was that like?
Clay: I did, for two nights. It was a little nerve-wracking because it was the first time I had ever put so much energy into something I wanted. But it was a great opportunity to meet a lot of people who have the same passions I do. I made some good friends.
GP4T: Simon was pretty rough on you during the competition. At one point he even said he couldn't stand looking at you! How did you deal with his caustic comments?
Clay: I brushed it off! I had a job to do, he had a job to do. As long as I did as well as I could, Simon's comments didn't bother me much.
GP4T: There is a lot of gossip on the Internet about how the final voting on American idol was rigged, and you should have won instead of Ruben. What's your take on this whole thing?
Clay: It's just ridiculous. If I had won, people in Ruben's camp would have been saying the same thing, Ruben and I are great friends- period. He's excited about my success. I'm happy for him. Honestly, people put more stock in the competition that Ruben and I did. I appreciate the fact that people like me enough that they wanted me to win, but you know, I didn't. Life goes on.
GP4T: The American Idol stylists gave you a total makeover. In a few weeks, viewers watched you go from geeky to gorgeous. How did that feel?
Clay: Back in Raleigh, image wasn't something I cared about much. To be honest, it's not something I always care about now! But entertainment is an image-driven industry. So it was a little hard to get used to my new look at first. But now I am more comfortable. I haven't changed, really. I've just changed the outward appearance.
GP4T: Are you able to keep up the look yourself or do you need some help?
Clay: I'm starting to be able to do my own hair with a flat iron, and I know what looks okay to wear. That doesn't mean I always wear it! A lot of times I just wear running pants and a T-shirt. You know, I never gave anybody free reign and said you can put me in whatever you want to put me in. I have standards that I'm not going to compromise. I play a big role in dressing myself and in deciding what's right for me and what's not.
GP4T: How would you describe your music?
Clay: I do songs that I love. They all have great melodies and they're all good songs with appropriate messages.
GP4T: Do you feel pressure to be a role model to your younger fans?
Clay: I don't feel pressured to be a role model. I feel it's a responsibility. There are a lot of artists who may not be the best role models, the ones where parents are turning the radio down when their kids are in the car. I want to make sure that I'm setting a good example. It's something I'm aware of and am actually proud of.
GP4T: What's been the hardest adjustment for you in all of this?
Clay: Getting used to the constant attention and scrutiny. A year ago in Raleigh, no one cared if I sang well at church. I didn't get critiqued in the newspaper. Now I can't walk down the street like I used to. I was walking in New York the other day, and three paparazzi photographers ran up and started snapping pictures. I was like, "I'm just walking down the street, people. It ain't that interesting."
GP4T: How do you stay grounded, with all the attention?
Clay: I have to look at where I am. I'm definitely feeling that I might have a music career for a while. But I'm still in no position to get too comfortable. We don't know what becomes of an American Idol contestant yet. Kelly has a great amount of success and will probably continue to, but that hasn't been proven yet. No one knows where Ruben and I will end up. It could just be a flash in the pan. I'm here by the grace of God, and it'll last as long as he wants it to- not as long as I want it to.
GP4T: We noticed that you wear a WWJD bracelet. Is there a story behind that?
Clay: A camper I used to have at the Y in Raleigh sent it to me in a letter, during American Idol. It was pretty poignant at the time, because I was in a new situation and remembering "What Would Jesus Do?" was something I needed to have on my mind all the time. I put it on that day, and I haven't taken it off since.
GP4T: Tell me about the American Idol Tour. Did you like life on the road?
Clay: It was exciting. We were in a different city every night, so it was hectic. But it was nice to be able to hang out with everybody we'd been with for the past seven months and do something that we love to do. It was really an opportunity to say thanks to the people who put us where we are.
GP4T: How about all the girls throwing themselves at you and holding up signs proposing marriage?
Clay: I think it's funny. Obviously if I said "yes" they wouldn't say, "okay!" The signs are an attention-getter, and they do get my attention. It is not anything I had happen to me before American Idol- no one was asking me to marry them back then!
GP4T: Have you ever been in love?
Clay: I don't think I have. I've been in relationships where I thought I could be at some point, but I don't think it's that easy to fall in love. It's not a fleeting thing.
GP4T: So do you have a girlfriend?
Clay: I'm too busy for that right now! Once my schedule settles down, that'll probably be a project of mine.
GP4T: We've read that you're scared of cats and water- and some other things. Are you superstitious?
Clay: Not really. I used to think I was. I was interested in zodiac signs and that type of thing, but since I've gotten to LA and met people who are so into it, I realize I'm not into it at all. I'm more religious than I am superstitious. I believe things happen for a divine reason- not because I walked under a ladder.
GP4T: So what's next for you? Will you take Simon's advice and try Broadway?
Clay: That's not something on my to-do list right now! Maybe down the road. We'll see where I am in five or ten years.
GP4T: What did you learn from your American Idol experience?
Clay: You have to believe in yourself- love yourself, really- and not compromise what you feel is right to fit someone else's definition of what's important. And if you have something you want to do, continue to work at it. Have faith in your ability to do it even if you get shot down. I went and did the Charlotte auditions and got cut from them. Then I got cut again when I was in the top 32 and it still turned out okay.
GP4T: The next American Idol starts in January. Will you call in to vote?
Clay: We'll see if anybody moves me to vote. I might! ***
Behind-the-Scenes Soup…er, Scoop!
Just before our early-afternoon interview with Clay in Seattle, Clay was at a restaurant, and he tasted someone's soup. Big mistake! It had almonds in it- and Clay's super-allergic to almonds. He was rushed to the hospital, where he received a shot in his leg to counter the reaction. Word has it that the injection was pretty painful- he was limping around all evening!
Needless to say, our interview got canceled. But three hours later, Clay called us back… just before concert time. Talk about Mr. Nice Guy. Clay never complained once about all the hassle he'd been through. Instead, he apologized over and over for missing our interview.
Awwww…what a sweetie.
Clay Aiken News Network is an unofficial fansite. We are not affiliated in any way with Clay Aiken or his management. This website was made by fans for fans and makes no impression or impersonation of the official site, which can be found under the domain
clayaiken.com.