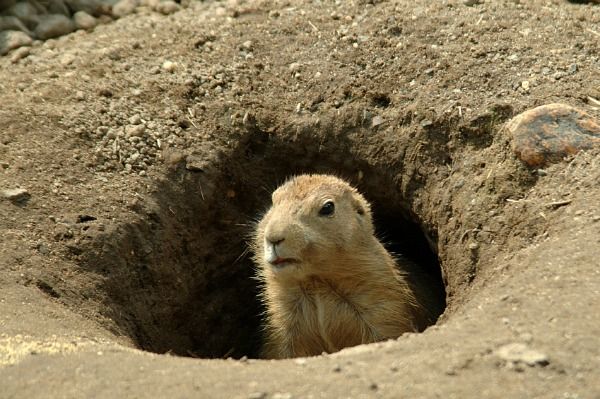 Today is the second of February and much of North America observes the day as Groundhog Day. On this day, according to folklore, the groundhog awakes from its long winter sleep and comes out of its den. If it sees its shadow it will go back in, and we will have another six weeks of winter. If it does not see its shadow it will remain awake and active, and we will have an early spring.
This popular old legend apparently came to North America with early settlers from Europe, where it is believed in some parts that bears or badgers behave in the same manner. Although most people recognize that the legend has no basis in fact, it provides a welcome mid-winter diversion, which is usually promoted by the news media. Actually most woodchucks do not come out of hibernation until March, or even later in the north.
Groundhog Day Trivia
All groundhogs have 22 teeth.
Groundhogs hibernate one to a burrow, with at least two doorways.
Males emerge earlier than females each spring.
Groundhogs can lose 50 per cent of their body weight in hibernation. Their maximum size is 10 kilograms.
They can both swim and climb trees, and have a top speed of 15 kilometres an hour.
Groundhog Day was once celebrated by ancient Celts. It's halfway between the winter solstice and spring equinox.
Farrah Fawcett, Tom Smothers, James Joyce, Graham Nash, Christie Brinkley, and my son were all born on Groundhog Day.
 After reading Clay Aiken's tweets last night and watching the reaction for a few hours Wednesday night, I feel I should say something…but to be honest, this is one day that I am struggling to find what is appropriate to say.  Right now, all I can say is that I am a fan of Clay Aiken.  I believe that he is intelligent, hard-working and very talented.  I hope that Clay continues to follow his heart and can laugh at the career advice he gets on twitter!
I love these two Clay Aiken quotes:
"This is what I love to do, I love to sing and to be able to perform in front of an audience.  It does not happen often where someone can do what they truly love for a living, so I feel fortunate to be able to have my dream of singing come true. Music is such an important part of my life. The best thing of course are the fans. Being on stage and seeing their smiles and knowing they are enjoying the music is a great feeling."

"It is not always about performance art, but about receiving positive energy from people with positive spirits. Sometimes we can see someone's spirit, and those are the people with great energy. Those are the people that get me through the day, especially on Broadway."
Clay Aiken News Network is an unofficial fansite. We are not affiliated in any way with Clay Aiken or his management. This website was made by fans for fans and makes no impression or impersonation of the official site, which can be found under the domain
clayaiken.com.