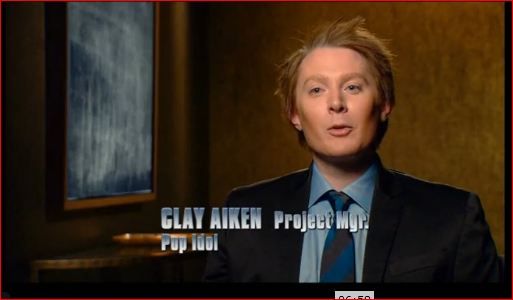 Congratulations to Clay Aiken and the entire Unanimous Team!  These wonderful gentleman just won $50,000 for the National Inclusion Project.    This personifies the reason for Celebrity Apprentice…making money for important charities.  WOW…$50,000 will help so many children.
So far, there are no new screen-caps from the broadcast of Celebrity Apprentice – Week 6.  As soon as they are available tomorrow, I will post them.  A huge thank you to the ladies who provide us with such great CLACK!!
Clay has posted his new NBC-Apprentice Blog.  His wit and intelligence makes reading his "take" on the task a real treat.  Be sure and check it out at CLAYSBLOG
I loved the following from Clay's blog:
In the end, the Crystal Light executives believed that Unanimous had done a better job of capturing the "fun" and "lively" "party-in-a-pack" type atmosphere that they were looking for, and therefore we were safe for another week. And I was able to send $50,000 back to my charity, National Inclusion Project, an organization that helps include kids with disabilities into activities with their non-disabled peers. The organization's goal for the past eight years has been to prevent kids with disabilities from being left on the sidelines. Please check out the website at www.inclusionproject.org
I hope that Clay will win even more for this excellent Charity.
Entertainment Weekly posted their review of Celebrity within minutes of the end of the broadcast.  I love that they had some positive things to say about Clay.
Clay Aiken: Beach Bum
Clay Aiken was my episode 1 to win it all, but this is the first time we got to see him in action as Project Manager. I have to say, I liked what I saw, and I'm not just referring to that crazy fur-lined overcoat Clay was rocking. (Yes, that just may be the first time Clay's name and the word "rocking" have appeared in the same sentence.) The men's peach-turned-beach theme was fantastic, if for no other reason than it forced the attendees into various half-naked states of undress. It also provided us the unmitigated joy of watching Lou Ferrigno and that dude with the handlebar mustache trying to figure out how to open mini cocktail umbrellas.

Clay pulled out all the stops — Sand! Tiki bars! Juggling! — and even got Kathie Lee and Hoda to show up (although they no doubt bolted out of there as fast as possible once they realized the beverages contained no alcohol). The Project Manager saved his best for last, belting out a little "Under the Boardwalk." But Clay didn't sing it alone. All his teammates joined in. As did all the partygoers. In fact, the only person who didn't sing along was Melanie the frighteningly tall Crystal Light executive, who seemed to be completely clueless as to the lyrics. How can you not know the lyrics to "Under the Boardwalk"? In her defense, she was probably too busy daydreaming up more absurd marketing slogans like "Our brand personality is sassy!" and "It is literally a party in a pack!"

Still, as splendid a job as Clay did, his finest moment of the entire episode was at the very top while discussing his disadvantage in the task: "Aubrey is a clubber. Just look at that hair. Aubrey popped right out of her momma's chotch and started grabbing on to the stripper pole." I think, after hearing that quote, I just officially became a Claymate. Is there some sort of initiation ceremony I need to take part in to seal the deal? Like dying my hair orange, walking around in an "Achin' for Aiken" t-shirt, or knocking out one of Ruben Studdard's tail lights? Whatever it is, count me in.
Dalton Ross…welcome to the ClayNation!!  You can read the entire review at  EW.COM
Today, Clay will be on TV and the radio…plus we will have more reviews of Celebrity Apprentice.  Please stop by during the day for updates.  I will post them as soon as I can.
It is with a heavy heart that I must pass on the news that one of Clay's dedicated fans passed away on Sunday.  Gerwhisp is a name that is known through out the ClayNation.  She was a moderator at the ClayBoard was known for her great CLACK.  She always worked hard to produce the very best pictures, screen-caps and videos.  I talked to her a few weeks ago and asked her permission to use her screen-caps on CANN.  Her reply was quick and to the point..Of course you can use the pictures.  You don't need to ask.  They are for all Clay Fans!!  WOW!
The following is the note sent to the CB about Gerwhisp.  Please keep her and her family in your thoughts and prayers.
It is with great sadness that we announce the unexpected but peaceful
passing of Geraldine Anne Wells (Gerwhisp) with her family by her side
on March 24, 2012 at the Ottawa Hospital General Campus.  Gerwhisp was
admitted to the Intensive Care Unit on March 9th suffering from septic
shock as a result of a Strep A infection. This was a very aggressive
form of invasive group A streptococcal infection which occurs rarely.
Gerwhisp was just very unfortunate to get it.  She was a strong women
and in perfect health and over the next two weeks she put up a valiant
fight but the effects of this bacteria and its insidious toxin had
destroyed most of the muscles in her body.  The family knows that she
appreciated all the prayers and best wishes that you sent her during
this difficult time.  We read each and every one of your messages to
her and played her Clay's songs over the entire 2 weeks she was in
hospital.  We know that Gerwhisp would want any donations in her
memory to be sent to the National Inclusion Project ,
formerly the Bubel/Aiken Foundation).

Clay Aiken News Network is an unofficial fansite. We are not affiliated in any way with Clay Aiken or his management. This website was made by fans for fans and makes no impression or impersonation of the official site, which can be found under the domain
clayaiken.com.