This is just a quick post to get some of the articles up that are on the Internet.  Clay certainly made a huge impact last night when he was the Project Manager and led his team to victory.
OK…..here we go!!   I will only include highlights of the articles.  Please click on the link to read the entire article.
New York Daily News
'Celebrity Apprentice' week 6 recap: Aubrey's garden of tasty delights can't compete with Clay's beachside fun 
The two gingers of the season, Clay Aiken and Aubrey O'Day, volunteer their services as project managers.

And it appears, at least initially, that the women have a major leg up.

"You might think that we're people who go to a lot of parties but we're not," insightful Clay confesses, as party-planner extraordinaire Teresa Guidice cracks her knuckles.

….Over at Team Unanimous, Clay has his teammates in agreeance about his "Life's a Peach" tiki beach concept, and even the usually condescending Penn Jillette, who's likely still suffering from the aftershock of Team Forte's boardroom massacre, is being kind to Clay.

…Arsenio and Penn are given the task of hunting down props – mostly so that Clay doesn't have to be in the same room as the escape artist.

…Ivanka, however, is shocked to learn that on the men's team, only two celebrities drink, and none are professed partiers, though Dee Snider's rocker persona and Arsenio's easy charm might suggest otherwise.

But the men manage to pull together a tropical beach-themed bash, complete with tacky matching Hawaiian shirts, tiny drink umbrellas and Clay's angelic voice, just fine. Though there's the initial non-drama of guests arriving late to the party, the men show their guests – and the Crystal Light execs – a good time.

"This is the most fun you'll have with your clothes on!" Arsenio crows.

Who doesn't love a little "Under the Boardwalk" action?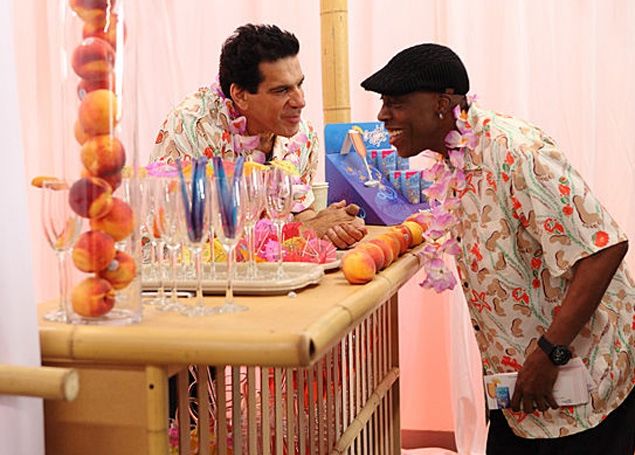 NJ.com
Celebrity Apprentice' recap:  Original Sin
TEAM UNANIMOUS: The executives tell the men that the Mocktails are about "guilt-free fun," and that they want a party that people can't stop talking about. Clay suggests a beach theme built around the tagline, "Life's a peach." Penn Jillette is still feeling a little vulnerable about Clay's "condescending" comment from the week before and wants to check out, but Arsenio Hall notices that Penn seems to be trying harder with Clay. Arsenio and Penn go shopping for the props. Dee Snider is doing signage, and Paul Teutel Sr. and Lou Ferrigno are building the bars. They're all calling their friends to show up dressed for a beach party. Clay will be singing, with Dee and Arsenio as back-up.

Lou and Paul are to paper umbrellas what Godzilla was to Tokyo.

The men's space looks great, but no one is showing up at first. Arsenio and Penn are sent outside to pull people off the street. Finally people start pouring in. Claymates in the house! Arsenio starts a Soul Train line, and someone brings out a limbo stick. Several of the guests strip down to their shorts and bikinis. Hoda Kotb and Kathy Lee Gifford show up, not in their bikinis. When the executives show up, Clay gives them his pitch, and then the men break out into "Under the Boardwalk." Not a classic like "Guilt-free pleasure/Crystal Light!," but not bad.

The men praise Clay's leadership skills, and Clay says everyone on the team did a great job.  After much hemming and hawing, Clay says he would bring back Dee, Lou and/or Paul.  No bonus points from Trump: "Now you have three people that hate you.  Not great."

As for the men's team, the executives were very entertained, and liked the two bars and the bartenders, but felt the signage was placed too low.  And the men…win!

Clay wins $50,000 for the National Inclusion Project, which sends kids to summer camp.
Visit NJ  to read the entire article
Ace Show Biz
'Celebrity Apprentice' Recap: Clay Aiken Sings, Brings Fans to Launch Party

Clay Aiken has stepped up for his team in the latest episode of "The Celebrity Apprentice". He was chosen as project manager for Unanimous while the women team, Forte, choseAubrey O'Day to be their project manager. 

Both teams were tasked to throw a launch party for Mocktail, a new brand from Crystal Light. They would be judged on creativity, brand message and party atmosphere. The men team opted for a Beach theme to promote Peach Bellini, while the women team decided to go with "Garden of Eden" theme to promote Pom-tini. 

The men team surprised Ivanka Trump when Clay explained their plans and told her that they were not partiers. Elsewhere, Aubrey started to worry when Donald Trump, Jr. visited Forte and thought that they might be missing the "fun" component. 

At the men team, Clay enlisted his music director so that he, Arsenio Hall and Dee Snider could work on songs for the party. He felt the pressure was on, but hoped everything would run well on the D-day. 

When it's time for the party, Clay was worried that there were not many people coming yet. He told Arsenio Hall and Penn Jillette to go outside and get people join the party. Soon, their party was flooded with Clay's fans who dressed in beach wear. He then sang "Under the Boardwalk", but didn't mention the product.

At the Boardroom, the ladies were confident they would win this challenge. Donald Trump then announced the men's team as the winner and Clay won $50,000 for the National Inclusion Project.
Read the entire article at   ACESHOWBIZ
There is so much news today.
 I will get more up later.  Please check back.  I will report on Clay's TV and Radio interviews from today  (Monday.)
Clay Aiken News Network is an unofficial fansite. We are not affiliated in any way with Clay Aiken or his management. This website was made by fans for fans and makes no impression or impersonation of the official site, which can be found under the domain
clayaiken.com.