It is Friday, March 30th…Clay Aiken is still the "king of Buzz" on the Internet.  There are so many mentions about Clay, it is almost laughable.  You would think he was saving the world.  Well, personally, I love that he is still an important name in the entertainment industry.
I have picked a few interesting things to write about as I cannot even begin to cover all the 25, 000 articles.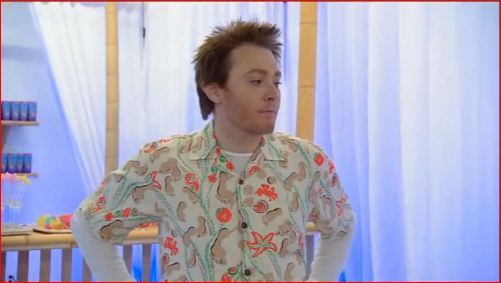 The following was posted at the National Inclusion Project Website…  If you have ever wanted to have a special Clay Aiken memory, why not bid on his Hawaiian shirt from Celebrity Apprentice.  The money will help support The National Inclusion Project:
We are so excited about Clay and Team Unanimous's win on this week's Celebrity Apprentice! The donation of $50K to the National Inclusion Project will allow hundreds of children to participate in an inclusive recreational experience!

Celebrate with us by taking home the Hawaiian shirt Clay wore at the Life is a "Peach" party!

Bidding Information:

If you wish to bid, click *Click here to bid online*. Please submit ONE bid per email. Any bids under the minimum bids will not be counted.

Minimum Bid per Brochure(sic): $500

Current Bid:

*Click here to bid online*

In the body of your email, fill out the information requested. You will not receive a response to your bid entry. Please check the website for bid updates. In the case of two or more people entering the same bid prior to an update, the bidder who bid first will be the one counted. Bidding will end at 8:00pm eastern on Sunday, April 1 when the next episode kicks off. We will announce the winner on Monday!
You can read about the auction and make a bid at NIP  This is a win-win event!
There are three interesting videos that were posted on Thursday.  I am not able to embed them, but the links are posted below.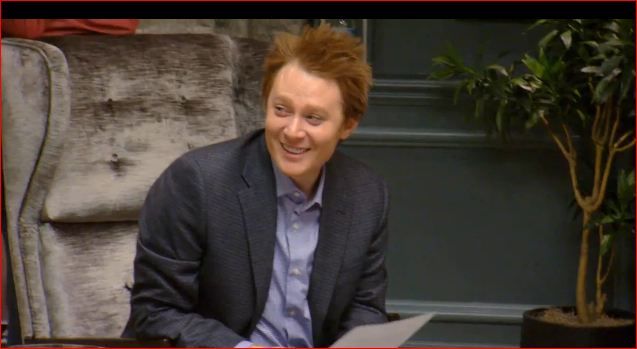 First, there is a very short video that shows the friendship between Clay and Arsenio.  Who ever thought we would see Clay "fight" with Arsenio.  I hope that Celebrity Apprentice includes this in the episode on Sunday night.  You can see the video at EntertainmentWeekly
The next video is from Stars Entertainment.  It is a long preview of the next episode of Celebrity Apprentice.  The show is scheduled to start an hour early on Sunday and will show lots of fun and excitement for 3 hours!!  You can see the video at STARS
Another fun video is an interview with Ivanka Trump.  She talks about her favorite Celebrity Apprentice moments.  You can see the video at  Life Videopedia
The Hollywood Reporter posted an article titled:
  What's Behind Clay Aiken's Media Blitz?  
After flying under the radar, the "American Idol" alum has resurfaced to resurrect his candid persona, competing on "Celebrity Apprentice," confessing to plastic surgery and weighing in on the Trayvon Martin tragedy.

Clay Aiken is stepping back into the limelight, revealing more personality than ever.

The 33-year-old singer will always be part of the permanent pop-culture lexicon after gaining fame as one of the most successful runners-up in American Idol history, dating back nine years to season two.

But he has also been fiercely private, despite flashes of outspokenness. (See: Aiken's bitter 2009 tiradeagainst fellow Idol also-ran Adam Lambert, one of whose TV performances he slammed as "awful," "contrived" and "slightly frightening.")

For years, Aiken — whose fans are dubbed "Claymates" — appeared to be in hiding from his true self, dodging persistent questions about his sexuality. In September 2008, he publicly confirmed he's gay, months after welcoming a son, Parker Foster Aiken, with friend Jaymes Foster, the sister of music producer David Foster. She produced his fourth studio album, On My Way Here, released that same year.

In July 2010, Aiken dropped a disc of standards called Tried and True, and this week, he returns from a two-year album hiatus with the follow-up Steadfast, a tribute to '50s and '60s songs. It contains seven tracks from Tried and True, plus a pair of covers and one original song in a repackaging of his previous effort.

In that sense, he appears to be capitalizing on his current stint as a contestant on NBC'sCelebrity Apprentice, the Donald Trump-created ego franchise from which Aiken most certainly would have shied away several years ago. He can be seen Sunday nights competing for cash (all proceeds go to charity) alongside Arsenio Hall, Debbie Gibsonand Real Housewife Teresa Giudice.

Aiken marked a media appearance to promote his projects on Tuesday's edition of the Bravo chatfest Watch What Happens, hosted by Andy Cohen. The no-holds-barred tone of the show seemed to rub off on Aiken, who confessed to having plastic surgery.

"I had operative surgery on my jaw for a TMJ thing and I had them suck the fat out of my chin while they were in there," he said, not mentioning the date on which he went under the knife. "I was like, 'You know what, while I'm already down, go ahead and take the vacuum in there and suck the fat out of my chin.'"

(It's worth noting that Aiken has made a cameo on NBC's 30 Rock as the cousin of the character Kenneth (Jack McBrayer), whose weak chin is a running joke on the series.)

In another candid conversation, the singer and reality star weighed in on the tragic death of 17-year-old Trayvon Martin, who was shot dead by neighorhood watchman George Zimmerman while unarmed last month.

"The Trayvon Martin story has gotten a lot of coverage already but this is in memory of him," Aiken told the Huffington Post on Wednesday, sporting a hooded sweatshirt in tribute to the Florida teen. "As a father, you think about your own kid and mine is really young but this could be anyone's child. We need to have something happen here, some sort justice and arrest. I'm not saying a conviction, I'm just saying an arrest and a jury deciding this instead of just some cops."

According to the Huff Post, citing sources, Aiken "does very well" during his Apprenticerun.

Nearly 10 years since his overnight Idol fame, the once-shy performer seems to be making a concerted effort to remain in the spotlight, where he seemingly belongs — and wants to be.
I hope you will visit this site and leave a comment.  Too bad they didn't choose an up-to-date picture of Clay.  You can read the article at HOLLYWOODREPORTER
What will Friday bring to the ClayNation?  I hope it brings rest to Clay Aiken and some more fun for his fans!!
A big thank you to both the ClayBoard and Clayversity for the screen-caps.
Clay Aiken News Network is an unofficial fansite. We are not affiliated in any way with Clay Aiken or his management. This website was made by fans for fans and makes no impression or impersonation of the official site, which can be found under the domain
clayaiken.com.