I say with excitement …
 This is a great time to be a fan of Clay Aiken!!
There is so much going in for Clay at this time.  I will try and report on what I know at this time.  Of course, the minute I post this, something new will pop up.  I guess that means you better check back over the weekend to keep up in all the incredible news!!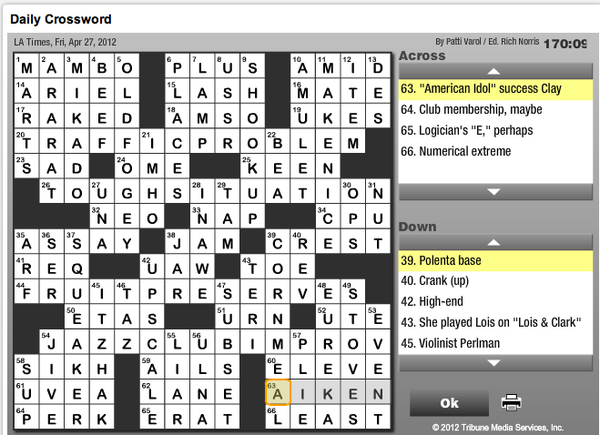 The first bit of news is just fun.  Did you know that Clay Aiken was the answer to a question in the Los Angeles Times?  Well…good for him.  If he were not a huge star his name would not be used.
As reported on here on April 26th, Clay will be performing at the Family Equality Council Gala titled Night At The Pier.  For more information, check out the article posted on April 26th at this site.  I would love to be at this event.  Fortunately, many Clay fans already have tickets so we will get to hear about the evening from the lucky fans.
If you live in the area or are visiting, why not get a ticket to the event…you get to see Clay performing and you are supporting a wonderful charity.
Date: Tuesday, May 8, 2012
Time: 6pm
Locations: Pier Sixty
23rd St. and the Hudson River
New York, NY 10011
NBC releases information about the up-coming episodes of Celebrity Apprentice.  This week, they published the following:
Episode 11: Jingle All The Way Home – April 29, 2012
DESCRIPTION: The teams are tasked with writing and performing a new jingle for Good Sam. It's déjà vu for one team, whose Project Manager struggles with a power-usurping teammate. On the other team, a mutiny results in some of the season's biggest fireworks when the team hijacks the task away from the Project Manager. It all comes down to the performances, and the celebrities must sing their hearts out to get the win. In the Boardroom, one team is declared the victor, and Mr. Trump sends another celebrity packing.
The task:  The celebrities get musical as they are tasked with creating and performing a 90-second jingle promoting " Good Sam's Roadside Assistance Program".
The advisors for this episode are Ivanka Trump and Donald Trump Jr
Next…
Episode 12: Blown Away – May 6, 2012                          DESCRIPTION: The remaining five celebrities embark on their penultimate task, to create a print ad campaign for the new "CHI Touch" Digital Touchscreen Hair Dryer. With nothing left to lose, both teams go all out, but in completely different directions. The executives pick their winner, and Donald Trump fires another celebrity. Their victory is short lived, when the Final Four are summoned back to the Boardroom, where Mr. Trump sends them to the most important job interview of their lives. Returning Celebrity Apprentice, John Rich, and runner up, Marlee Matlin grill the celebrities and make their recommendations to Donald Trump, who is left with a difficult decision: who will be the final two.
Task: As the competition goes down to the wire, the remaining celebrities must create a four-page print ad campaign for the "CHI TOUCH" Digital touchscreen Hair Dryer and pitch it to Farouk Systems and Elle Magazine Executives.
Boardroom advisors are Donald Trump Jr. and Eric Trump
Special Guests: John Rich and Marlee Matlin
And then:
DESCRIPTION: The two finalists must embark on the biggest task yet. They must create, host, and sell tickets to a celebrity charity event, featuring a charity awareness ad and a variety show, starring none other than… themselves. With eight celebrities returning to help them, the two finalists must rely on everything they've learned all season to win the ultimate prize: $250,000 for their charity, and the title of The Celebrity Apprentice. With time running out, one finalist finds they don't have the footage needed to edit their charity awareness ad, while the other finalist goes head to head with a returning celebrity. 
Task:  The two finalists must create, host and sell tickets to a Celebrity Charity event, featuring a charity awareness ad and a variety show, starring celebrities and their helpers
Boardroom advisors are Ivanka Trump and Donald Trump Jr.
The Big Day:
Episode 14:  – May 20, 2012
No official news yet, but we do know that the event will be at the American Museum of Natural History.
Tickets for this live event are not being sold…but there are many sponsors who are raffling off tickets for the event.  GOOD LUCK to Clay Aiken and the National Inclusion Project.  I hope that Clay is a part of this exciting ending to a wonderfully exciting season.
Another performance by Clay Aiken was announced on Friday!  The announcement said:
We hope you will join us at the 2012 Harboring Hearts Spring Gala to be held on Tuesday, May 22, 2012 at the Rubin Museum of Art in New York City.

This year, Harboring Hearts is thrilled to honor Dr. Yoshifumi Naka, Cardiothoracic Surgeon at New York Presbyterian and Associate Professor at Columbia University College of Physicians & Surgeons, and Dr. Donna Mancini, Medical Director, Professor of Medicine and Sudhir Choudhrie Professor of Cardiology at the Center for Advanced Cardiac Care at Columbia University Medical Center.  Dr. Naka and Dr. Mancini, along with the entire cardiac team at New York Presbyterian, work tirelessly to provide the best care for their patients. It is because of these efforts that peers recognize them as leaders in their fields.

With an exciting silent auction and special performances by American Idol alum Clay Aikens, The New York Pops, DJs Nick Cohen and Alexandra Richards, this event promises to be an exciting and memorable evening for all!  So come and support Harboring Hearts and our honorees and enjoy cocktails, food, entertainment, and dancing.

You can purchase an advance ticket online.

We hope to see you on May 22nd!
So what is this organization?  According to their website:
Harboring Hearts provides a haven for heart patients and their families while they are seeking medical care away from home. We offer solutions to financial and emotional problems often associated with a family member undergoing cardiac treatment. These problems include finding housing near a hospitalized patient, paying for the family to live in another city while a loved one undergoes treatment, providing emotional support to a heart patient, and accessing basic living needs.

Through community outreach programs and small grants, we have provided financial and emotional support to 200 families all over the country.

As Harboring Hearts grows, we hope to continue to alleviate the financial and emotional burdens often coupled with heart disease. We want to expand our positive impact on the cardiac community by providing comprehensive solutions for the well-being and health of heart patients and their families.
This sounds like a wonderful organization and I would imagine this Gala will be an amazing event…especially with Clay Aiken performing!!
As I said at the beginning of this blog…
It's A Great Time To Be A Fan Of Clay Aiken!
Clay Aiken News Network is an unofficial fansite. We are not affiliated in any way with Clay Aiken or his management. This website was made by fans for fans and makes no impression or impersonation of the official site, which can be found under the domain
clayaiken.com.