Happy Week-end To All!  What a week we have had!!
Again, we have tweets, messages, and reviews to post.  So…sit back and enjoy!
Twitter
Got my 1st auction item for @BCEFA #bwaybares2014 @clayaiken @OgunquitPH signed poster. @ClayNewsNetwork will ❤it! pic.twitter.com/Bf93nxeWVA

— StageMgrBares (@StageMgrBares) August 9, 2013
I don't know this person, but I love that he got all the autographs on the poster. I hope he makes lots of money for BroadwayCares!
~~~~~~
The following are some reviews from fans!
I mostly wanted to share a NJU story from my last night… A middle aged couple sat down next to me…they were season ticket holders. Not "Clay Fans" she said. They could not believe I had been there more than once. I had said while talking there was no words to describe the show…that you could not capture it that way.
And then the show happened.
Close Every Door happened. I could hear her gasping, if you will, as he sang. When he was done, I heard her say..AMAZING! she turned to me and said. "Goosebumps" At applause time, she was literally hooting and whistling. At intermission, she said something about that song..omg, goosebumps. Her husband said…the one in chains???!! So…get to the end… The husband says…..NOW I see why you went more than once. We are returning next week. THEN he says…After that…I could NEVER watch Donny Osmond in it!!
~~~~~~
And boy, you forget how much you miss that voice live until you hear it again.
~~~~~~ 
The emotion in his voice is so real and believable–it was incredible.
 ~~~~~~
I found Clay's performance during CED to be absolutely mesmerizing – both singing and acting.
~~~~~~
I LOVED the show and everything about the experience in Ogunquit. What a great weekend! My only regret is that I can't go back. I'd love to be there closing weekend. The theater is charming, the show is fun and energizing, the town is full of things to do, and with the exception of 2 curmudgeons at the gas station on Main Street, the people were friendly and helpful.
Highlights of the show, for me:
Close Every Door – Clay's delivery of this song is stunning, not just through his singing voice which defies my descriptive skills, but also through his inflections and body language. I have many favorite performances of songs by Clay over the years, and this one is among those at the top of my list. He connects so well with this song and you feel Joseph's anguish.
Go, Go, Go, Joseph – This is the song that keeps playing in my head. When the children gather around him with their luminaries (am I remembering that correctly?) and encourage him through this song, it just made me smile. What a thrill for them! Beyond that, though, they were very effective. They made me want to join in their cheers and pull for Joseph. My favorite line is "We read the book and you come out on top." Wouldn't it be great if we all knew that things would turn out well when we are in the midst of a situation that we can't imagine getting better? The children's voices were very sweet and sincere. I loved that scene!
~~~~~~
During Friday's performance of Joseph and The Amazing Technicolor Dreamcoat, Clay took a moment to tweet! (How did he have the time to do that?)
Getting old SUCKS! Thank God for a patient and accommodating @OgunquitPH and an incredibly helpful and supportive (literally) cast.

— Clay Aiken (@clayaiken) August 10, 2013
Was Clay hurt? What was going on? A few audience people commented:
Instead of throwing him into the pit, they pushed/dragged him offstage. We noticed that they lifted Clay very carefully tonight.
~~~~~~
Quick note before I crash! I knew "something" was going on with Clay because the brothers just carried him offstage after they took off his coat of many colors and did not throw him in the hole as previously reported. He appeared to limp going offstage at the end of the first half. Shortly thereafter he tweeted his old age sucks comment. But those were the only hints that he might not be 100%. His voice was as good as I have ever heard it! There was explosive applause after CED. It was so full of emotion…words can't discribe completely this broken man prone on the ground and singing to his God. Lastly it did not look like he did the low "company bow" type at the end. That being said he was fine at the stage door and told us to get out of the rain. We said it wasn't raining anymore but he said his pen was wet so he thought it was!
~~~~~~
I think Clay's back was bothering him. I saw him limping a couple of times in the first half, and when they changed the pit scene, I knew something was up. At first, I thought his knee was bothering him, but there were a few changes in the second half that makes me think it was his back. I saw him only land on one knee at one point when he was tossed to the ground, keeping his right knee up off the floor, When the Pharaoh makes him his no. 2 and he gets surrounded by the groupies, he didn't get down and crawl out from the circle of groupies like he did in prior shows. Later when the brothers are begging for mercy for Benjamin, Clay went down on one knee to place the golden cup upside down on the stage instead of bending over to do it. He did not pick it back up like he usually does to give it to Benjamin when he hugs him.
~~~~~~
It was also reported that Clay's son was in the audience Friday night to watch his dad.  I hope Parker enjoyed seeing his dad perform.  He was sitting with his grandmother, Faye!
~~~~~~
The following are a few stagedoor pictures: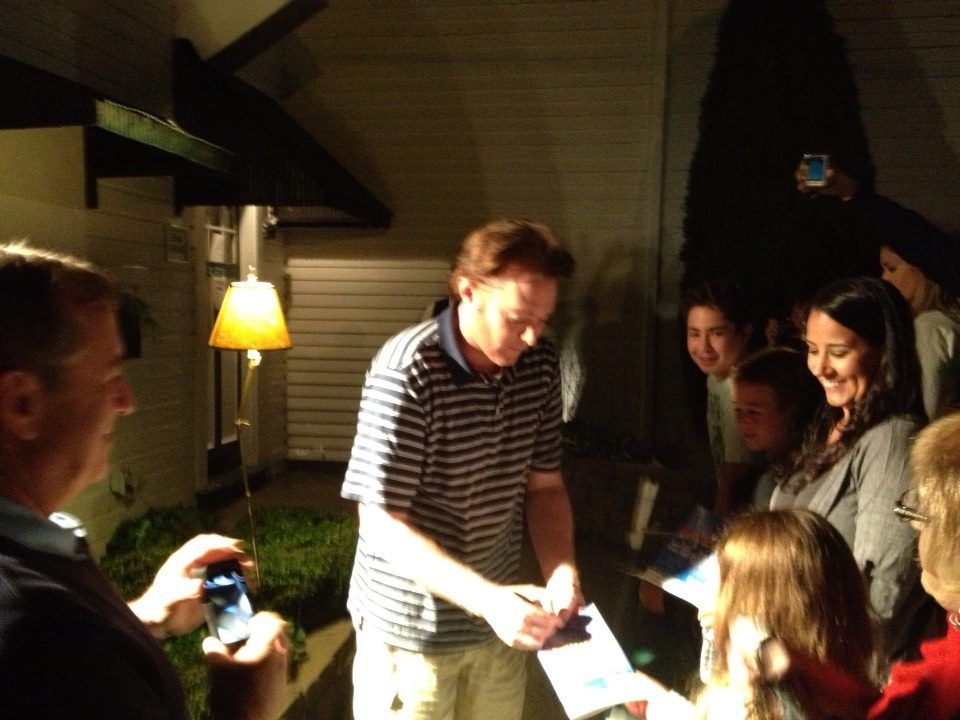 ~~~~~~
I have just one more thing to say before I post this.  CANN always loves to share with all of you when we can.  However, there are a few things that we will not share.
* We will not post pictures of Parker unless his dad gives us permission.
* We will not post pictures when the photographer has asked for them to stay private.  Fortunately, most photographers are kind enough to allow us to post their pictures, but it is important that we all follow the rules.  If they ask that the pictures stay off of Twitter and FaceBook, then we all need to follow their wishes.  If we don't follow their wishes, we will lose the opportunity to see the pictures completely.  I will always post any special requests from the photographers with the pictures. I would feel horrible if someone took a picture from here and shared it when asked to keep them at home.  Thank you for understanding!
~~~~~~
A quick…feel better soon to Clay.  We all want you feeling good and healthy!
Clay Aiken News Network is an unofficial fansite. We are not affiliated in any way with Clay Aiken or his management. This website was made by fans for fans and makes no impression or impersonation of the official site, which can be found under the domain
clayaiken.com.