Are you interested in buying a piano?  Maybe you would like to participate in a small, intimate concert by Clay Aiken.  If so, you need to keep reading!  Yes…Clay Aiken is selling his Baldwin Grand Piano.
Clay posted a new blog on his Official Fan Club site in Tuesday.  The blog is open to other sites so I can quote some of the information here.
On Tuesday Clay wrote:
…Since this seems to be a lot bigger than I expected it to be, let me lay out a few things for you guys to ponder….

— The piano is a 2004 Baldwin R1 Grand. It's just under 6 feet long, so measure your living room. It's worth $30k, so bear that in mind when preparing your bids. Also, it was used on some of the tour dates for the 2004 JNT tour (the ones where the venue didn't provide a piano) if that matters to anyone. It's in pretty much MINT condition because, besides those dates and the rehearsals for the 2007 JNT tour that we held in my living room, it's almost never been played!
— If groups of folks want to pool money to buy the piano so that they can attend the mini-concert, thats fine by me. However, there's only one piano… and you've got to cover the shipping costs to get it to you. But y'all have to figure out which of you gets to keep it. We ain't cutting it in 30 pieces and mailing it out! Ha Ha
— The mini-concert has to be held in a private place. In other words, you can't buy the piano and then rent out the local auditorium and have me do the performance there. If there is not enough space in your home, then I will discuss other alternatives with the winner (or a representative of the winning group). However, It's just 30 people, so don't think you can sell tickets to folks. This is a chance to do something intimate with some fans in a different setting. I've sung in auditoriums. I don't wanna do that here.
— The mini-concert will be just me and a piano player (Ben or Jesse, only if they are available) and somewhere around 10 songs "curated" by me. Additionally, since it's in a private home, it gives us a chance to be a bit more interactive. So, if there are songs suggested by any of the 30 members in the audience that both myself and the piano player know, we may be willing to try them. But I can't make promises.
— The evening event would be limited to about 3 hours. I ain't spending the night folks!!!
— The in-home mini-concert really should be scheduled and completed by the end of the year this year (if at all possible). Not a deal breaker… we can push it into 2014 if we must… but it would be ideal to do it before the end of this year. Scheduling will be easier.

I have already heard speculation that there are at least two or three groups of fans who are interested in bidding on eBay. If there really are that many, then I would hate for fans to lose out to some random person on eBay.
If there is enough interest, we can move the "bidding process" off of eBay, save you guys the eBay charges, etc and guarantee that a fan/fan group gets the piano and not some rich dude in Saskatoon!
But… we can only do that if A) there are enough groups and B) if those groups want to bid via email.

So, I've had someone set up an email account pianoconcert@duraleigh.com
If you are a member of a group that is looking to bid on the piano, have ONE representative of the group become your designated bidder (probably should be the person getting the piano) and have that person reach out to Cheryl atpianoconcert@duraleigh.com letting her know that there is interest from your group and whether you would rather bid privately via email or bid on eBay. Just one representative please. She confuses easily! 😉
So…what are you waiting for?  Pass the word and see if you can either start a group or join in to a group.  You can bid on an outstanding instrument and a fabulous mini-concert with the talented Clay Aiken.  Be sure and read Clay's entire blog to get more information.  It is posted at his Official Fan Club website.
The Gibson/Baldwin website describes this piano:
R1
The Baldwin R1 Artist Grand Our R1 combines traditional grand piano styling and performance to deliver the full, rich, resonant sound expected from a much larger instrument.A mid-sized grand that delivers rich, resonant sound
Measuring exactly 5'8″, the R1 Artist Grand falls in the middle of Baldwin's size range for grand pianos. This means it will fit beautifully into almost any home. Superior craftsmanship and materials set this piano apart from Baldwin's competitors. The R1 features a one-piece, continuously-bent rim design constructed entirely of maple. In addition, the soundboard is made of the finest quartersawn spruce available so that you can enjoy wood with a tighter grain pattern and improved uniformity for exceptional tonal characteristics. The piano's sharp keys are made from genuine African ebony wood with an added radius for a superior feel, and the Baldwin-engineered Renner hammers deliver world-class note-to-note clarity and consistency, while its superior action provides faster key repetition rates, in addition to an increase in dynamic tonal range. The three pedals are traditional — soft, sustain and sustenuto — and constructed from solid brass, and the fallboard utilizes a pneumatic, slow-close mechanism design.
On a personal note, my mother was a Julliard Graduate and a concert Pianist.  I have her Baldwin Concert Grand Piano in my living room.  It is at least 100 years old.  It still looks beautiful and more important, sounds beautiful.  I just wish my mom was here to play  it again.  Now, the piano gets to help my grandkids learn their beginning piano songs!
I love seeing Clay at the piano:
Clay, are you sure you want to sell that beautiful piano.  You seem to like pianos!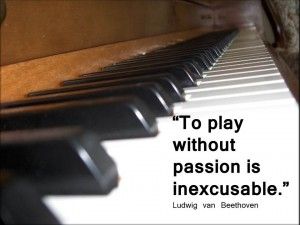 Clay Aiken News Network is an unofficial fansite. We are not affiliated in any way with Clay Aiken or his management. This website was made by fans for fans and makes no impression or impersonation of the official site, which can be found under the domain
clayaiken.com.