On Thursday, I was reminded of the Carpenter's song, We've Only Just Begun.  Yes, it is from the 70's and yes, it is a love song, but the title just ran through my head all day! And, so many lines fit the events of the day!
…Before the risin' sun, we fly
So many roads to choose
We'll start out walkin' and learn to run
And yes, we've just begun…
…And when the evening comes, we smile
So much of life ahead
We'll find a place where there's room to grow
And yes, we've just begun!
Songwriters
NICHOLS, ROGER S. / WILLIAMS, PAUL H.
~~~~~
Yes…It is the Beginning of
The 2014 General Election Campaign 
For The Office of
United States House of Representative District Two
Clay Aiken

On Thursday, Clay Aiken tweeted and posted a message on his Facebook account to announce the beginning of the General Election Campaign.
~~~~~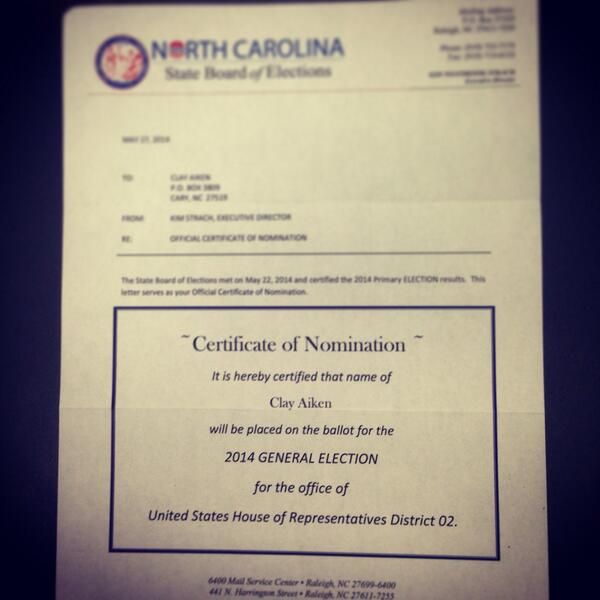 In an e-mail Clay said:
We got something exciting in the mail that we wanted to share with you. We get our fair share of mail, but when you get an official letter from the State Board of Elections stating your name will be on the general election ballot, everything becomes a little more real. And it signals that it's time for the real work to begin. From now until November 4, we're going to focus every day on holding Washington and Renee Ellmers accountable for their failed record and inability to work in the best interest of the people of the Second District.

It may just be a letter, but it's clear – the road to November begins today. We've already begun to lay the groundwork for our general election campaign, and we're ready to take on Washington in the fall. But we're going to need your help…

…The road to November begins today. It won't always be an easy one, but we're prepared to put in the work.

Starting today, we need your help – and the financial resources to run a campaign that can overpower the special-interest money that will be poured into our district…
…Thanks for being part of our team. We couldn't do this without you.

Yours,

Clay
Clay included the following link to donate to his campaign. DONATE
~~~~~
So…if you are wondering how you can help, there are a few things you can do.
1.  If you live in the U.S. you can help by donating to Clay's campaign.  Every dollar counts and $5.00 can make a difference.
2.  Try to keep the buzz about Clay going on all social networks.  Every positive tweet or mention helps…but remember, Clay is now in the political arena and that's what we need to post about most of the time.
3.  If you live close by, try to attend a fundraising event.  It's lots of fun and it shows support for Clay!  If you want info on the fundraising events, you can check with Clay's team CLAYFORNORTHCAROLINA  or, ask here and we will try and get the information for you!
Remember, twitter is easy and you don't have to share any personal info on the site.  If you need some help getting started, please ask.  We can help you get started!
So…We've Only Just Begun.
Every day, in every way I can, I will support Clay in his run for Congress.  Washington D.C. needs Clay and I hope that the people of the 2nd District of North Carolina get to know Clay and the way he wants to make a difference.
 Do you have a message of support for Clay?
Clay Aiken News Network is an unofficial fansite. We are not affiliated in any way with Clay Aiken or his management. This website was made by fans for fans and makes no impression or impersonation of the official site, which can be found under the domain
clayaiken.com.