On Tuesday morning, Clay Aiken posted a blog on Huff Post-Politics. Titled Why In The World is Clay Aiken on CNN, the article is a well- written piece about the political climate that is part of our world these days.
Clay wrote about the disdain that people from both sides of the political aisle have for politicians and he emphasized the importance of becoming involved in the political process.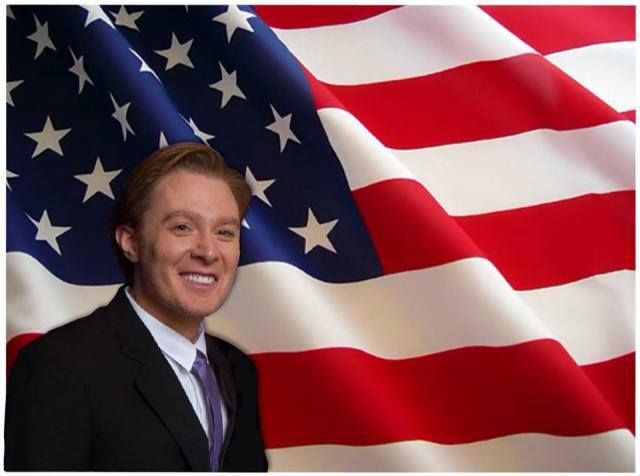 The following is one of my favorite parts of the article:
During my 2014 campaign for the U.S. House seat in my North Carolina home district, I spent my time trying to convince remarkably Republican voters to vote for me despite my decidedly progressive views. In a district like mine, a Democrat must win over conservatives to even have a prayer. In fact, if every Democrat in North Carolina's 2nd District had voted for me, I still would have needed some Republicans to cross over and give me a chance.

And that meant rubbing shoulders with plenty of Tea Party voters. So there I was, gay as Christmas, campaigning at a pig pickin' where the raffle giveaway was a semiautomatic rifle and the local state senator insisted on calling our president by his full name, Barack Hussein Obama (jingoistic emphasis on the "Hussein").
Please be sure and read the entire article.  It is very good.  Clay wrote about a serious topic, but used just enough humor to make the reader want to continue to the end.  You can read the entire blog at HUFFPOSTBLOG .  It can also be found on Clay's website and his Facebook page.
But……the blog was not the only surprise of the day.  Clay was a guest panelist on CNN on Tuesday.  He joined Brooke Baldwin as they talked about Tuesday's primaries,  the possibility of loss of support for Trump and the success of Bernie Sanders.
As always, Clay was articulate and knowledgable.  He has a way of talking that makes you want to listen.  So far, I have not been able to find a video of the show, but I will continue to look for one.
A big thank-you to ldyjocelyn for sharing some screen-caps: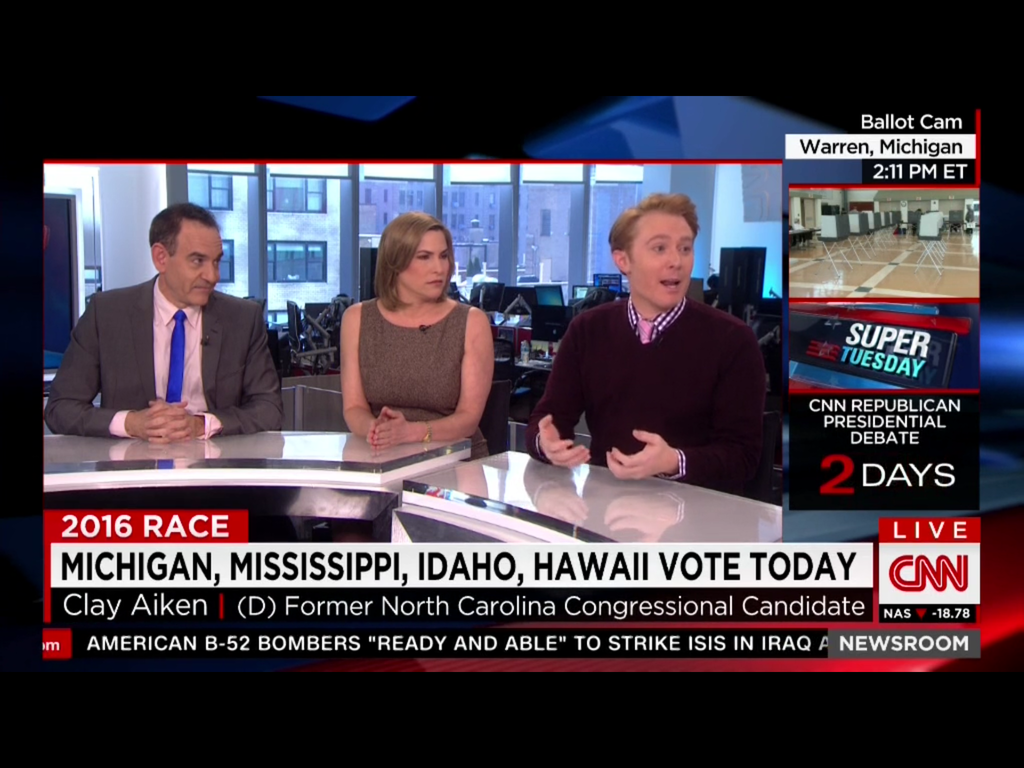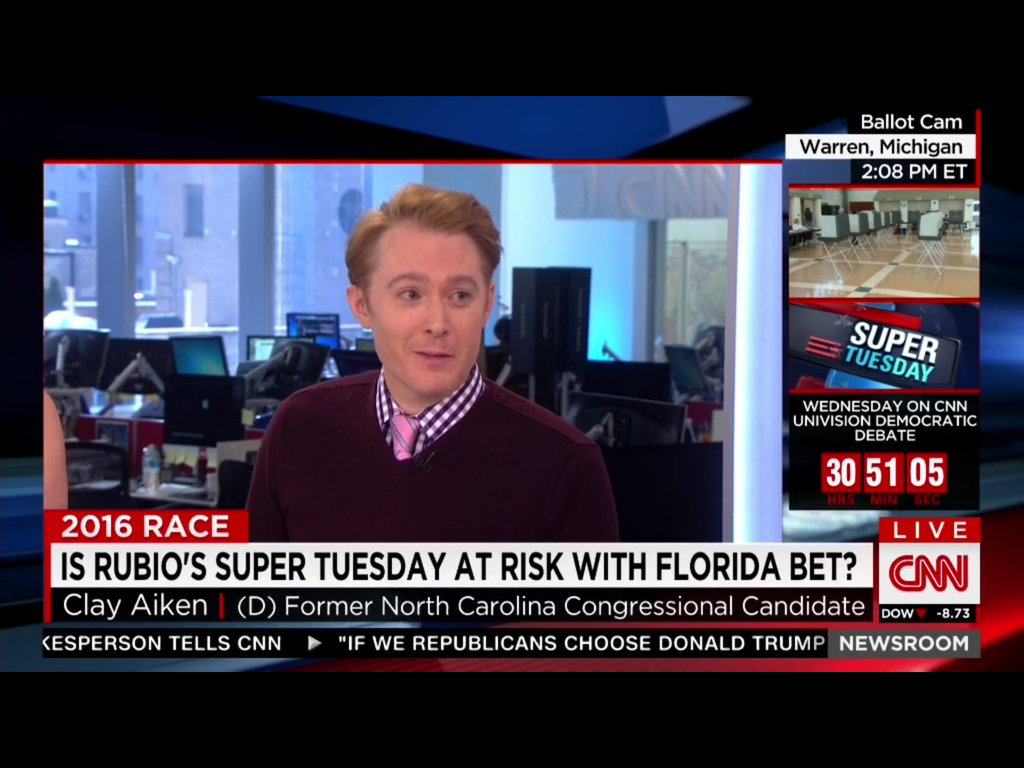 Between the blog and the appearance on CNN, there was a buzz about Clay on the Internet.  The following are a few of the articles written about Clay on Tuesday:
Politico
Clay Aiken: My mom's voting for Trump even though he fired me on 'Apprentice'
…During a discussion on CNN Tuesday afternoon, the "American Idol" runner-up, who also finished second on Trump's show and lost to Rep. Renee Ellmers (R-N.C.) in the 2014 midterms, said his mom had settled on supporting Trump despite some misgivings…

…"A lot of the people who are supporting Trump are supporting him because he's not a typical — he's not a typical politician," Aiken said during a discussion of American Future Fund Political Action's latest ad hitting the Republican front-runner on his vulgar language…

You can read the entire article at POLITICO
The News & Observer
Another piece of Clay: Aiken turns CNN pundit
Clay Aiken, the former "American Idol" star, congressional candidate and documentary-series figure, is back in a spotlight of sorts as a political pundit on CNN…

…Referring to himself as "the gay guy from 'American Idol,'" Aiken said in the Huffington Post piece that he's back in the media-politics game to represent outsiders like himself.

"This is a real and important conversation, and one I've tried to be a part of for the last two years," Aiken wrote. "So if you see me on CNN, rest assured I'm not there to sing. I'm there to use my unexpected voice in a different way, to speak for the outsiders."
The Hill
Clay Aiken: My mom's voting Trump, even though he fired me
By Mark Hensch
Singer Clay Aiken on Tuesday said his mother is voting for Donald Trump — despite the GOP presidential front-runner canning him from his reality television show in 2012…

…A number of people in North Carolina who I've spoken to have decided to vote for Trump because the establishment is attacking him and they're tired of typical politicians," added Aiken, who unsuccessfully ran for a House seat representing the Tar Heel State's 2nd Congressional District in 2014.

Aiken also argued that Trump is resonating with voters exhausted by politics as usual from traditional lawmakers.

A lot of people who are supporting Trump are supporting him because he's not a typical — he's not a typical politician, he said.

The former "American Idol" runner-up added that campaign ads deriding Trump's course language would not dent his popularity with voters…

Click on TheHill to read the entire article
~~~~~
I hope that Clay will be on CNN often in the future.  He always adds so much to the discussion and seems to always pick up on what and why things are happening in the political world…and, I am looking forward to another new blog.
Did you see Clay on CNN on Tuesday?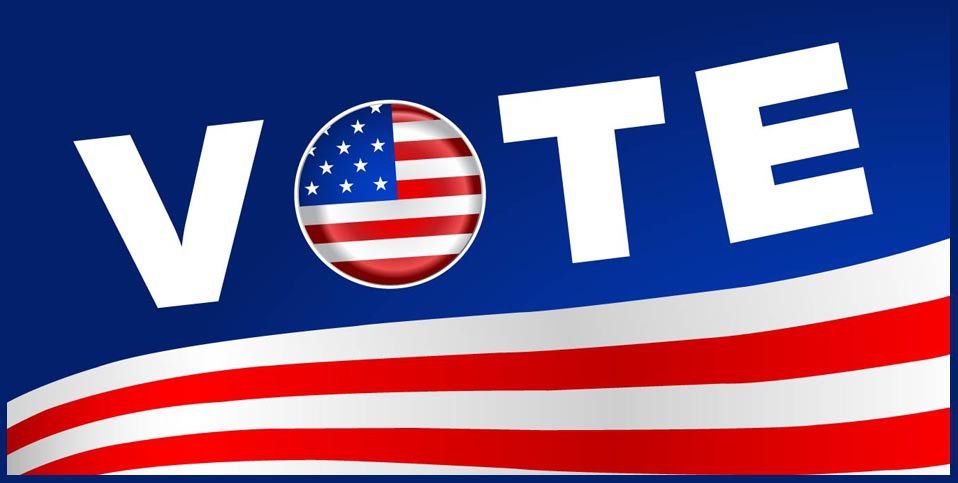 Clay Aiken News Network is an unofficial fansite. We are not affiliated in any way with Clay Aiken or his management. This website was made by fans for fans and makes no impression or impersonation of the official site, which can be found under the domain
clayaiken.com.