The following reviews were posted too late to make my original article.  Be sure and check both articles for complete information.  I will add more if there are good mentions of Clay Aiken or the show.
Rolling Stone – The Hair Model Wars
By Dan Hyman
… Lampanelli and Aiken, meanwhile, hope to emphasize the hairdryer's beneath-the-surface potential; to that end, their ad campaign will display women who are "more than just a pretty face."
… Lampanelli and Aiken's photo shoot is a bit less exciting; the only drama revolves around Aiken feeling that Lampanelli isn't doing much of anything, considering she's the project manager.
… The interviews are rather bland – although Rich does show a never-before-revealed mean streak as he nearly makes O'Day cry and tells Aiken that he's weak. The breakdown of the interviews is simple: Rich and Matlin both feel O'Day is fake, Aiken isn't tough, Hall is too temperamental and Lampanelli is an emotional wreck.
You can read the entire article at ROLLINGSTONE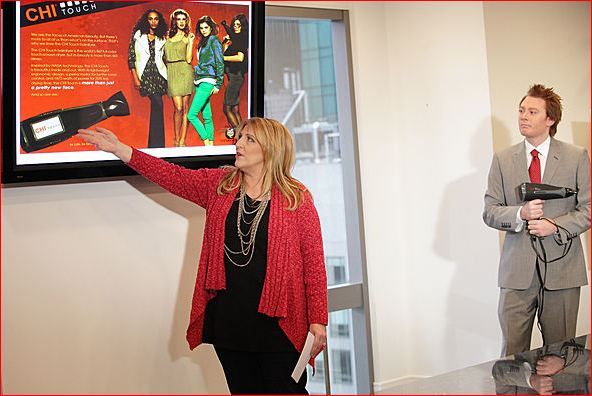 CBS NEWS – Two Fired – One To Go
By Mary-Jayne McKay
…With Hall, O'Day, Lampanelli and Aikin in the final four, Rich and Matlin stepped in to advise the Trumps. After interviewing all four, they chose two of the celebs to be fired. But only one – Lisa Lampanelli – was axed Sunday night. The other loser will be announced next week.
This article with little mention of Clay, can be read at CBSNEWS
Philly.com – The End Is Near
David Hiltbrand, Inquirer Columnist
… So what is your opinion? Who makes it to the finals? In my opinion Clay is a lock. The guy has a scary psycho side but it never got exposed. So who joins him: Arsenio or Aubrey? Or are they in and Clay out?
I don't understand the "scary psycho" comment, but if you want to read the entire article, click on PHILLY
US Weekly – Teresa Giudice, Lisa Lampanelli Eliminated
By Allison Corneau
… "You can't fight someone who's unarmed. That's what the Real Housewives have seen all along. You just sit there, give her a rope and she hangs herself," Lampanelli, who won the task with Clay Aiken, snapped of Giudice.
USWEEKLY is the link to the article.
… Team Forte is just Lisa and Clay now, and Lisa takes her turn as project manager exuding confidence.
…  Clay and Lisa work well together, but both are on the lookout for flaws that they can use in the boardroom. Their idea is more abstract: that women are more than their outsides, just as this hairdryer is a wonder of technology hidden by a sleek surface. It's an interesting premise, given just how often Lisa equated Dayana's glowing pulchritude with having no brain, but their pitch meeting was far more professional than the other team's. To me, their advertisement copy looked far too long, but the executives loved the informational aspect even though the styling looked, according to Farouk, "very 1970s or 1980s."
… Arsenio gets taken to task for not working hard enough. "You don't look tired," John tells him. Aubrey gives John a laundry list of people she's done charity work with including, seriously, Fidel Castro. Unfortunately, her manipulations aren't working on Rich's wise Stetson-wearing head. "She's a chess player, but she's a little transparent," he tells Trump. Clay Aiken barely finishes a sentence.
To read the complete article click on AVCLUB
Photos From NBC
Who do you think will win: Clay, Arsenio or Aubrey?
…  
Clay Aiken News Network is an unofficial fansite. We are not affiliated in any way with Clay Aiken or his management. This website was made by fans for fans and makes no impression or impersonation of the official site, which can be found under the domain
clayaiken.com.