Monday is supposed to be the day of the week that the cast and crew at The Ogunquit Playhouse relax and get ready for another full week.  It seems that they did, however, the news reports, tweets, FaceBook comments and reviews didn't take the day off.  It was a busy day on-line!!
The first things here are a few reports from Clay Aiken fans.  They were rather long so I did edit slightly, but I tried to keep in the most important parts of the reviews.
…The cast was much better than I ever imagined for local theater. I really enjoyed the narrator and the brothers. After Clay…they were my favorites.
One of the brothers got very emotional and was crying at the end of Those Canaan Days….beautiful song….3rd only to CED and ADWD …for me. Someone said it may have been because he had special family in the audience.
There were a number of young kids in the row behind me. One was cuddling a stuffed animal. Warmed my heart to see little ones enjoying Clay so much. Not a peep from them all night.
I wish Clay sang even more songs…but, I would "kill" to have a professional recording of Close Every Door. I have listened to the Donnie Osmond rendition for years….though I have never seen the play until tonight. I knew Clay would do an amazing job with it…but never imagined he would make it virtually impossible to listen to any other version again. I cried. Sigh. Another emotional moment for me was when he was reunited with his"father".

At stage door, I never imagined I would get my program signed…i don't scream out. Clay said he was done and started to walk away, then almost turned around as an afterthought and signed mine. I said "thank you so much. I have travelled from two different coasts to see you (sleep deprivation at it's worst ). Clay, who was very quickly walking away again, momentarily stopped in his tracks and said something like…WHAT? How did you travel from two different coasts??!? Embarrassing for sure. In my sleep deprived state, I totally baffled him. Hopefully, it gave him a chuckle…
~~~~~~
I had never seen the musical even though I love musicals and see a lot of local theatre. The play had a run in Lancaster's Fulton Theatre that ended at the end of June. It got great reviews (more on that later). I thought the production at Ogunquit was first rate, really outstanding. Not a weak actor in the bunch. The dancing-amazing. I thought Clay did fine among such talented, experienced group with some areas that were truly stellar and other areas (in my opinion) he has room to grow. And I confident he will because that is his work ethic.
Clay's voice was stellar-I am not sure I have ever heard it better. Close Every Door-I don't think I breathed through the entire song. I was mesmerized. Vjm and I talked about this – there were many very good voices in the production but there is just something so very special and gorgeous about Clay's – it just sets him apart. I found myself thinking that Clay's voice is perfectly suited for the theatre (not that he should be limited to that). His emotional and physical connection to that song was superb while he was singing CED, just wonderful…
…It seems that the general consensus from NJU that I have gleaned from the reviews and the FB posts brought to the board is that Clay does fine and sings wonderfully but that the showstoppers involve scenes featuring the brothers and the Pharaoh who did get the louder applause on Friday night . (Clay got the loudest applause on Saturday). This is consistent with the reviews on Joseph from the Fulton. The reviewers focused on the brothers, pharaoh and narrator and mentioned Joseph briefly but positively for his voice. I just don't think that the character of Joseph quite lends itself to fun, over the top moments as do some of the other characters.
On a more shallow note, I thought Clay looked very, very handsome. The play must be physically demanding on him. He is thrown down on the floor, pushed around, hoisted up over his brothers and passed around. I must imagine he gets sore.
I feel very fortunate to have had a chance to see Clay in this production. I wish I could see more performances.
~~~~~~
I loved the following tweet from Clay
Check out @TheClamShack in Kennebunkport. I might have boiled your lobster myself! pic.twitter.com/ma2EExzmNd

— Clay Aiken (@clayaiken) August 5, 2013
It seems that the entire cast cast was invited to dinner at the The Clam Shack in Kennebunkport. According to their website:
Perched at the bridge over the Kennebunk River, the Clam Shack provides a classic visual welcome to visitors. The tiny, immaculate fish shack serves award winning fried food, traditional boiled lobster dinners and lobster rolls served on freshly baked buns from a local bakery. A fresh lemonade stand and, for the truly indulgent, fried dough, are additional temptations.

While the Clam Shack's food is it's biggest draw (just try to resist it if you're stuck in Dock Square summertime traffic!), a close second is the sheer experience of dining at the Clam Shack. All dishes are take away, and diners eat al fresco on wooden benches and lobster crates, watching a colorful parade of passerby. Or you can find a spot on the narrow boardwalk that sits directly on the river, and watch striped bass and mallard ducks come up under the pilings looking for dropped treats. Locals know better than to sit on the bridge, but if you're brave, sit there for a spectacular view of the river and Dock Square. Beware of the brazen seagulls, who know a good thing when they see it.
This looks like a fun place to visit if you are on your way to see Clay at The Ogunquit Playhouse.  You can see their website at CLAMSHACK
~~~~~~
The following is a review at Trip Advisors
"Broadway Quality"

5 of 5 stars Reviewed August 4, 2013 NEW 

We go at least once a year and have never been disappointed. It is always fun to peruse the photos in the lobby of all the famous folks who have acted there, and the little gift shop is cute. The staff are welcoming and i noticed on this last trip that there is now a TV w/ film from old productions to entertain you in the lobby while waiting to get in. The theater itself is small and the stage is quite small. We sat quite close this time and I confess there were a few times I worried some of the dancers would fall into the audience. That all said, we saw Joseph there yesterday and I was so impressed! I love the show anyway, and have seen it a few times. This was the best version I have seen. The costumes were great, the music perfect, the actors broadway quality (in fact, I believe Ms. Settle just won a Tony this year). She was excellent, as was the Elvis/Pharoh- some cute interactions with the audience during his bit. Clay Aiken lived up to his excellent reputation. Each number was met with high enthusiasm from the audience. The brothers were wonderful and their dancing was outstanding. Don't miss it!
You can see this at TRIPADVISORS
~~~~~~
From FaceBook
QUOTE:  Update on the weekend: On Sunday, we headed into Ogunquit and I visited my favorite store, "Spoiled Rotten" and indulged. THEN, we went to the playhouse to catch "Joseph and the Technicolor Dreamcoat", which I have never seen and had no idea what to expect. It was AMAZING!!! Clay Aiken as Joseph, did the role justice. He has a wonderful voice, but his 11 brothers stole the show. Mark's sisters Becky and Lisa knew what to expect as they have seen it numerous times. We were so enthralled, we cannot stop talking about it. It turned out to be a wonderful weekend.
~~~~~~
The Forecaster
Out & About: Musical theater, music festivals, ballet beckon

…Ogunquit Playhouse is offering an outstanding production of the earliest collaboration between Andrew Lloyd Webber and Tim Rice: "Joseph and the Amazing Technicolor Dreamcoat."…

…In the final third of the 20th century, the most successful composer-lyricist team in musical theater was Andrew Lloyd Webber and Tim Rice. Their first collaboration was a school project that later evolved into "Joseph and the Amazing Technicolor Dreamcoat," which first ran on Broadway for 21 months in 1982-1983.

"Joseph" is a powerfully lyrical adaptation of the story of Joseph and his 11 perfidious brothers from the Bible's book of Genesis. Ogunquit Playhouse is currently running a wonderful, fully professional production of this first Webber-Rice collaboration.

"American Idol" competitor Clay Aiken is the best-known name in the large cast, which is directed and choreographed by Jayme McDaniel. Aiken has a fine voice – he's released five CDs – but I found his interpretation of the title role annoyingly beatific.

Another big name is Keala Settle, who has impressive credentials in musical theater. Settle boasts a fine soprano voice that's gets showcased in the role of the Narrator…
Who is this guy?  I wonder if he knows what beatific means?  You can read the entire article at FORECASTER
The Christian Post
Clay Aiken to Play Joseph in Bible-based Play

American Idol alum Clay Aiken will be playing Joseph, son of Jacob and Rachel in the Bible, in a local production of Andrew Lloyd Webber's musical Joseph and the Amazing Technicolor Dreamcoat. The musical is based on Joseph's journey from the bottom of a pit to an Egyptian Palace. Maine's Ogunquit Playhouse released pictures of Aiken in a rainbow colored robe and long curly hair.

Aiken told Portland Press Herald he accepted the part because "I grew up as a teenager listening to this music. I remember listening to it on a CD Walkman, so there's a little history for me with it."

Aiken made waves as a contestant on American Idol in 2003. Although Aiken came in second to winner Ruben Studdard, his 2004 Christmas album Merry Christmas With Love topped Christian music charts and went platinum. Several of Aiken's other albums have debuted in the top five on the Billboard Chart.

He also garnered broad critical acclaim for his Broadway debut as Sir Robin in the Tony Award-winning production of Spamalot in 2008 and 2009 and recently played Man in Chair in the North Carolina Theatre production of The Drowsy Chaperone.

Aiken came out as a homosexual after he became a father to son Parker in 2008. The singer told People Magazine of his decision to publicly proclaim his sexual preference "It was the first decision I made as a father. I cannot raise a child to lie or to hide things. I wasn't raised that way, and I'm not going to raise a child to do that."

Ogunquit Playhouse's version of the musical will run through Aug. 25.
You can visit the site at CHRISTIANBLOG
For a day off, this blog is long…I love seeing all the up-to-date reports about Clay.  I hope you do too!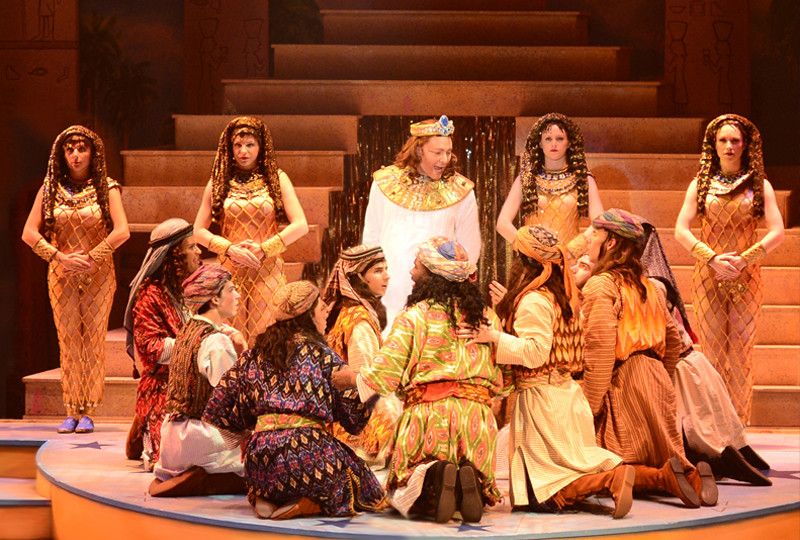 Tuesday, there is one evening show at The Ogunquit Playhouse.  I hope I will find lots of fun reports to share with you.  Be sure and check back to see everything in one place!
Clay Aiken News Network is an unofficial fansite. We are not affiliated in any way with Clay Aiken or his management. This website was made by fans for fans and makes no impression or impersonation of the official site, which can be found under the domain
clayaiken.com.