What is Clay Aiken doing on St. Patrick's Day? Is he celebrating in California or is he in Raleigh, working hard to learn lots of lines for The Drowsy Chaperone.

I bet that if Clay is in New York he didn't  attend the 252nd New York  St. Patrick's Day Parade. According to The Associated Press:
Christine Quinn, a leading candidate to be New York's next mayor, is also a lesbian and proud of it. And that is why the City Council speaker will not be marching in Saturday's Saint Patrick's Day Parade, an event so entrenched in New York tradition that it is older than the United States.

Quinn's rising political prominence is bringing a decades-long dispute between parade organizers and gay activists back into sharp relief. And it is raising the prospect of an unprecedented standoff next year if she wins November's election and becomes the city's first openly gay and first female mayor.
Quinn is the granddaughter of Irish immigrants. She has been vocal about being sad and mystified that the New York  parade continues to bar marchers from displaying any gay-pride messages.
Quinn said:
I've marched in Dublin with visibly identifiable stickers and buttons that made clear we were both Irish and LGBT. If you can do that in Dublin, in God's name, why can't you do it on Fifth Avenue.

Quinn had a busy day Saturday as she had  a slate of other St. Patrick's Day events to attend. She attended the mayor's annual breakfast reception and Mass at St. Patrick's Cathedral and then participated in the St. Pat's For All parade along with 2,000 other supporters. She's also due to host the council's own tribute to Irish culture on Monday, with honorees including actor Liam Neeson.
This is an issue that needs to be resolved soon. It is time to step up and do the right thing.
Originally a religious holiday to honor St. Patrick, who introduced Christianity to Ireland in the fifth century, St. Patrick's Day has evolved into a celebration for all things Irish.
Did you know:
36.3 million U.S. residents claimed Irish ancestry in 2008. This number was more than eight times the population of Ireland itself (4.4 million)?
The Irish flag is green, white and orange. The green symbolizes the people of the south, and orange, the people of the north. White represents the peace that brings them together as a nation?
Legend says that each leaf of the clover means something: the first is for hope, the second for faith, the third for love and the fourth for luck?
Leprechauns are little make-believe fairies from Ireland. They are the little old men who are shoemakers for the fairies. They usually stand about 2 feet tall. The legend is that if you catch one you can force him to tell you where he hides his gold?
School children have started a little tradition of their own. They pinch classmates who don't wear green on this holiday. Wearing green is strictly a U.S. custom, as the color green is not popular in Ireland. Green is connected to the old green flag and a time when Ireland was not free.
 Whatever Clay is doing this holiday, I hope he wears one of his green sweaters, eats corned beef and cabbage, some soda bread and sings a lovely Irish song to his darling son.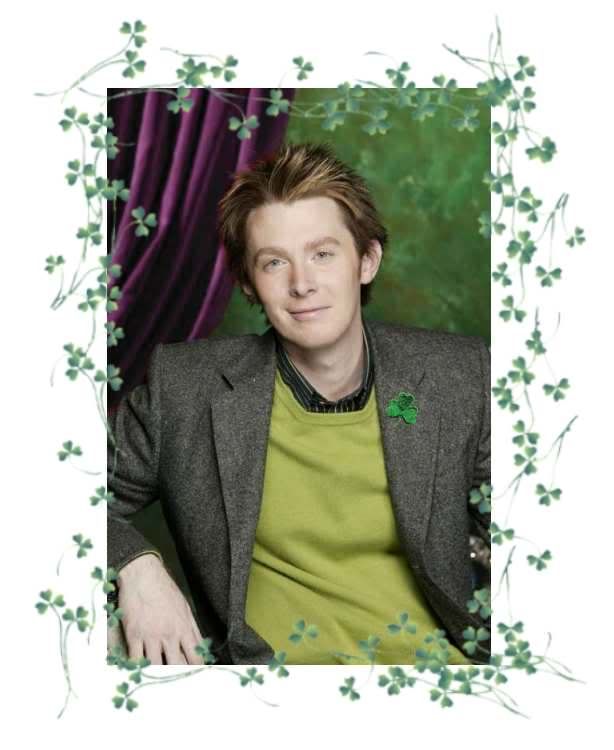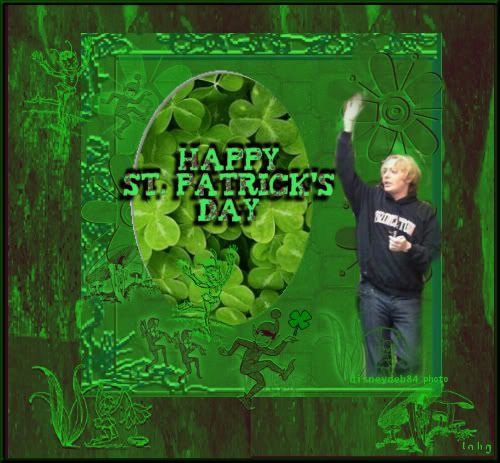 What are you doing to celebrate St. Patrick's Day?
Will you remember to wear green? Will you tip back a Guinness?
Whatever you do, have fun and look forward to all the wonderful things that are in the future for Clay and his fans!!!
Clay Aiken News Network is an unofficial fansite. We are not affiliated in any way with Clay Aiken or his management. This website was made by fans for fans and makes no impression or impersonation of the official site, which can be found under the domain
clayaiken.com.