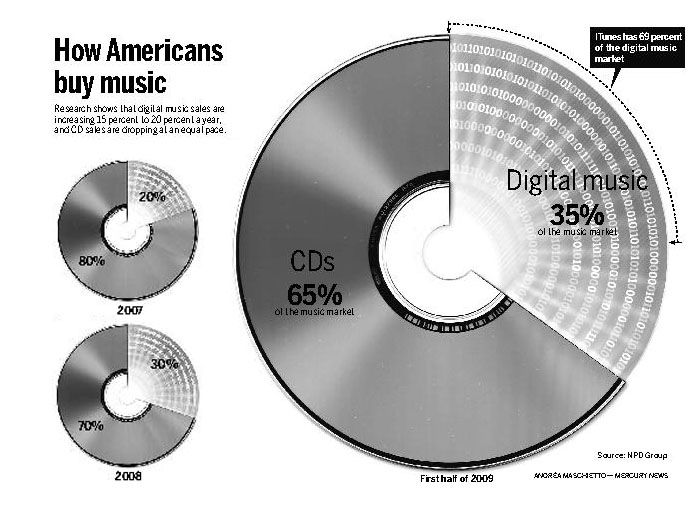 According to The NPD Group, a leading market research company, CDs remain the most popular format for paid music purchases. But digital music continues to grow as a means to buy music.  In the first half of this year, 35 percent of purchased music was downloaded – up from 20 percent in 2007.
Russ Crupnick is the Vice President of Entertainment Industry Analysis for The NPD Group.  He reported about the buying trend to Yahoo music and said:
"Many people are surprised that the CD is still the dominant music delivery format, given the attention to digital music and the shrinking retail footprint for physical products.  But with digital music sales growing at 15 to 20 percent, and CDs falling by an equal proportion, digital music sales will nearly equal CD sales by the end of 2010."
iTunes is now at 69% of all digital sales in the U.S., with the closest rival being AmazonMP3, at 8 percent. Walmart leads in physical sales with 20 percent of sales and is trailed by Best Buy at 16%.
While consumers are increasingly buying their music online, industry experts say as much as 10 times more music is obtained illegally through peer-to-peer Web sites. The move to digital music has also cost the record industry in other ways; online shoppers are more apt to buy single songs instead of higher-margin CDs.
When it comes to the Internet, record companies on the whole, have put up a big stop sign to downloading and are "court-inclined."
"Remix" is a book by Lawrence Lessig.  In it, he tells the story of a woman who made a video of her two year old, dancing to a Prince song on the radio. She posted it on YouTube. Prince's record company immediately contacted her and issued her a take-down notice.   Another incident of absurdity from the record company was when fans of Led Zeppelin posted low quality cell phone videos of the band's 2007 reunion concert in London. Instead of seeing this as a marketing opportunity, Warner Brothers saw it as a copyright violation and ordered YouTube to take these videos down.
It is too bad that the record companies see the Internet and social sites like YouTube as the enemy. They need to start taking advantage of social networking. It is a great way to introduce people to new music and different artists. It is also a good way to get the word out about special promotions and packages that fans want to own.
So many Clay Aiken montages have been removed from YouTube.  Many of the videos are beautiful and show Clay as a humanitarian or just show his many talents.  They would have been great to show the positive side of Clay Aiken.  If one made the montage with some other artist's music, it was almost always shut down.  Let us hope that the record companies wake up.
The future for physical media sales is not looking good. What is your opinion? Do you prefer to buy digitally, or do you want something you can hold in your hand?  I hope you will comment and let us know how you feel.
Clay Aiken News Network is an unofficial fansite. We are not affiliated in any way with Clay Aiken or his management. This website was made by fans for fans and makes no impression or impersonation of the official site, which can be found under the domain
clayaiken.com.