When Clay Aiken made his Broadway debut, many new people and places became interesting to follow for many of his fans.   It has been fun following the careers of Clay's Broadway family members.
Today, Sunday, January 3rd, is the final performance of "Shrek the Musical" on Broadway. The Broadway Theater at Broadway and 53rd has been home to the musical for 441 performances.
The musical is based on the popular Dream Works movie about a misunderstood ogre and the princess he rescues. "Shrek" received mixed reviews when it opened in December, but also set the record at the Broadway Theater for weekly gross ticket sales of $1,260,282 during Christmas week last year.
However, within a month, the show was running in the red.  The show was rumored to be one of the most expensive productions ever on Broadway.  As is the tradition on Broadway, the producers of the show offered no explanation for the closing Shrek.
Christopher Sieber has played the role of Lord Farquaad for the entire run on Broadway.  It was a challenging role.  Because the character was very petite, Chris had to play the role on his knees throughout the show.  Ouch!
Many of Clay Aiken's fans were first introduced to Chris when he was a part of the cast of Spamalot.  Sieber was in the original Broadway cast of Spamalot, playing the roles of Dennis Galahad, The Black Knight, and Prince Herbert's Father.  He was part of the cast when Clay first started his run as Sir Robin
Chris is from St. Paul, Minnesota but studied acting and musical comedy at The American Musical and Dramatic Academy in New York City.
If you were to list all the acting credits for Chris, it would be pages long.  A few highlights of his career include Broadway roles as Gaston in Beauty and the Beast, Billy Flynn in Chicago, and the Prince in Into The Woods.
Chris was nominated for a Tony Award for Best Featured Actor in A Musical for his role in Spamalot and again for his role in Shrek.
Sieber has starred in two different television series and recently guest starred in Pushing Daisies. He also just completed filming a romantic comedy set in current day Manhattan.  The movie is titled See You In September.
In 2003, Chris was starring in the sit-com, It's All Relative.  In the ABC sitcom, Chris played a dad who is also a happily partnered gay man.  At this time, Sieber felt it was right to come out as a gay man.  He is happy with his partner Kevin Burrows who is also an actor.
In an interview with the Advocate, Chris said:
If you're a gay man playing a gay character on television, I think it's important to set an example. When I was growing up, I didn't have any role models. I think I had Snagglepuss….     And Richard Simmons.   I knew I was gay, but if I had to be like Snagglepuss, I was terrified.  When I finally admitted to myself that, yes, I was gay…and realized that I don't have to be [that way]…I was fine.  I was comfortable.  Everything happens for a reason. I want to show people out there that it's all right. Nothing bad is going to happen to you as an actor.

I was afraid; I grew up in a very small town in Minnesota. I knew I was different, and I was scared. I tried to change. I dated girls–nothing ever happened, but I dated girls. [Sighs] I had to get away. I was drawn to New York first of all because I wanted to learn theater. I wanted to be an actor on Broadway. But with that came the discovery of who I was, and it was OK. I remember in New York when I first saw some friends of mine, two men kissing….. that was like, Whoa.
Asked how his family feels about his lifestyle, Chris said:
It's OK It wasn't easy. It took my mom and dad and my brothers a couple of years to relax and be all right with it. But I've never been one to apologize for who I am, and my partner, Kevin, came home with me to my parent's home just a month or two ago. We did what we do in Minnesota, which is sit around a card table and play cards and drink wine…. It was so much fun, and Kevin had a great time. It was a dream come true, because it was like we were totally part of the family. Which is well-earned, I think.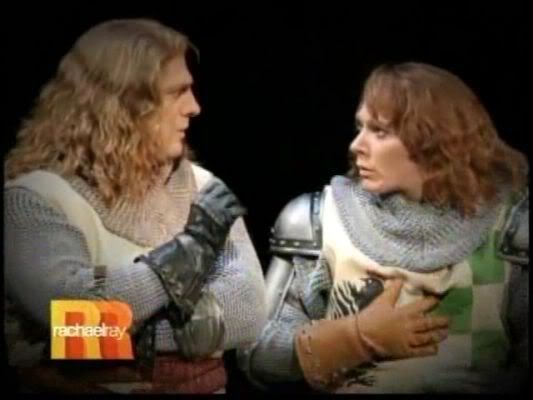 According to Clay Aiken, Chris was a true friend when he was making decisions about how to come out.  It is wonderful to know that this talented man was a mentor for Clay in many ways.
Sieber is heavily involved in Broadway Cares/ Equity Fights AIDS and has appeared in several of its Broadway Cares revues.
What is next for Christopher Sieber?  Well, nothing has been announced officially yet.  However, I am sure that this talented man will always shine in whatever he chooses to do.
Clay Aiken News Network is an unofficial fansite. We are not affiliated in any way with Clay Aiken or his management. This website was made by fans for fans and makes no impression or impersonation of the official site, which can be found under the domain
clayaiken.com.