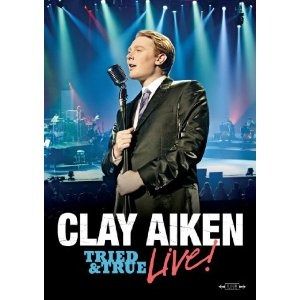 WTTW11 is the PBS station in the Chicago area. The first program on WTTW11 was broadcast on September 6, 1955.  Throughout the years, the station has grown to be the most-watched public television station in the country.  The station serves more than 65% of Illinois' population.  It also serves areas of Indiana, Wisconsin, and Michigan.
In 2003, WTTW11 opened its state-of-the-art Digital Broadcast Operations Control Center, setting the stage for high-definition program service. The following year, WTTWDigital was launched, becoming Chicago's first 24-hour high definition channel.
According to their website, WTTW's mission is:
To provide unique, relevant and valued content and services that enrich, engage and educate diverse communities in Chicago and around the world.
Clay Aiken's PBS Special will debut tonight on WTTW11 at 7:00pm CDT.  The coveted Saturday evening time slot is a sign that the station expects Clay to bring in many viewers and lots of pledges.
Clay has a wonderful fan that works for WTTW11.  She has been helpful to not only the TV station but to Clay fans.  She has posted the following information so that Clay fans from all over the world can support both Clay and WTTW.
PBS PLEDGE INFORMATION FOR TOMORROW NIGHT!
Since I have managed to collect all my information, I decided to go ahead and post this on the boards now, instead of waiting until tomorrow.
As you know, Clay's big PBS premiere is fast approaching! I can hardly believe it — I bet you can't, either. I wanted to give you some specific information about the broadcast and how you can pledge.
TIME: 7:00-9:00 pm CDT, tomorrow, Saturday, June 12. (5:00 PDT, 6:00 MDT, 8:00 EDT)
PHONE NUMBER: 1 (773) 588-1111
LIVE BREAK TIMES WHEN WE WOULD LOVE SOME CALLS:
—Break #1: 7:20-7:28 pm CDT
—Break #2: 7:48-7:58 pm CDT
—Break #3: 8:16-8:28 pm CDT
During these times if he is inclined and as others have done, Clay might circulate and pick up some calls from people who pledge. You can call starting a minute or so before 7:20 and throughout the broadcast (and afterward), but calls during these breaks will be especially welcome!
THANK YOU GIFTS:
—Tried & True CD with a PBS-exclusive audio track, which I believe is "Build Me Up Buttercup" — $55 (physical CD or digital download — I think the digital download has the additional track, ask when you call)
—Tried & True DVD — $75
—Tried & True CD (physical or digital) and DVD together — $125
—SPECIAL CHICAGO PREMIUM — $250. For all you lurkers out there and for others who haven't heard about it, I guess it's time to put this out there: on October 14th, Clay has agreed to do a special, one-night only, intimate benefit concert here in Chicago at a 650-seat (accessible) venue. Seating is general admission. If that sounds good to you, please join us at the $250 dollar level! You can only pledge for this by phone, as they have to track the numbers.
Yes, we will ship to Canada. And you can group all your pledges into one call – you don't have to call a bunch of times. They don't care about the number of calls (we hope there are a lot, though!), only the final amount.
LIVE CHAT: I will be hosting a live chat from the studio tomorrow evening from 7-9 pm. I thought it would be fun to provide those of you not in our viewing area with a play-by-play of what's going on, take questions, and give you an opportunity to participate in the event. The URL for that is www.wttw.com/clay. If you would like to pledge for the CD and DVD online, there are links to do it from that page, and you don't have to participate in the chat if you'd rather not.
AND FINALLY…
Obviously, many of you are not going to be able to pledge here AND at your local station. That's fine. I'm sure your local station will appreciate your donation in August. However, as I've said before, it's vitally important that Clay's special make a good showing in its debut airing. So anyone who can pledge even a token amount ($20, $30, etc.) to WTTW that evening will be much appreciated. It will certainly show the rest of the PBS system who are scheduling their August pledge drives right now that there's a lot of interest in this program! And there's nothing that communicates that better than a lot of buzz and phones ringing when the hosts and guest are live on camera.
A huge, HUGE thanks in advance to everyone who can make a pledge, large or small, tomorrow night! Supporting this program will give the rest of the PBS system confidence that Clay can do equally well for them, and obviously helps WTTW tremendously, too.
Again, THANK YOU!
Pink Armchair………we all thank you for all you have done to make this debut concert a huge success.
Clay Aiken News Network is an unofficial fansite. We are not affiliated in any way with Clay Aiken or his management. This website was made by fans for fans and makes no impression or impersonation of the official site, which can be found under the domain
clayaiken.com.