If a person were to tell the story of the birth of the Bubel/Aiken Foundation, most people would not believe the story. It is almost too good to be true.
Clay Aiken rose to fame on the second season of the very popular television program American Idol in 2003. This show interrupted his studies at the University of North Carolina, Charlotte. He was enrolled in the special-education program and ready to do his student teaching when he decided to audition for the show and ended up staying on the show until the last episode.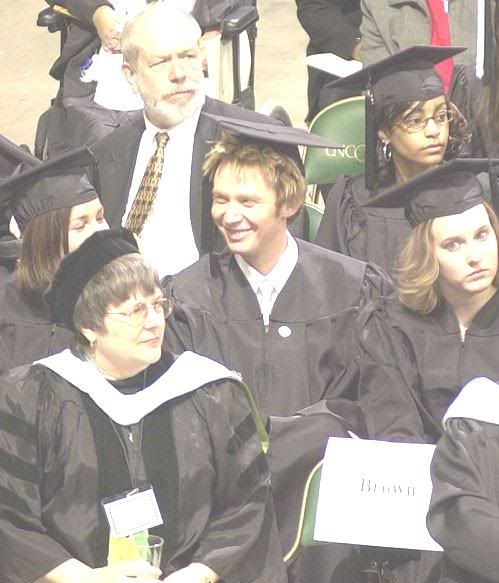 Clay wanted his degree and was only 6 units shy of the goal. One of his professors suggested that he set up an independent study program to finish up his degree.
Clay set up a model of a nonprofit organization and created a charity that promoted inclusion for children with disabilities.
After briefly mentioning his research project while he was on the Idol tour, funds started pouring in for the cause. Checks were mailed to him, hand delivered and stuffed into jacket pockets. Sometimes the money was attached to teddy bears and panties and thrown on stage.
After the tour ended and over $50,000 had been donated, Aiken realized that his academic project had actually come to life and with the encouragement of friends and colleagues; the Bubel/Aiken Foundation was legitimized.
On July 28th, 2003, Clay and Diane Bubel officially announced the creation of The Bubel/Aiken Foundation. On August 5, 2009, the Board of the Foundation decided that a new name for the Foundation would establish long-term credibility and stability.  They looked for a name that would show the Foundation's position as a national leader in the field of Inclusion.  After a long and deliberate discussion, the name was changed to The National Inclusion Project.
At this time, The National Inclusion Project is transforming the lives of children throughout the United States. The once modest beginnings of dreams, goals, and ideas have evolved into real accomplishments and developed into a leadership role in the field of  Inclusion for All Children.
It is September 7th and the ClayNation is working hard to earn $50,000 for The National Inclusion Project. The Project is participating in the Pepsi Refresh Project.
It takes only a few moments to cast a daily vote for the  so that all children with disabilities can be fully immersed in society.
First thing, each day through Sept. 30, go to the Pepsi link and click on "Vote for this idea." You can also choose to sign in through Facebook.  If you do, be sure to click on "Vote for this idea" again. You will know that your vote counted when your daily allotment changes to nine.
If you are into texting, you can also vote by texting 102308 to Pepsi (73774). Unfortunately, The Pepsi Refresh Project is only open to U.S. residents, 13 years and older. The many international fans can only help by spreading the word and acting as cheerleaders.
To the right of this article, there is a button you can click on that will help you vote.  I hope you will support this wonderful organization and encourage your friends to throw their votes to the National Inclusion Project.
Pepsi is adamant that only one vote and one text per charity is allowed daily from the same person.  However, there are organizations that are working for funds in $5k, $25k, and $250k you can support.  Remember, you have 10 votes each day. Hopefully, if we vote for their charity, they will, in turn, support the National Inclusion Project.
The information below has been shared on several Clay Aiken message boards where members have signed up to vote for the various groups.
This  plan is designed by SueReu to include charities exchanging votes with the National Inclusion Project. Please check back daily for any changes that might be made.
All eligible voters (legal US citizens at least 13 years old) should include the "Everyone" list in their voting strategy and then choose one of the other groups to help distribute the 10 votes for the day. Remember, one Internet vote and one text vote are allowed each day.
National Inclusion Project Strategy:
Everyone Vote For:
National Inclusion Project http://www.refreshev…nclusionproject
National Federation of the Blind http://www.refreshev…om/nfbyouthslam
Little Tree Preschool http://www.refreshev…letreepreschool
Handicapped Treehouses http://www.refreshev…fordisabledkids
SWOOP http://www.refreshev…wheelchairramps
CDF http://www.refresheverything.com/cdf
Group A:
Foxroad Elementary http://www.refreshev…ing.com/foxroad
Mckemy Middle School http://www.refreshev…hing.com/mckemy
Hematology / Oncology http://www.refreshev…om/needypatient
Charlotte Peace http://www.refreshev…ottepeaceathome
Group B:
St. Joseph's School http://www.refreshev…schoolcomputers
Boise Bicycle http://www.refreshev…ebicycleproject
Ovarian Cancer http://www.refreshev…g.com/hopeheals
Wild and Wonderful Pet Pantry http://www.refreshev…derfulpetpantry
Group C:
Blind Cat Rescue http://www.refreshev…/blindcatrescue
Chem-Bio tech http://www.refreshev…/chembiotechlab
Screamfest http://www.refreshev…om/screamfestla
Ella's Hope for Autism http://www.refreshev…g.com/ellashope
Group D:
Libby Tennis Courts http://www.refreshev…bbytenniscourts
Health Shots Reminder http://www.refreshev…thshotsreminder
Add iPad http://www.refreshev…ing.com/alabama
Creative Funding Through Art http://www.refreshev…ndingthroughart
Here's some words you can copy/paste in the comment section:
A vote and a text from National Inclusion Project! Help us help kids with disabilities experience life with their peers. We're going for $50K!!
http://www.refresheverything.com/nationalinclusionproject
Thanks for your support!!
Clay Aiken News Network is an unofficial fansite. We are not affiliated in any way with Clay Aiken or his management. This website was made by fans for fans and makes no impression or impersonation of the official site, which can be found under the domain
clayaiken.com.