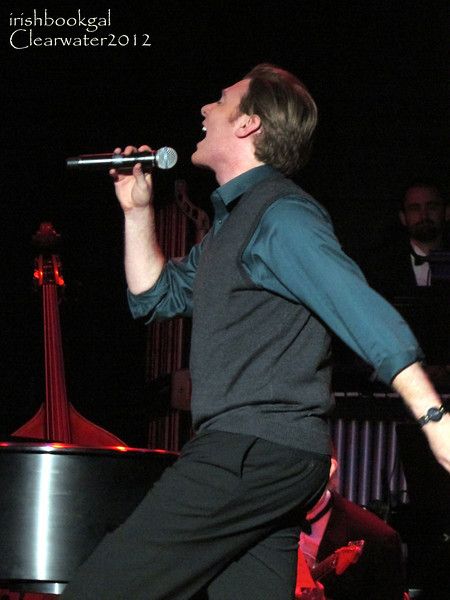 Clay – meet Clay!!  UPDATE WITH LINK TO INTERVIEW
Well, that's what happened on Monday night on 1600AM – WWRL-NYC.  Clay Aiken had a 15 minute interview with Clay Cane at 11pm, EST.
Wait…who is Clay Cane?  Well, according to the bio page of WWRL:
Clay Cane is a New York City-based writer who is recognized for contributions in journalism. He graduated from Rutgers University, Phi Beta Kappa, with a B.A. in English and African American Studies. Clay has contributed to numerous publications such as The Root, AOL, Essence.com and The Advocate.  He has interviewed various celebrities, including Beyoncé Knowles, Wendy Williams, Janet Jackson, Denzel Washington, Hilary Swank, Nicki Minaj and Jodie Foster.  Clay has provided commentary for WVON (the largest black talk radio station in Chicago), BET, TV One and several online outlets.  Currently, Clay is a member of New York Film Critics Online and the Broadcast Television Journalists Association.

ClayCane.net
Twitter: @claycane
I was able to hear the interview and it was obvious that Clay Cane prepared for this interview.  The two Clays talked by phone for the interview.  I took notes, but I am sure that I missed lots of information.  The following is what I remember…and it is not quoted!
CC introduced Clay and mentioned 6 million albums.
CC:  What do you do to prepare your voice for a concert?
CA:  I am not a good student…I do not warm-up my voice
CA:  Have done the tour 4 times in the past – it is An Evening of Cheer!
CC:  Is there a song you would never tackle?
CA:  Not really, it just must fit his vocal style…mentioned that Unchained Melody is a challenge to sing.
CC:  Who is a singer who moves you?
CA:  From when he was young and still today…Trisha Yearwood and Martina McBride
CC:  Do you think that the LGBT community was hard on you before you came out?
CA:  Yes…they were hard on him.  Need to remember that each person has a different path/journey.  It is an individual decision.  I am happy and comfortable with where I am now…I was out for a few years before I came out publicly…how many people have to come out to the public?  Yes, sometimes I wish that someone might come out to his parents/friends, but there are irrational fears and each person must figure out on their own.
CC:  Do you think you coming out publicly made a difference?
CA:  Maybe it helped, but can't be known for sure if celebrities help when they come out.
CC:  What do you think of Donald Trump? 
CA:  Liked him when I was on the show.  He was charming.  When I came home and heard him spouting off, I wanted to say "Shut Up!  You are making people hate you.
CA:  I was very disappointed when he recently told untruths about UNICEF.
CC:  Is there still a feud between Adam Lambert and you?
CA:  Many years ago, I said something that was blown out of context.  I didn't think and I apologized.   As far as I am concerned, there is no feud.  I have never even spoken to him.  It's hard to have a feud if you don't  know each other.
CC:  I am going to ask you about certain people you have worked with.  Start with Tyra Banks
CA:  I love her.  She said that she would never ask me about being gay.  She helped me though some difficult times.  She is like a big sister.  I don't know why she has been so wonderful to me, but we are good friends.
Tori Spelling:  Don't know her well, but she is fun-loving and very down-to- earth.  She helped me when I had a little trouble with another woman.  Great that she is so approachable considering she has led her whole life in the spotlight.
Heather Headley:  One of the best voices around.  She never forgot her roots.  She took some time off to have a family and is now in The Bodyguard.  I can't wait to see her in it.
Ruben Studdard:  Love him to death!!  It was 10 years ago this week that we met for the first time.  I am blessed to know him.  He performed at the Gala for my charity last month.
CC:  Thank you, Clay for the wonderful interview…before you go can I say I love the way you sing Don't Let the Sun Go Down…  It is so good!
CA:  Why thank you…thank you very much!
I hope that this interview will be on the site soon so that you can hear Clay and Clay!  It was fun!
UPDATE:  Here is the link to the interview and a note from Clay Cane  CLAYCANE
Don't forget to go back to the previous blog.  There is lots of information there including wonderful pictures and some links to some interviews.  Also, I will start the Joyful Noise – Day 4 blog soon.  Be sure and check back!
Clay Aiken News Network is an unofficial fansite. We are not affiliated in any way with Clay Aiken or his management. This website was made by fans for fans and makes no impression or impersonation of the official site, which can be found under the domain
clayaiken.com.