On April 26th, 2007, Clay Aiken was a guest on the Today Show. He was interviewed about his recent trip to Afghanistan for UNICEF.
Clay was excited about what he saw in Afghanistan.  He seemed surprised about how friendly the people of Afghanistan acted and he thought the country was very beautiful.
Clay was particularly excited about visiting a school where girls were actually allowed to attend.  In 2007, this was very new.  I wonder if it is still allowed in the country.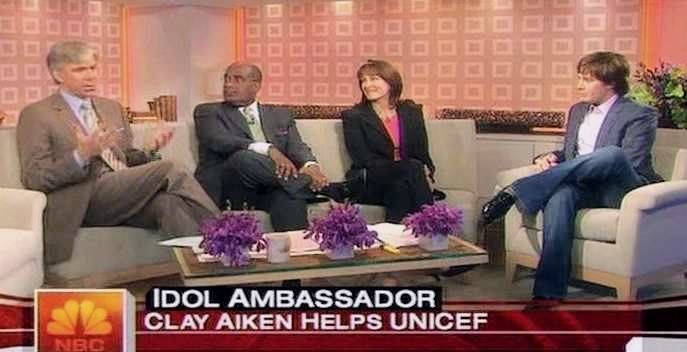 The following is an interview that Clay did for MSNBC just before the Today Show.
LIVE FROM STUDIO 1A: CLAY AIKEN Q AND A

Clay Aiken sat down with Al Roker, David Gregory and Dr. Nancy Snyderman today to talk about his recent work with UNICEF USA in Afghanistan.

Before his appearance on the show, I got to talk to him for a quick Q&A. Here is some of our edited conversation:

Q: When did you get back from Afghanistan, how long were you there and what were you doing?

Clay Aiken: I got back on Wednesday, and I was there for about two weeks. It was a really eye-opening experience and was interesting because a lot of stereotypes were broken down for me. The people there were wonderfully nice, and the country was really beautiful and peaceful. It was a little surprising because of all the news we hear from over there.

[Clay sees a video clip of President Bush dancing with a Senegalese dance troupe in the Rose Garden on Wednesday]

What in the world is he doing? Please, be joking.

[He regains his train of thought.]

I was observing programs run by UNICEF, observing schools where women are getting an education, often for the first time in their lives.

Q: Why were you particularly attracted to this trip?

CA: I used to be a teacher. I was a special-ed teacher in North Carolina, so there was some synergy there.

Q: You're familiar with our "Where in the World is Matt Lauer" series, which begins on Monday. What's the most interesting place you've been to, and where would you like to go that you haven't been to before?

CA: Well, definitely Afghanistan was the most interesting place. Not just because it was exotic and dangerous, to some degree, but also because it is so beautiful and peaceful. It's the third country I've been to with UNICEF — I had previously been to Uganda and Indonesia. But I had never been to a place that beautiful and peaceful.

As for a place I'd like to go…I'd like to go to Zanzibar. I imagine it's beautiful, and it makes me sound smart to say I know where it is.

Q: Apparently there's a version of "American Idol" in Afghanistan — did you see it?

CA: It's called "Afghan Star," and I didn't get to see it.

Q: Have you been able to follow the current season of "American Idol"?

CA: I haven't seen any of it.

Q: Have you heard anything about Sanjaya and his performances?

CA: We were actually in India when everything was happening with him, and people over there were talking about it.

Q: The big entertainment news today is that Rosie O'Donnell is leaving "The View" in June. Any reaction?

CA: Good for her. Do what you want to do. But she will be missed on that show. But I'm sure she'll do something just as big and fantastical — if that's a word — as she did when she was on "The View."

Q: What's next for you?

CA: I have a tour coming up this summer. It starts July 4 in Dallas, and tickets are on sale now.

When Clay was finished with taping the programs, he met outside with some of his fans.

He took pictures with them and seemed to enjoy talking with them.
I was so proud of Clay and excited to hear about his trip to Afghanistan.  I wonder if he will ever get to go on another trip for UNICEF.  I am sure he is always a wonderful ambassador for UNICEF!
Clay Aiken News Network is an unofficial fansite. We are not affiliated in any way with Clay Aiken or his management. This website was made by fans for fans and makes no impression or impersonation of the official site, which can be found under the domain
clayaiken.com.