"It's Diane Warren Night" said Ryan Seacrest as he started the April 22, 2003 episode of American Idol, Season 2.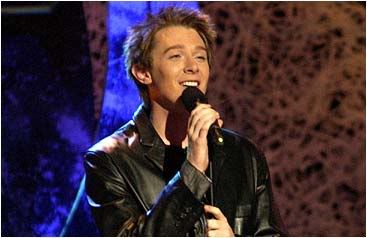 A Californian, Diane Warren is considered to be one of the most prolific and successful songwriters of our time. She has written for such legends as Elton John, Reba McEntire, Aerosmith, Faith Hill and many others. Diane's songs are featured in more than 60 motion pictures.
Diane has been named ASCAP's Songwriter of the Year six times and Billboard's Songwriter of the Year four times.
With this prolific background, it was obvious that Diane Warren was more than qualified to be the guest judge and mentor for the Top Six contestants on April 22, 2003.
The contestants sang the following songs:
Kimberley Locke – "If You Asked Me To"
Clay Aiken – "I Could Not Ask For More"
Trenyce – "Have You Ever"
Josh Gracin – "That's When I'll Stop Loving You"
Carmen Rasmussen – "Love Will Lead You Back"
Ruben Studdard – "Music of My Heart"
Kim started the competition with a strong performance. "If You Asked Me To" showed her strengths and she sang with lots of passion. All of the judges agreed that Kim was improving each week and that she was at the top of her game. Of course, Simon had to throw in that she was singing better now that she got rid of the "weird" hair.
Singing "I Could Not Ask for More", Clay Aiken was the second performer for the evening. This beautiful ballad was sung with lots of power and energy. Although the song had been recorded successfully twice before, Clay made it sound totally different and made it "his" song.
Randy said in his comments that Clay was definitely one of the best. Paula said that Clay was a star and a definite contender for the finals. Diane agreed that Clay sang a great version of the song.
Ah…..but now we come to Simon. Simon had two points he wanted to share. First, he thought that even though Clay was very talented, he just didn't see Clay as a great recording artist. Secondly, he went back to the Broadway scenario and said that he thought that Clay would make a fortune on Broadway. He mentioned Phantom of the Opera and the jokes floated around about Clay in a mask. That joke seemed to get little positive reaction from the audience members who were already enthralled by Clay.
After Clay's brilliant performance, the show featured the Idols in a commercial for Herbal Essence. They showed the performers getting different hair treatments.
Trenyce sang "Have You Ever" and got a tepid response form the judges. Dressed in black leather, she looked good, but she didn't seem to reach out to the audience with this performance. Simon even commented that it was as if she was wearing a mask.
The four judges were not happy with Josh Gracin's rendition of "That's When I'll Stop Loving You." Randy thought it was out of tune, and Paula rambled, saying nothing helpful. Diane went right down the middle of the road by saying only "it was good." Simon thought that Josh sang through his nose the entire time. He also teased Josh about being in the Herbal Essence commercial. He wondered how Josh could do this as he was a "Marine."
The youngest Idol, Carmen Rasmussen had a rough evening. Singing "Love Will Lead You Back," the judges jumped all over Carmen. Randy said she was not even close to being the best singer. Both Paula and Diane thought it was one of her best performances, but not good enough. Simon told her that she could not win the contest and that she did well to get this far.
Ruben Studdard closed the show with a performance of "Music of My Heart." The judges gave Ruben a lot of praise. Randy said that Ruben was right up there with Clay as one of the best in America. Paula loved his upper register and Diane said he always sounds great. Simon made an interesting observation when he said that Ruben needed to look out for Kimberley.
The program ended in the Red Room and showed the contestants messing around and having a good time.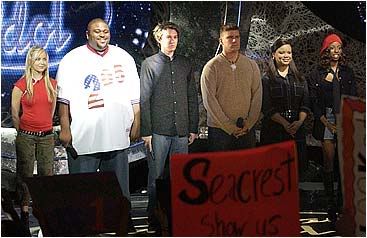 The following evening, the results show was short. The entire group of singers had the opportunity to sing a Diane Warren song, written especially for the group.
After the group performance, the audience was shown a video of Kelly Clarkson finding out that she had the #1 album. She was very excited. We also saw the group in their weekly Ford commercial. Carmen was featured in the commercial that showed the Idols dancing at an old fashioned diner.
The bottom three for this week are
Carmen
Trenyce
Josh
Ryan announced that Carmen was going home.
It was a good week on American Idol and all the idols did a great job. The next week, each singer was required to perform two songs.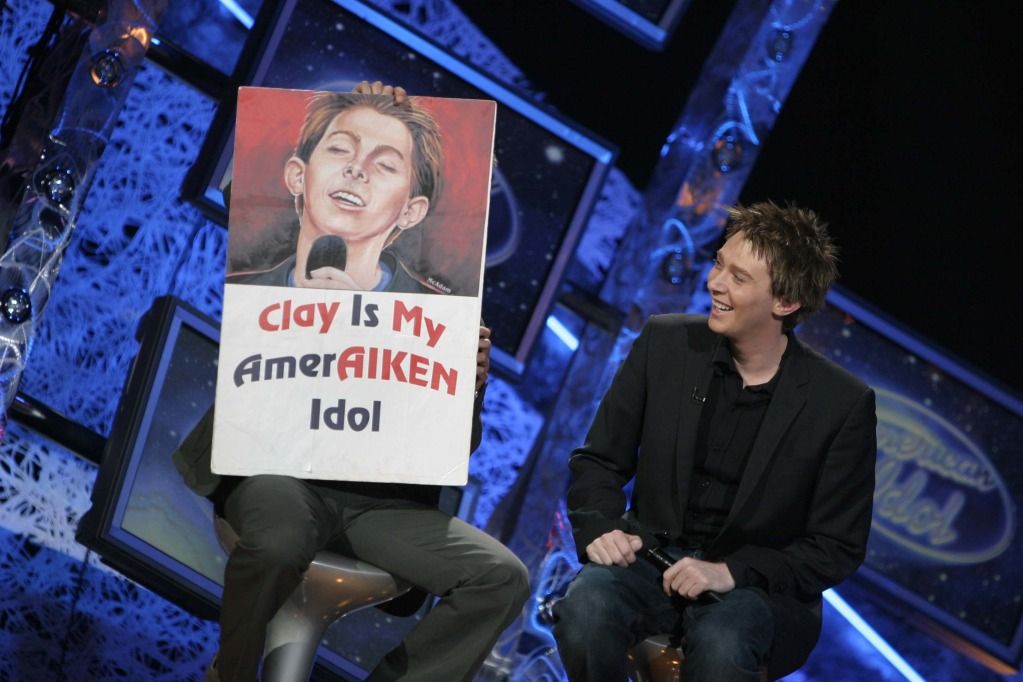 Watch for Clay to post the video of his performance on The Top Six show.
It is part of his 10th anniversary celebration at the Official Fan Club.
I will post here when the video is available.

Clay Aiken News Network is an unofficial fansite. We are not affiliated in any way with Clay Aiken or his management. This website was made by fans for fans and makes no impression or impersonation of the official site, which can be found under the domain
clayaiken.com.