Yesterday was Super Tuesday #3 and Clay Aiken was very busy.  He was running from one TV studio to another to chat on-air about the Primary Election and the candidates.
Clay started the day with a very early call at Fox News.  Clay was interviewed on the show, Fox and Friends. 6:00am is awfully early to start a show.
Clay talked about his endorsement of Bernie Sanders and how he feels about Clinton and Trump.  It was a short interview, but excellent.  As usual, Clay was articulate and spoke with authority and knowledge.  The following are some screen caps and a YouTube of the show.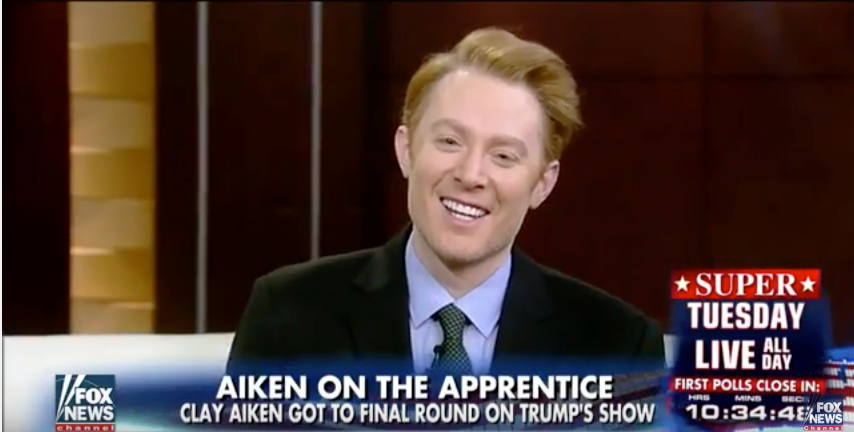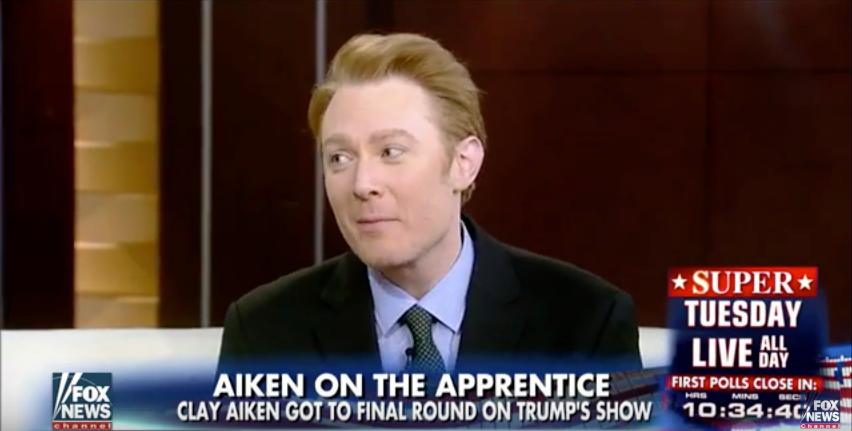 I am so glad we got the video of this show.
From the Fox & Friends studio, Clay traveled to CNN. Clay was on the  Brooke Baldwin Show again today.
Clay said to Brooke that he was done defending Trump and saying he was a nice guy. Trump is just not acting like the man he knew during Celebrity Apprentice. Clay was on for two segments of the show and spoke with conviction.  I believe that Clay gets more relaxed each time he is on the show.
But….it seems that some Trump fans were upset at what Clay said. So…Clay sent the following tweet:
Laughing at #Trump folks who r "throwing out" my albums bc I dont support him. If ur a str8 dude over 30, ur not fooling any1. U never had 1!
Clay knows how to keep things light!!
Clay ended the day by making an appearance at Al Jazeera America.  Clay has been on this show many times, but this was one of the last days for the channel.  Clay chatted about the Primary election in North Carolina and also talked about the candidates. Clay posted the following selfie on his Instagram page.  It was taken from the studio as he said good-bye to his friends.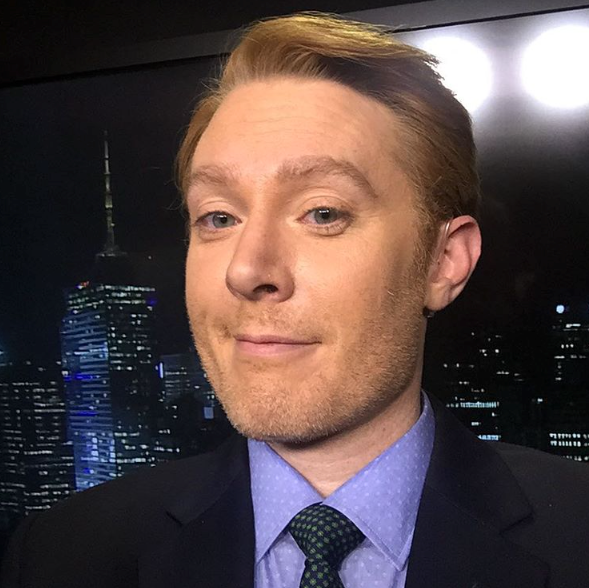 Clay and his TV appearances were covered by the press.
Entertainment Weekly
Clay Aiken calls out Trump supporters who claim to own his albums: 'You're not fooling anyone'
American Idol runner-up Clay Aiken knows exactly which demographics make up his fan base, and he has no shame in calling out pretend Claymates. Following numerous TV appearances to discuss his left-leaning politics, Aiken tweeted Tuesday at Donald Trump supporters who've claimed to denounce the "Invisible" singer due to his Democratic loyalties.
"Laughing at #Trump folks who r 'throwing out' my albums bc I dont support him," Aiken wrote. "If ur a str8 dude over 30, ur not fooling any1. U never had 1."…
…In a Huffington Post article, Aiken wrote he's "ready for Hilary Clinton" but wishes she'd "learn from the Bern" when it comes to embracing progressive ideals. "That's one of the many reasons I'll cast my vote in the North Carolina primary for Bernie Sanders," he states…
You can read the entire article at FALCONE
*****
DAILY KOS
Clay Aiken is "ready for Hillary, Voting for Bernie
by mawnjilla
Clay Aiken News Network is an unofficial fansite. We are not affiliated in any way with Clay Aiken or his management. This website was made by fans for fans and makes no impression or impersonation of the official site, which can be found under the domain
clayaiken.com.