This is the last day of 2016!
Happy New Year's Eve to All!
The end of 2016 was exciting for Clay Aiken and his followers.  Clay seemed to be having a good time.
October – November – December
OCTOBER
October 2nd     Broadway
Tony winner Heather Headley played her final performance in The Color Purple on October 2nd.  She was playing the role of Shug Avery.  Headley received rave reviews for her performance as Shug, who, according to Playbill is…"both bold and insecure, brassy and tender, …a flashy Blues singer."
According to social media, Clay Aiken was in the audience to see his friend Heather, on her final performance.
October 7th     BOLD
 Carrie Sheffield and Clay led discussions about, ObamaCare – the good and the bad, Latino involvement in the upcoming election, and  Donald Trump and his newest ad featuring Ivanka Trump.  They also had a guest that talked about how important it is to make changes in your home to make your life a bit easier and stress-free.
October 10th     Trump Rally
Clay was at a Trump Rally in Wilkes-Barre, Pennsylvania.  He was a part of the press  representing The View. He was there to chat with many of the people attending the event.
October 12th     America Now Radio
Clay visited with Meghan about his experiences at the Trump Rally in Wilkes Barre.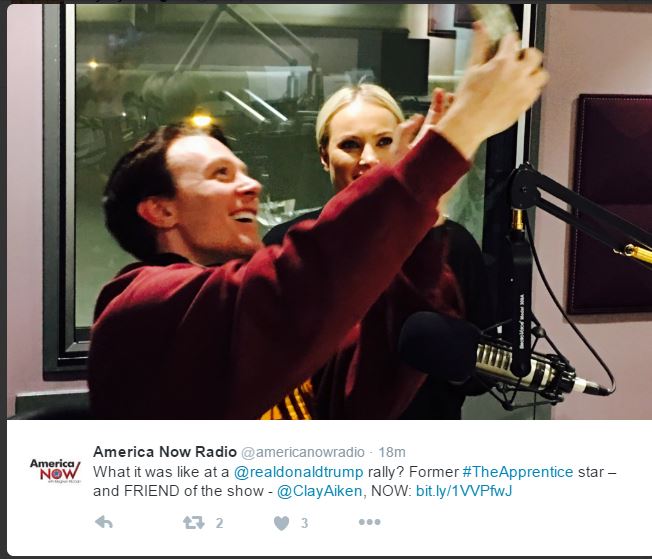 October 14th     BOLD
As a co-host on the show, Clay helped lead the program in some interesting topics.  Along with Carrie Sheffield, the program ran smoothly through many topics, including Trump and his women, charter schools, and world hunger. They also had a chance to talk about Clay's visit to Wilkes Barre, PA for the Trump Rally on October 10th.
October 17th     The View
Clay was a featured guest on The View.  He reported on his visit to a Trump Rally last week in Wilkes Barre.
Clay did an excellent job of reaching out to the Trump voters.  He listened, he didn't demean any of their answers and he kept control of the conversation.
His live conversation with the members of The View panel was great.  The information he shared was important for all to hear.  He proved that you can disagree with people but still be kind.
October 21st     Official Gala Pre-party
Held at Fitzgerald's Irish Pub in Charlotte, NC, the party was attended by 225 people.  Both Nick and Clay greeted each person as they walked through the tables.
October 22nd     The Champions Gala
Founder's Brunch – besides a great meal, the Platinum and Gold members heard from the founders, a board member, and Nick about the Project.
Champions Gala     The National Inclusion Project
Held in the McGlohon Theatre…there were two honorees and lots of music by Clay, Quiana, and a 4 piece band.  There was  also a live auction on 5 different events with Clay.
There is so much information on this event.  Visit the blog, "Clay Aiken Shines at Annual Gala" for details.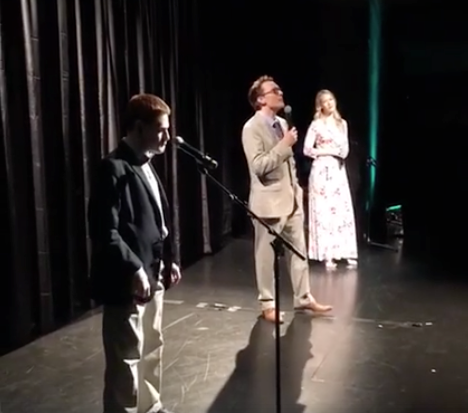 NOVEMBER
November 4th      America Now Radio
Clay joined Meghan in talk about the election and also about Bridgegate and Christy. Meghan got some help from Clay when she spilled "Wing sauce" down her front!
November 7th     SiriusXM
Clay was the co-host on the early morning radio show, Wake Up With Taylor.  Clay spent 3 hours talking about the election, Trump, Celebrity Apprentice and other reality shows, and even a story about Parker and the NYC Subway.
November 15th     SiriusXM
For the second time, Clay was co-host on Wake Up With Taylor.  The 3 hour show had some serious talk, but also lots of fun too.  The highlight was Clay's demonstration of the "manly walk."
November 18     BOLD
Clay and co-anchor, Carrie Sheffield talked about President-elect Trump, Health Care and Thanksgiving. They even had a segment about a special Thanksgiving Cocktail!!
November 29th     Jerome Bell
Clay sent out a birthday request.  He wished that all of us would support his bodyguard through youcaring.com  He did share more about the accident Jerome had and the major injuries that happened.  You can read what Clay wrote about JEROME
DECEMBER
December 2nd     BOLD
In this show, the topic was healthcare, Obamacare, and medicare.  They held a mini debate between Carrie Sheffield and Jeremy Binckes (from Salon).  The topic?  Privatization of medicare.  They also asked the audience to vote in their poll.
December 15th     The View
Clay and Ruben Studdard were guests on The View.  They sang together and talked about what they have been doing since their "Wins" on American Idol.  It was fun to see them singing together on TV. It seems the appearance was fun for the press too.  So many news and entertainment sites picked up the story, including Billboard, Entertainment Weekly, and Gossip Cop.
December 16th     Chandler TV Interviews
Clay was on Fox 10 Phoenix and ABC15 Phoenix to talk about his one & only 2015 Christmas Show!!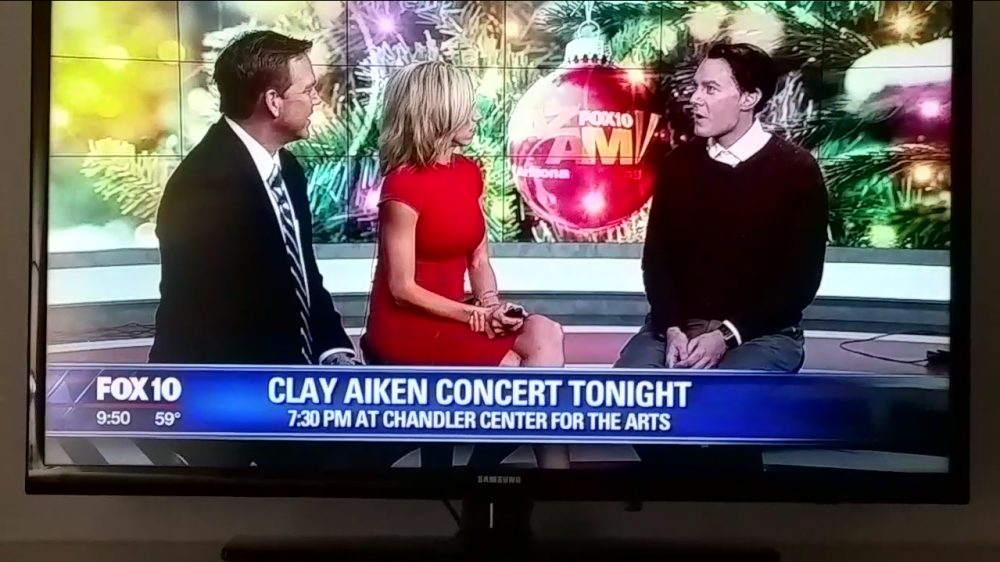 December 16th    Christmas With Clay Aiken
The concert beautiful.  Clay's voice was amazing. The audience was full of people from Chandler and they all seemed to love the concert!
Clay sang songs from his Christmas album and some new songs that he felt would become classics.  Each one was beautiful.
The orchestra was so good. They added so much to the show.
Clay chatted with the audience and shared some fun stories.  Everyone laughed and enjoyed his chatter. Clay received 3 well-deserved standing ovations.
December 27th     Jerome's Birthday
Finally out of the ICU! What a blessing. But the road ahead is long.. Lend a hand to our friend on his birthday. bit.ly/2i1KAvG
~~~~~
That seems to be all for 2016!!  I can't believe that it took 4 days to summarize the year!!  And, just think…I didn't mention everything.
Although none of us are sure exactly what Clay's next project will be, I hope he knows that he has a large group of supporters who are here and ready to help in whatever way we can.
~~~~
We can't leave 2016 without a wonderful song by Clay Aiken.  This video is rather old, but it is wonderful.  The beginning is a bit loud, but the rest is amazing.
Would you survive if Clay sang this to you???
 Happy New Year's Eve!
Clay Aiken News Network is an unofficial fansite. We are not affiliated in any way with Clay Aiken or his management. This website was made by fans for fans and makes no impression or impersonation of the official site, which can be found under the domain
clayaiken.com.