OK…Wait a minute…This just has to be one of the greatest weeks if you are a fan of Clay Aiken.
Outfest
The Talk
Photo Shoot
Funny or Die
Drop Dead Diva
Video Chat Date
New UNICEF
So MUCH Promo, CANN can hardly keep up!
So lets get going …there is so much going on!!
Let's start with the most important post and topic.
On Friday, UNICEF partnered with AOL to post a compelling site for the emergency that is happening in Somalia.  They asked Clay to be a part of the promotion since he spent time in Somalia for UNICEF.
Make sure you hit this important site and learn about $10 for 10 Days.
If you want to see Clay in the PR for UNICEF you need to let them know.  Leave a positive comment that supports UNICEF and Clay as a spokesperson.  A big thank-you to AOL for posting this important message.
Did you get an E-mail from the Official Fan Club today?  If so, you already know: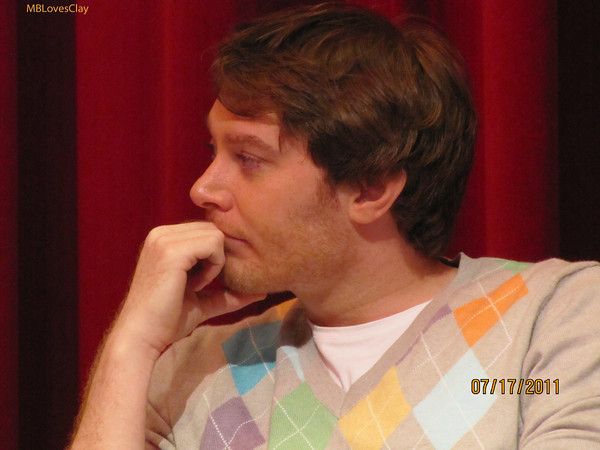 Live Video Chat Announcement
07/22/11 at 1:45 PM by Vanessa
Hey folks,
We're pleased to bring you the news you've all been waiting for: The time of Clay's first live video chat exclusively for Fan Club members! Clay will be chatting live with you guys on Monday, August 1st at 8:30pm EST. The chat will run about an hour in length. Please be sure to visit clayaiken.com/chat and test out the chat in advance so you don't run into any surprises on the day of the chat. You'll need to be using the most updated versions of either Firefox, Safari, or Google Chrome with the updated Java plug-in to ensure that the chat works on your browser.

Also, be sure to visit the new campaign in the Campaigns section of the site, which allows you to submit questions for Clay beforehand that he may answer in the chat. You will also be able to ask him questions directly in the chat, and he will choose which ones to respond to.
For those of you who cannot make it to the chat this time around, we will be recording it for playback on the site so that you can watch it at a later time, or over and over again to your heart's content.

Happy chatting!
Since this was on the public part of the OFC, I assume it is OK to post this news.  Have you posted a question yet?
The Advocate is an American LGBT-interest magazine, printed monthly and available by subscription. The Advocate brand also includes a web site. Both magazine and web site have an editorial focus on news, politics, opinion, and arts and entertainment of interest to LGBTs. The magazine was established in 1967, and is the oldest continuing LGBT publication in the United States.
This publication has not always been supportive of Clay Aiken.  However, on Friday they posted two different articles about Clay that are positive.  I hope you will read and then post a comment.  Comments are important.  They let the writer and the site know that Clay brings in hits.  If there are few comments, Clay will not be at the top of the list of celebrities that are reviewed at the site.
The first is an article about Drop Dead Diva.  Go to page 4 when you reach the site.  ADVOCATE
Finally, an article called "Gay Teen In The South."   GAYTEEN
Michael A Gallagher writes for different publications in up-state New York.  He had the opportunity to interview Clay about his appearance on Drop Dead Diva.
In a recent interview with StayFamous.Net, Aiken talked about his guest-starring role on the series and the message he hopes the story conveys to viewers.
You can see the entire interview at STAYFAMOUS .

AFTERELTON is another site that has not always supported Clay.  However, on Friday, they ran an interesting article.
Drop Dead Diva Does Prom and Asks Lance Bass and Clay Aiken to Attend.
Posted by Mia Jones
The story of Constance McMillen's courage to stand up and fight for the right to go to her high school prom with her girlfriend is one that is near and dear to writers and readers alike here at AfterElton.com. Many of us have had to stand up to bullies in our lives, but not too many of us have had to be the David to the Goliath of an entire school administration and the town we live in.
Please visit the site to get the entire article. AfterElton
Clay Aiken News Network is an unofficial fansite. We are not affiliated in any way with Clay Aiken or his management. This website was made by fans for fans and makes no impression or impersonation of the official site, which can be found under the domain
clayaiken.com.