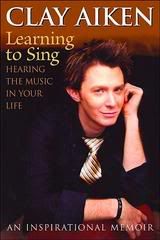 It has been a long time since I have read Clay Aiken's book, Learning to Sing…Hearing The Music In Your Life.  Something made me pick it up on Sunday.  I really didn't want to sit down and read it, but only look for some good quotes.
I found the following on page 8:
When I taped the Primetime Live interview with Diane Sawyer, I was struck for the first time with how significantly my life had changed.  We were setting up in an old nightclub in New York City.  There were arches, banquettes, and a curtained stage.  The floor was checkered.  It reminded me of the sort of place where Sinatra might have performed.

When I arrived, there were bright lights and cameras everywhere.  People scurried around with clipboards and cell phones.  There were producers and management teams and makeup artists and wardrobe consultants and camera operators and lighting experts and caterers and assistants for the assistants.  I was stuck in a corner and I watched these masses of people rushing and bustling because of me.  I wondered:  Why?  What had I really done?  I sang.  But I had always sung.  Suddenly, people cared.

Since then, my entire circle of friends has changed.  The people I thought would be my peers really aren't anymore.
That's all I read…it made me think about the huge changes that happened in Clay's life.  We have no idea!!  No one could have predicted that Clay Aiken would become the next big pop star after Idol.  No one would be prepared for the change that happened so quickly.
ABC.com said the following about Clay's visit and interview on October 9, 2003:
In an interview with ABC News' Diane Sawyer last year, Aiken said he has never taken himself too seriously, even during his run on American Idol.

"In my case, triumph of the nerds," Aiken told Sawyer. "It was a great moment for that show. It was really an opportunity for them to have to eat their words. Simon didn't know exactly what to crack on, and the media didn't know exactly what it was about me that made me look weird. So I said, 'Well, let's give them something.' "

Aiken, 24, was a college kid teaching autistic kids when he auditioned for American Idol. The boyish-looking singer has a powerful and supple voice, but he struggled a bit with some aspects of performing during the competition.

Simon Cowell, the sharp-tongued English judge on the show, once used the word "horrible" to describe Aiken after his performance, telling the young singer, "Everything about that was horrible."

Even Aiken, looking back at that performance, admits that he isn't the best dancer.

"I shouldn't have danced," Aiken said. "It was horrible."

And he shouldn't have worn that tacky red jacket, either, he agreed.

"Yeah, I think it was a mistake," Aiken said. "I think the hip shake was a bigger mistake than the jacket was. I think that the red jacket made people say — and the hip shake made people go, wha'?"
Do you remember the beginning of the program?
They showed Clay singing "This is the Night" at the Miss America Pageant

Diane: It is still that powerful and supple voice coming from the least likely source. Clay Aiken, the surprise musical superstar…

Then, there was a clip of Clay driving with the radio on at 3:22 pm.

Diane: …who inside is still just a goofy kid from Raleigh, North Carolina, hearing his song on the radio for the first time.

Clay: Ah! Oh it's me! I've never heard this song on the radio before!
What an exciting time…what a time of change!!  It is also interesting to note that according to the Nielsen ratings, the week previous to Clay's visit,  Primetime received a 5.7 score.  The week Clay appeared on the show the ratings shot to 9.3!! What an amazing increase!
Did you watch Clay live on Primetime Live?  What was your reaction to the show?
Clay Aiken News Network is an unofficial fansite. We are not affiliated in any way with Clay Aiken or his management. This website was made by fans for fans and makes no impression or impersonation of the official site, which can be found under the domain
clayaiken.com.