American Idol, the mega-hit music competition, began Season 11 this month.  According to Nielsen numbers, the show may be in real trouble.  There was a 17% drop in the ratings for the premiere.  It was the series' lowest opening since its first season in the summer of 2002.
If one looks at the numbers closely, the figures are even worse.  Among young adults, ages 18 to 49, the number of viewer dropped 26%. The young adult viewers are the group that Fox and the advertisers care about the most.
The numbers were even worse the second week of the season. The show was down 13.5% from the premiere and 30% from an equivalent show last season.
It might be a bit too soon to predict real trouble, but American Idol was knocked off as the time leader on both Thursdays by the CBS sitcom, The Big Bang Theory.
So…what is wrong with American Idol?  Can this problem be fixed…or is it too late?
The writer, Charlie Toft, felt that there were very clear reasons why Idol is in decline.  He suggested the following problems.
Age. Simply put, Idol is in its eleventh season. Very few series make it to that length, and it's rare to find any that still have significant ratings momentum after a decade… Even the best contestants and the most heartbreaking personal stories can't help but remind viewers of those who have come before.
The Glut of Music Competition Shows:  TV now has The X Factor, The Voice, and the music-dominated America's Got Talent in the summer. The competition makes the level of anticipation rather low.
Other Networks aren't Afraid Anymore: The fact that CBS moved its most prominent younger show to Thursdays at the same time as Idol, is proof that the fear factor is gone.
There's no drama behind the scenes to attract viewers. This is the first time since Seasons 6 and 7 that Idol has had consecutive seasons with the same lineup of judges. There was particular curiosity going into last season, the first without Cowell. This season, there's no need to see how things have changed with the new judges.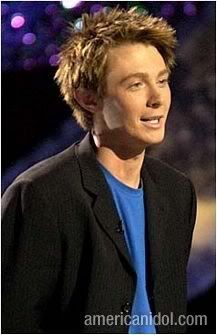 Idol isn't keeping up with broader trends in music. The original Idol formula was simple enough: stand there and sing. The show has expanded to include singer-songwriter types and those who play musical instruments. According to Toft:
"Idol has not yet found a way to channel the dominant sound of today's pop charts, with its guest rappers, use of Autotune, and its emphasis on producers, dance, and electronics."
Too many recent winners have not become stars.  It's gotten harder for viewers to buy that there's anything major at stake in an Idol title.  I am sure most readers could name many winners and runner-ups that just don't seem like winners.
The Nicey-Nice Judging panel makes for a more boring show. According to Toft:
"Some liked Simon Cowell and some hated him, but people definitely paid attention. When he issued a compliment, it had weight because they were so rarely doled out. But the problem with the lack of Simon goes beyond no one wanting to be mean – it's more than there's no nuance at all. Mediocre singers and the very best are treated equally. The current panel agrees on almost everything – either three yes votes or three no votes. Serious differences of opinion, or even the sense that someone is being advanced with great misgivings, are almost unheard of now. As The Voice has discovered, a panel where the judges have both credibility and differing sensibilities can be entertainment in itself."
To be completely up-front, I haven't watched American Idol for many years.  I loved it when it was a show that looked for the best talent and didn't allow professionals to be contestants.  And, I will always be thankful for Season II that introduced Clay Aiken to the world.  I am sure that many of you still watch and so I would love to hear from you.
Do you think that Mr. Toft was correct in his list of problems or do you have other ideas about the decline in viewers?
Clay Aiken News Network is an unofficial fansite. We are not affiliated in any way with Clay Aiken or his management. This website was made by fans for fans and makes no impression or impersonation of the official site, which can be found under the domain
clayaiken.com.