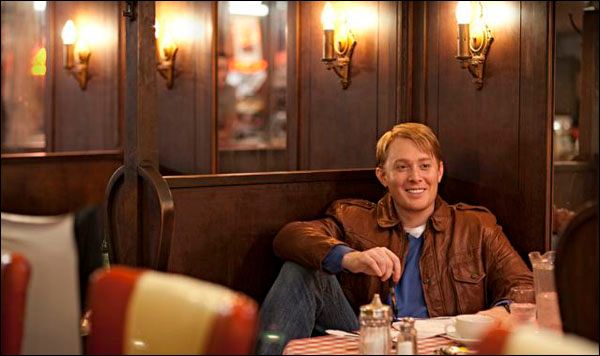 Martha Waggoner is a lifestyle writer for The Associated Press.  She wrote an article about Clay Aiken.  She wrote about the new album, Tried & True and about Clay's quiet advocacy.  The article has been picked up by many news sites.  It is an excellent article.  Be sure and leave a comment if the site allows comments.  They are really important!
RALEIGH, N.C. — For Clay Aiken, life now is about being comfortable, from the songs he sings to the life he lives.

Aiken's CD "Tried and True," released last week, is a collection of 13 songs from the 1950s and 1960s, all of which predate the 31-year-old Aiken. But Aiken feels intimately familiar with the music that he heard as a child, while riding in the car with his mother.

The songs, including "Mack the Knife," "Unchained Melody" and "Moon River," are not merely standards, but songs Aiken wants to sing live. And since many singers make their bread and butter from touring these days, Aiken says he never wants to record another song that he won't perform live in concert.

"There are certain songs I've recorded that I've never sung since the studio," says Aiken, who starts a tour in July with good friend Ruben Studdard, to whom he came in second on "American Idol" in 2003. "So every song on this album is a song that I enjoy singing and love doing live."

The cover for the album features a different look for Aiken: He's pictured with slicked-back blonde hair, not his usual red, in a photo that harkens another era. Still, there is something comfortable about it: He's sitting in a well-known restaurant in Raleigh, where he grew up (he lives in an area nearby).

"I wanted everything to be about being at home," says Aiken — his hair back to red — as he sits beside his mother, Faye Parker, at her home in Raleigh.

Aiken is equally comfortable talking about his sexuality as he is about his music. He came out in September 2008 after the birth of his son, Parker, who was born through in-vitro fertilization to a friend, Jaymes Foster.

His newly redesigned Website still has promotions for his favorite projects — UNICEF and The Inclusion Project. But now it also includes GLSEN, the Gay, Lesbian and Straight Education Network, which focuses on safe schools for all students.
Aiken chose GLSEN because of the teasing and name-calling he endured on school buses and classroom hallways.

"But the truth is, when I look back on it, I absolutely know that (being gay) is why I got picked on. People said it, we heard it," Aiken says, glancing at his mother.

Even though his mother knew about the bullying, Parker says she didn't acknowledge Aiken was gay until he told her at the end of 2004.

"I heard the kids call him names," she said. "I knew some things about him were a little bit more effeminate than others. But parents engage in denial."

Aiken wonders if his endorsement for GLSEN will make a difference for gay kids. "I don't know what it would have done for me," he says. "But I feel like there's a potential impact there."

The 2009 student advocate of the year for GLSEN, Austin Laufersweiler, says gay teens do care when a famous person acknowledges their sexuality.

"The face that significant people identify as gay, lesbian, bisexual or transgender gives this cause credibility and it certainly allows one to be more courageous," said Laufersweiler, 18, of Marietta, Ga., who just graduated from high school. "It really spreads the message that I can come out in school if this person can come out to the whole world."

The GLSN promotion is another step in gay rights advocacy for Aiken, who spoke in February at the Human Rights Campaign Carolinas gala in Raleigh. He's also taken to his blog to criticize anti-gay statements and legislation.

Aiken credits his increased advocacy to his son Parker, who Aiken hopes grows up in a different kind of world as far as treatment of homosexuals (Aiken and Foster share custody of Parker, who visits Aiken's home in two- to three-week stints typically).
"If he's gay, I want him to not even think about the fact or have to worry about the things I had to worry about," Aiken says.

He adds: "I'm not going to pound the pavement as much as some folks would like. … But I also think there's a place for deliberate, thoughtful advocacy."
Clay Aiken talked to KTVI – Fox 2now about Tried & True and his upcoming tour with Ruben Studdard.  The interview is short, but it is always nice to see Clay.
Clay Aiken News Network is an unofficial fansite. We are not affiliated in any way with Clay Aiken or his management. This website was made by fans for fans and makes no impression or impersonation of the official site, which can be found under the domain
clayaiken.com.