Clay Aiken's name and image seems to be everywhere these days.  I made a search on Google on Wednesday evening, typing in Clay Aiken.  The result number was 3,930,000.  Amazing, simply amazing!!
Some of the most exciting mentions are listed here.
The US Funds fro UNICEF published some field notes about the Key Club and their wonderful fundraising for the children of the world.  Since Clay was the UNICEF ambassador who was at the convention to speak for UNICEF, the article puts his name up front.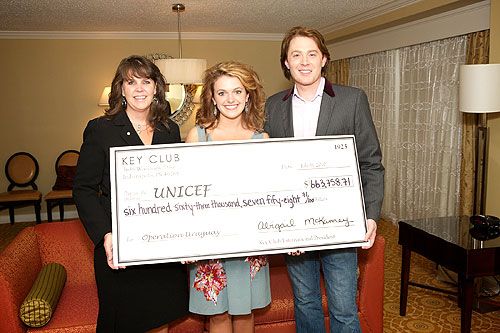 Key Club International President, Abigail McKamey (center) presented a check to UNICEF Ambassador Clay Aiken and Kristi Burnham (left), Director of Volunteer and Community Partnerships, U.S. Fund for UNICEF, for funds raised on behalf of Operation Uruguay.
On July 9 the U.S. Fund for UNICEF staff and UNICEF Ambassador, Clay Aiken attended Key Club's International 67th Annual Convention in Memphis, Tennessee. Key Club and the U.S. Fund for UNICEF have had a long standing partnership, raising funds for those affected by HIV/AIDS in Kenya and Swaziland and more recently, pledging $1 million to assist the youth of Uruguay.

Donations collected through the Trick-or-Treat for UNICEF campaign will directly support UNICEF-Uruguay's health and education programs. To learn more about Key Club and U.S. Fund for UNICEF's partnership, visit www.unicefusa.org/keyclub.
To see the original article, visit US FUNDS FOR UNICEF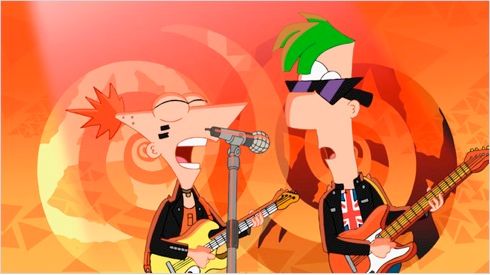 We have known for a long time that Clay was being featured, singing a duet with Chaka Khan for the Phineas & Ferb Special.  Since it will be out next month, there are mentions all over the internet.
Stitch kingdom is a Disney board on the internet that reports on all that is happening in the Disney world.  On July 14th, they wrote a great article about Phineas & Ferb.  They said the following about Clay and the music:
In August, the hit animated comedy, increasingly renowned for its smart humor and noteworthy guest stars, will present two new episodes featuring the legendary recording artist Chaka Khan, multi-Platinum selling singer Clay Aiken ("American Idol"), Emmy-winning animator/writer Seth MacFarlane ("Family Guy") and filmmaker Kevin Smith ("Clerks")……..

Music from the episode will Planet Premiere on Radio Disney Monday, July 26 through Monday, August 2, and will be released by Walt Disney Records on Tuesday, August 3 at online retailers.  Songs on the digital album are: "I Believe We Can," performed by Clay Aiken and Chaka Khan……….
To see the entire article visit STITCHKINGDOM
Blazing Music and Sound published a short article about Clay.  According to their site:
Blog » ADR With Clay Aiken
ADR With Clay Aiken
posted by Blazing Music + Sound July 14th, 2010

Clay Aiken recently dropped by for an ADR session for an upcoming appearance on Disney Channel's hit show "Phineas and Ferb". A recent LA Times article describes "Phineas and Ferb" as Disney Chanel's first breakthrough original animated series with ratings that rival Nickelodeon's SpongeBob SquarePants. Most episodes feature a musical number and in this episode, which is slated to air in August, Clay ends up singing a duet with R&B legend Chaka Khan. Blazing's Executive Producer Eric Johnson had the pleasure of working with Clay many years before his American Idol success and Clay has done a number of sessions at Blazing over the last few years.
I always love finding news about Clay, but I wanted to know……..what is an ADR session?  According to FilmSound.org:
ADR stand for "Automated" or "Automatic" Dialog Replacement.

Dialog that cannot be salvaged from production tracks must be 
re-recorded in a process called looping or ADR.

Looping originally involved recording an actor who spoke lines in 
sync to "loops" of the image which were played over and over along 
with matching lengths of recording tape. ADR, though faster, is still 
painstaking work.

An actor watches the image repeatedly while listening to the original production track on headphones as a guide. The actor then re-performs each line to match the wording and lip movements. Actors vary in their ability to achieve sync and to recapture the emotional tone of their performance.

ADR is usually considered a necessary evil but there are moments when looping can be used not just for technical reasons but to add new character or interpretation to a shot. Just by altering a few key words or phrases an actor can change the emotional bent on a scene.
Blazing Music & Sound's home is in Raleigh, North Carolina.
Did you see the article from JustJared?  This entertainment site has always been supportive of Clay.  The current article covers the Phineas & Ferb duet and also includes some great pictures of Clay when he was on co-hosting The View.
There are just a few other sites for you to check out.
Playbill.com  has a great article on "Tried & True – Live"  Check it out HERE
Theatermania also has an article on the PBS special.  See it at Theatermania
Clay is #1 at People's "They Said What". Scroll to the end.  PEOPLE
Interesting mention about DADT and Clay's visit at The View at TOWLERROAD.  Great picture!
Well…………this is a start …….I don't think I can list all 3,930,000 mentions.
Isn't it fun to see all the positive press for Clay Aiken?
Clay Aiken News Network is an unofficial fansite. We are not affiliated in any way with Clay Aiken or his management. This website was made by fans for fans and makes no impression or impersonation of the official site, which can be found under the domain
clayaiken.com.