Erik R. Caban is a writer for a news site titled Watermark Your LGBT Life. Daily.  The very popular site makes its home in Florida and covers current news, arts and culture and even a section on living.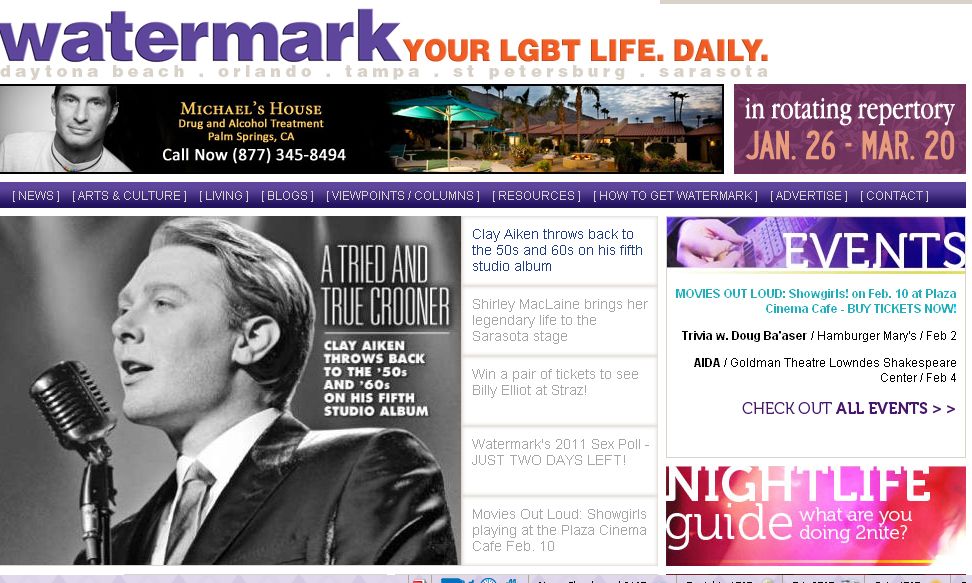 On Thursday, February 3rd, Erik published a wonderful interview with Clay Aiken.  Erik seemed to find some thought-provoking questions that allowed the reader to get to know Clay just a bit better.  You can tell by the first paragraph that this interview is worth a good read.
"In a day of reality-show instant celebrities, still only a select few know the exhilarating feat of being plucked out of anonymity and thrown into the proverbial fishbowl of super-stardom. Clay Aiken was a fan favorite during the sophomore season of American Idol, where he finished second to Ruben Studdard.
Eight years later, despite rumors and set-backs, Aiken's grit, determination and raw talent have proven why he's a household name. While Aiken may have acquiesced to a few minor alterations, he has stayed true to himself and his passion, using his celebrity as a platform to raise awareness for gay rights, AIDS and children with disabilities."
You can read Erik's interview at Watermark. And, don't forget to leave a comment. Comments are a way of showing the author that you enjoyed his writing and hope he will write more about Clay.  It's the best way to say Thank-you!!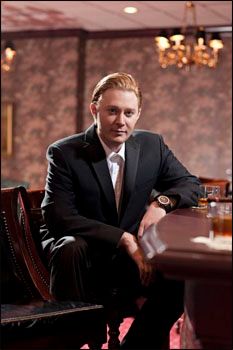 Jim Farmer writes for a news site titled GA VOICE: Speaking Out. He just published a wonderful article on Clay Aiken that covers a lot of information about Clay.  In the article titled Clay Aiken Remains 'Tried and True', Farmer covers Clays time on American Idol, his love of music, his decision to come out as a gay man and how he is going to save his hockey shirt for his son.  The following is the introduction to the article
Performing in Atlanta has been special for singer Clay Aiken. It's not his birthplace — that would be Raleigh, N.C. — but he feels partial to the city.

"I auditioned for 'American Idol' in Atlanta so it's full circle when I return," says Aiken, who brings his "Tried and True" tour to the Cobb Energy Centre on Feb. 16.

Aiken was featured on the second season of "American Idol," where he eventually was runner-up to Ruben Studdard. On the show, he was an audience favorite, never once appearing in the bottom three for viewer votes. It helped him, he feels, that he was able to sing songs he was familiar with.
This well-written article is a great read.  Now, don't forget those comments.
You can read the entire article at GAVOICE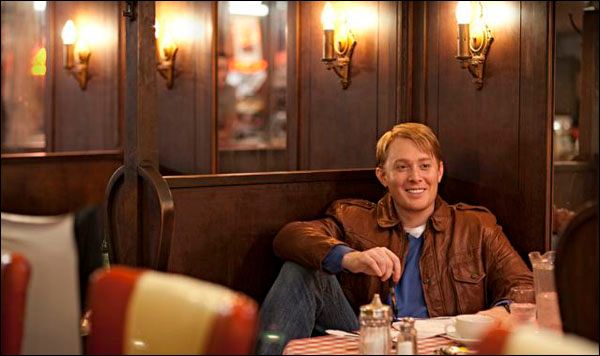 The Gaston Gazette is a news site in Gastonia, North Carolina.  Bernie Petit wrote up an article and interview with Clay.  He mentioned the other Idol finalists from North Carolina and made sure that the readers knew about the Tried & True Tour stop in Charlotte, NC on February 23rd.
The following paragraphs are a great tease for the article.
"North Carolina has been good to the hit reality television show "American Idol."

It's produced Season 3 winner Fantasia Barrino and Kellie Pickler and Chris Daughtry, both of Season 5. This year, Tar Heel singers Scotty McCreery of Garner and Victoria Huggins of St. Pauls were given the coveted golden ticket to Hollywood on the show.

But Raleigh native Clay Aiken still lays claim as the first North Carolinian to hit it big on the show, finishing second in the show's sophomore season. Since then, he's toured relentlessly, starred on Broadway in "Monty Python's Spamalot" and become one of the biggest stars "Idol" has ever produced."
You can read the entire article at GastonGazette.  And, don't forget those positive comments.
EW Weekly Published an article titled: American Idol: 12 Tearjerking Moments
Neil Sedaka tells Clay Aiken that "Solitaire" is now his
Aiken had spent weeks entertaining us with lighthearted covers of "I Can't Help Myself," "Everlasting Love," and "Tell Her About It," but the singer hit his stride with a mature, breathtaking performance of Neil Sedaka's "Solitaire" during Top 5 week. And he did so right in front of Sedaka himself — the emotional guest judge told Aiken, "Bravo, Clay, I have lost my song forever to you. It will always be a Clay Aiken song." Goose bumps! —Kate Ward
You can read about the other 11 "moments" at EW
According to an announcement on Clay Aiken's Twitter and FaceBook accounts, the winners of the Official Fan Club Meet & Greets have been selected and the winners were notified via email.
Did you get one of those special emails?  I didn't, but then, I had a meet & greet during the Timeless Tour.  It was time for someone else to celebrate!
A poster from Clays Official Fan Club ask that the following information be posted on as many Clay boards as possible.  The following is the information she wanted all of us to know.
On Friday, February 4th, Clay Aiken will be interviewed on a small, non-profit radio station in a small town about 10 minutes from Waterbury, CT.
It seems the station has been playing songs from Tried & True each day.  On Thursday, after playing Mack, The Knife, they announced that Clay would be at the Palace Theatre and that they would be talking to him on Friday.
The station started streaming in December of 2010.  It is strictly a non-profit station and does not play any commercials.
If you listen to the interview, a small contribution to the station would help keep it going.  The interview is scheduled around 5pm ET.  You can hear it at:
http://www.ortv.org/…wjmj_listen.htm
For more information, they can be contacted at studio@wjmj.org
Clay Aiken News Network is an unofficial fansite. We are not affiliated in any way with Clay Aiken or his management. This website was made by fans for fans and makes no impression or impersonation of the official site, which can be found under the domain
clayaiken.com.