Tuesday was Twitter Day for Clay Aiken.  It is always so much fun when Clay tweets.  You just never know what topic his "words of wisdom" will attack. On Tuesday, Clay had two political tweets, a fun, "rejectedyankeecandles" tweet (ya gotta see it to understand), and a fun tweet remembering an exciting time in the past!  If you are on the CANN site, you can see all of Clay's tweets in the right column.
The tweet about the exciting time in the past really made me smile.  I saw the picture Clay posted and it brought back memories! I remember so many scenes of Clay, skating around some great kids…people were smiling and everyone was included.  I guess from Clay's tweet, he remembered too:
Hey @includingkids here's a blast from the past! Our new ED @nickleisey and I during our skating event 12 years ago!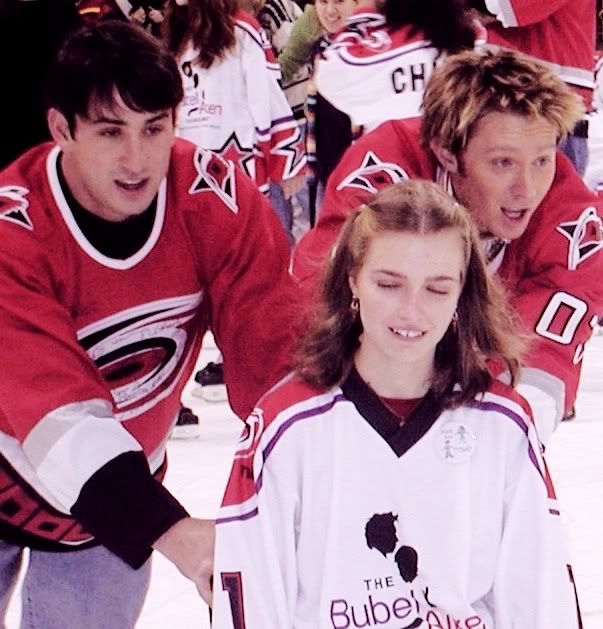 ~~~~~
On May 15th, 2004, Blades On Ice, a popular Figure skating magazine, published an article that featured Clay and his special day of skating for the BAF/National Inclusion Project. The article was positive and provided Clay the opportunity to share information about the BAF/National Inclusion Project.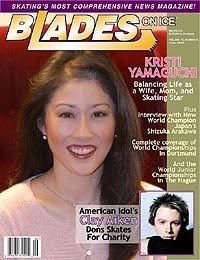 Blades On Ice – American Idol's Clay Aiken Dons Skates for Charity 
by Marge Reynolds
Clay Aiken, whose first CD (Measure of a Man) recently shipped triple platinum, came in second on American Idol 2 last May but his star soared well beyond that Fox show in the music pop world ever since. BLADES On Ice magazine caught up with him when this auburn haired pop sensation took to the ice in his hometown of Raleigh, North Carolina to venture into the skating realm. "Now why is everybody thinking I am going to fall out there? I've gone roller and ice skating as a YMCA counselor so I have skated a little before," said Aiken with a laugh. The 25 year old Aiken donned hockey skates December 21-22 when his foundation, the Bubel Aiken Foundation held a skating/hockey fundraiser in conjunction with the NHL's Carolina Hurricanes Kind N' Community Foundation at the Raleigh North Carolina's RBC Center. These two foundations announced a formal parnership just prior to their first public joint event at a press conference. Aiken said, "It is a thrill for me to have such support from my hometown. I am excited about our partnership and the opportunitites we will bring together to children with special needs.

"We want to break down those walls and erase the lines that divide kids with and without disablitities. I am very thankful to the Hurricanes for the opportunity to help spread the word about The Bubel Aiken Foundation." On Sunday afternoon, immediately following the Hurricanes "Skate with the "Canes" charity event, Aiken took to the ice with foundation volunteers, YMCA staff, family and friends along with 100 children for "Skate with Clay." Fifty participants with a special need disability and 50 "regular kids" were selected via sign up at one of the local YMCA branches, the Banks D. Kerr Family YMCA, two weeks prior. Most participants were local North Carolina residents but several traveled great distances from other states, including Minnesota. Children received a specially designed Bubel Aiken Hurricanes jersey that matched the one Aiken wore. During this skating activity Aiken's face lit up as the children approached him, particularly those who had special needs as his degree is in special education. Ever sensitive to the special needs participants, when the crowd around him would grow large, he left the rink with his bodyguard (Jerome) and popped up in a new area. "We have children both with and without disabilities who will do this activity together. It's not about one group of kids or one group of adults. It's about everybody doing things together and being included and breaking down the barriers," said Aiken. Wachovia Bank sponsored underwrote all their expenses for this charity event according to the bank's marketing director, John Ward. Aiken first formally announced on July 28, 2003 the birth of his BAF foundation at a Wachovia Bank appearance in NYC.
Aiken also performed on skates to a sold-out crowd between periods during the December 22 hockey game of the Carolina Hurricanes against Dallas Stars and his foundation benefited from ticket sales. "I am very excited to be here today," said Aiken. "Each person has a purpose and I feel like this is one of the reasons I've been so fortunate to do this." For this game 200 seats were sold in two boxes that had been donated by the Hurricanes. Aiken then visited the donor boxes briefly during the second period of the hockey game. according to Emma Bennett, Community Relations Manager of the Hurricanes, "A large percentage of any ticket sold, after we first began planning this a month prior, were also donated to the Bubel Aiken Foundation by the Hurricanes. Following the hockey game, Aiken briefly met Olympic Champion, Kristi Yamaguchi by the elevators reserved for his use during this hockey game appearance. Yamaguchi who owns his CD and also resides in Raleigh said, "He seems like a very nice guy. I hear his music all time on Raleigh radio. He has an amazing voice and is very talented." He first sang the Star Spangled Banner wearing skates just inside the rink barriers prior to the game's start but after the first period he came out singing I Will Carry You from his hit CD and continued skating throughout this number. According to the arena staff, an NHL rule affects the length of time an individual other than the players can be on the ice, so for the second period where he sang three additional songs, he sang from a huge lift by the Zamboni entrance.
Ever the perfectionist, Aiken practiced beforehand at the Rockefeller Center outdoor rink while in NYC. He said, "I hope I don't fall today. I practiced at Rockefeller Center and I did pretty well. We had to outrun somebody at one point." Aiken announced plans to launch a national YMCA program in conjunction with the Bubel Aiken Foundation that will be tested first in North Carolina for inclusion of special needs children in YMCA programs. "We wanted to do this locally (first) with local YMCA's and eventually want to take it nationally," said Aiken. Aiken draws from his own experiences with YMCA programs and that motivated him to have the two organizations work together. "From my own experience at the 'Y' I saw kids being turned away from programs because their staff was not trained or didn't have the correct ratio to work with kids with special needs in the same environment, and that is where our motivation comes from," said Aiken. The mission statement of The Bubel Aiken Foundation is to provide services and financial assistance to facilitate fully the integration of children with disabilities into the life environment of those without.
Aiken previously toured as part of the American Idol 2 ensemble early last summer and his popularity continues to swell at a rapid pace. He graced the covers of Rolling Stone, Entertainment Weekly and had major features in Time Magazine, People Magazine, and just about every teen magazine imaginable. He appeared on Saturday Night Live and nearly all the major talk shows. Aiken got his feet wet with several radio station concert appearances in December around the country for three of four songs before joining forces with American Idol from the first season, Kelly Clarkson for their joint Independent tour. This duo toured 30 cities, beginning on February 22 in Charlotte, N.C. and concluding in St. Paul, Minn, on April 16. During this tour they both met up with the Hughes family following the Long Island concert on March 4. "Clay and Kelly were arguing over whom was the bigger figure skating fan when they met Sarah backstage just after the concert. They both were fantastic in concert and it was so much fun to meet them," said her sister Emily Hughes. Aiken has publicly mentioned the possibility of a second tour leg that could include appearances in Canada but dates are not yet set according to his publicist. Aiken announced in late March that he plans to return to the studio to work on a new Christmas album when his tour concludes. According to Aiken the goal is to release it in 2004. Aiken's American Idol top 12 outfit from American Idol 2 "Motown Night' is currently on display at the N.C. Museum of History through Sept. 6 in Raleigh.
Several sources suggest that Aiken will return to a skating venue in 2004, but this time the plan is to include performances by elite skating champions. (Look for further details on the BLADES On Ice website when arrangements are more finalized.) Aiken earned his Bachelor of Arts degree in special education on Dec. 20 in Charlotte, N.C. from the University of North Carolina Charlotte. After completing an independent study program where he researched how to set up a foundation, he went the extra mile and actually set up this BAF foundation. One of its goals is to give out grants to help facilitate inclusion programs for special needs children. Aiken did not fall on the ice and succeeded in making "Skate with Clay" special for the children that participated. Aiken recently told the Associated Press, "A lot of people overlook the work that the foundation is trying to do. That's the benefit of me being in this position, is the opportunity to bring attention to a cause that's personal to me that doesn't really have a voice.
Although this article was published in 2004, it certainly shows that Clay Aiken has been doing his best to see that every child has the opportunity to have fun and participate with all other children.
I wonder if Clay has been skating recently.
Being in New York, he would have lots of opportunities to work on his figure skating skills!
Clay seemed so at ease on the ice and seemed to have a good time.
Thank you Clay, for using your voice to help all children!
~~~~~
Just a quick reminder:  Be sure and vote each day for Clay Aiken at the yearly "Out's Most Eligible Bachelor" poll.  The site says you can vote once every day.  At this moment, Clay is in 4th place out of 100.  That is great, but can we move him up?  You can vote HERE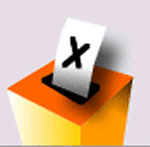 Clay Aiken News Network is an unofficial fansite. We are not affiliated in any way with Clay Aiken or his management. This website was made by fans for fans and makes no impression or impersonation of the official site, which can be found under the domain
clayaiken.com.