On some days, Google can be your friend.  And, if you are a fan of Clay Aiken, there are always thousands of articles to choose from.  Some are funny, some are ancient, some are odd, but some reveal some great news about Clay Aiken.
News seemed slow until late in the day when a few exciting new tidbits showed up.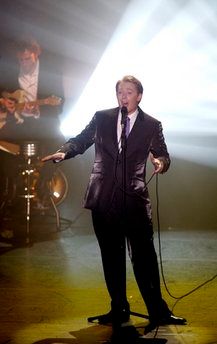 Bruce C. Steele writes for Citizen-Times.com. He wrote a wonderful article about the Clay Aiken – Ruben Studdard concert at the Biltmore in Asheville, North Carolina on Friday night.  fter you  read the article, be sure you visit his site and leave him a comment about your support of Clay Aiken.  CITIZENS-TIMES
Clay Aiken talks about returning to Asheville

"We both love '70s variety shows," Aiken said in a brief three-way telephone call on Tuesday. "We're an entity this summer: Ruben and Clay."

"I notice you put my name first," Studdard said with a laugh.

Friday is the kickoff for a three-week, 17-show coast-to-coast road trip that reunites the two top finishers from the second season of "American Idol." In case you've forgotten, Ruben won, but Clay sold more records.
Not that any of that matters now, seven years later. Times have changed, the guys have changed, and the songs they'll be singing have changed.

"We are going to be singing timeless material that we grew up listening to, that our mothers listened to around the house," Studdard said. "Everyone's going to have a good time."

"It was not our goal at all to do a show where one person sang and then the other person sang," Aiken said, perhaps unconsciously referring to the format of the annual "Idols Live" tour that trots out each season's "American Idol" top finishers.

"We're doing the whole show together," Aiken said.

The tour is a product of the two friends — they've been close ever since the show — finally being at the helm of their own careers. It's a nice change after some post-"Idol" years of dictated management, when "decisions were made in a vacuum — a vacuum that you're not even in," Aiken said.

"Obviously we had different experiences but similar circumstances," he said of their post-"Idol" ups and downs. "It takes a few years to get on your feet and make decisions for yourself."

One recent decision: Do more live shows. "I think Ruben and I both, while we like recording, are really live performers at heart," Aiken said.

"I've been performing since I was 10-11 years old," Studdard said. "I really like singing for my fans."

The material will be wide-ranging, drawing from both men's catalogs — including Aiken's new CD of pop standards, "Tried and True" — and adding fresh classics. "It's a variety show," Aiken said. "It's the spice of life."

Aiken is kicking off the tour in his home state, and he calls the Asheville area "probably one of the most beautiful parts of the state."

Growing up in Raleigh, he said, "We always went to the mountains on vacation. I sunburned too easily, so we didn't go to the beach."
Studdard grew up in Alabama. While both are Southerners, the singers agreed that their musical tastes reflected different traditions.

"I don't know that we overlap too much at all," Aiken said. "That's kind of what made this show fun."

"My taste is more caviar," Studdard added.

To which Aiken responded, "And mine is barbecue."
Thank you, Mr. Steele, for the great article about Clay and Ruben.  The concert will be wonderful.
On Google, I found two great videos.  The first one comes from The United Kingdom. Called The Hit List, the video is dated, but still something I have never seen before.
The following YouTube was posted on Google today.  It features Clay singing "Weight of The World."  It is different, but wonderful.  Gerwhisp was very creative when she put this together.
Clay Aiken News Network is an unofficial fansite. We are not affiliated in any way with Clay Aiken or his management. This website was made by fans for fans and makes no impression or impersonation of the official site, which can be found under the domain
clayaiken.com.