It is always fun to find so many interviews from Clay Aiken.  Here are a few more that have shown up this morning.
STAR 104.3 is a radio station in Asheville, North Carolina.  The morning DJ is Kim Mathews.  She had made arrangements to interview Clay Aiken, but when the call came in, Ruben Studdard was on the phone too.  This interview is really fun.  It sounds like the tour is going to be very funny and full of lots of surprises.
Quote

So look who called into the studio last night. I thought it was just going

to be Clay, which I was really psyched about. Turned out I got double

the pleasure and double the fun! Ruben was on the line, too. They are

hilarious, and sweethearts, and two of the nicest celebs I've had the

privilege to interview. I hope you enjoy my chat with Clay Aiken and

Ruben Studdard! Click Here to listen in!






And see them LIVE at Biltmore this Friday!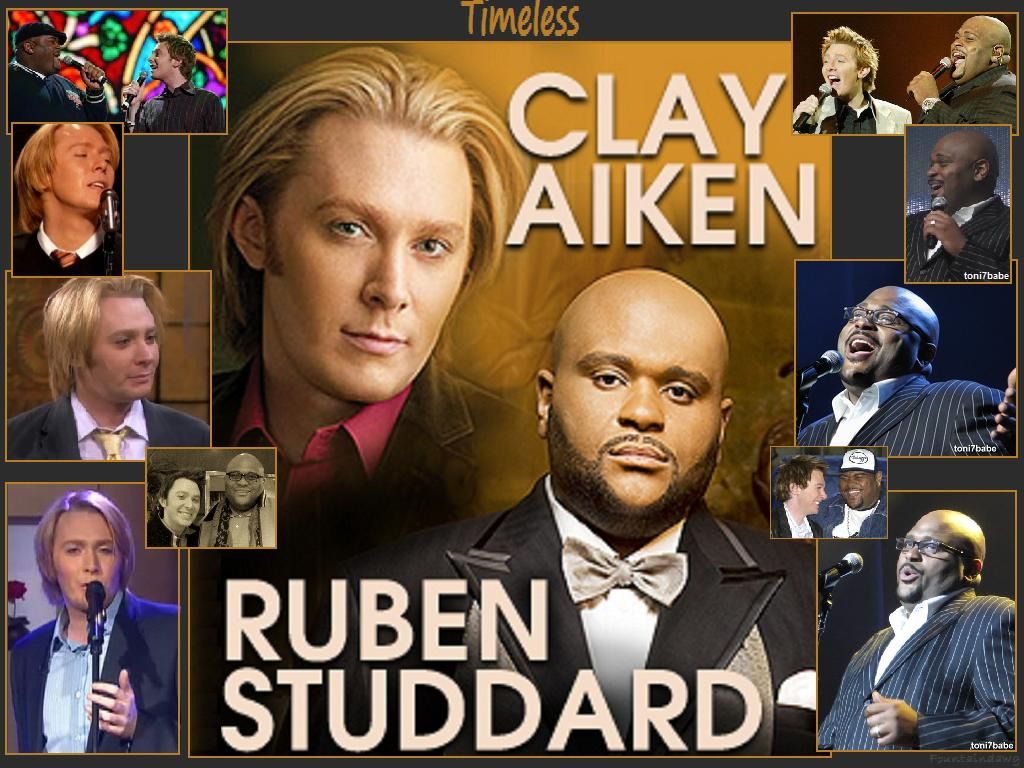 Metromix in Melbourne, Florida
posted a wonderful Question and Answer with Clay and Ruben.  Again, the fun and humor of the show is showcased in this interview.
The details
What: Clay Aiken and Ruben Studdard
When: 3 p.m. Sunday
Where: King Center for the Performing Arts, 3865 N. Wickham Road, Melbourne
Cost: $38.50 to $48.50 plus handling
Call: 321-242-2219 or visit www.kingcenter.com

Expect a lot of playful banter between Clay Aiken and Ruben Studdard. The season 2 "American Idol" stars will team up for Sunday's show at the King Center in Melbourne.

Even in a short question-and-answer session, it's hard not to notice their mutual affection. The pair even finished each other's sentences . . . with quips and brotherly love.

QUESTION: Clay, you and Ruben are back together, but this time not competing against each other on a TV show. How is your experience touring together different from "Idol"?

Aiken: We're still competing!

Studdard: Every day. Yesterday we played basketball . . .

Aiken: I won!

Studdard: And, of course, I won.
Aiken: I won! We jokingly compete a lot.

Studdard: You can't compete with music.

Q: Why haven't you toured together before?

Aiken: (laughing) I don't really like him. . . . We've both been busy with our own stuff. Ruben's had albums. I've had albums.

Studdard: That's Spanish for, "We're getting old."

Q: There are famous duos, like Abbott and Costello, Bert and Ernie. Where do you two fit in?

Studdard: I'm going to stick with yours — Bert and Ernie. That was good. That was perfect.

Q: Which one's Bert; which one's Ernie?

Aiken: I am organized, and Ruben is an artist.

Studdard: I'm very laid back . . . so Ernie.

Q: Clay, you were in "Spamalot." Any other plans for the stage?
Aiken: I don't have plans for anything. I just kind of let stuff happen. I'm enjoying the tour right now. Who knows, maybe Ruben and I will do this again. In Vegas.

Q: Do you still have Claymates? Teens and grandmas still scream when you come out on stage?

Aiken: I don't know. I don't keep count or anything. We gotta name the Ruben Studdard fans.

Studdard: They're the "Ruben Nation."

Aiken: "The Ruben Nation." I like that.

Q: You went through a lot together. Competing on "Idol" eight years ago. Clay, you became a father. Ruben, you got married. A lot of life changes for you. Where do you see yourself in another eight years?

Aiken: Probably married to each other.
Rodney Ho writes an American Idol blog for access Atlantic.  He had a chance to tape an interview with Clay when he was in Atlanta.  You can see his blog at RodneyHo
Please visit Rodney's blog and leave a comment.
Clay Aiken answers fan questions

10:25 am July 21, 2010, by Rodney Ho

Clay Aiken,  in Atlanta to tape some pledge drops for Georgia Public Broadcasting Tuesday, gave me a few minutes to talk about his career and answer some fan questions.

Aiken, who came out with an album of standards in June called "Tried and True," is also prepping for his one-month concert tour with Ruben Studdard that kicks off in Asheville, N.C. Friday.  He said the two will be on stage the entire time and do a "Sonny and Cher" type variety show.  He didn't want to reveal what he was going to sing but it'd be fair to say he'll definitely do a few from his most recent album.
The show's first leg does not come to Atlanta but he hopes to include the city, presuming a second leg is in the offing in the fall.

The focus on standards, he said, wasn't a deliberate effort to re-brand himself away from pop. It's simply something he likes to do and is comfortable with. In other words, he is working the Michael Buble/Harry Connick Jr. route, a perfect venue for public broadcasting. He played his album at a concert in Raleigh that will air on Georgia Public Broadcasting August 1.

During the interview, he was friendly though he did say at one point (with mild annoyance) that a lot of the questions I received from fans sounded like questions he's already answered relatively recently.

I asked one token "Idol" question about Simon Cowell leaving. He thinks it will hurt the show but won't necessarily kill it. He said he can't really stand watching the show anymore and hasn't done so regularly since season five. He says it's gotten a bit too glossy compared to the early days. Last season, the only segment he watched was when Ruben showed up.

And when I asked if he feels any different since he came out publicly, he cagily answered: "I think that's relatively short sighted to assume I wasn't out before… Nothing has changed."

I had joked that this was my Barbara Walters question, but it was clear I couldn't put him to tears. "I think I'd put you to tears before you put me to tears," he responded and laughed.
Here's the interview in two parts:
Clay Aiken News Network is an unofficial fansite. We are not affiliated in any way with Clay Aiken or his management. This website was made by fans for fans and makes no impression or impersonation of the official site, which can be found under the domain
clayaiken.com.