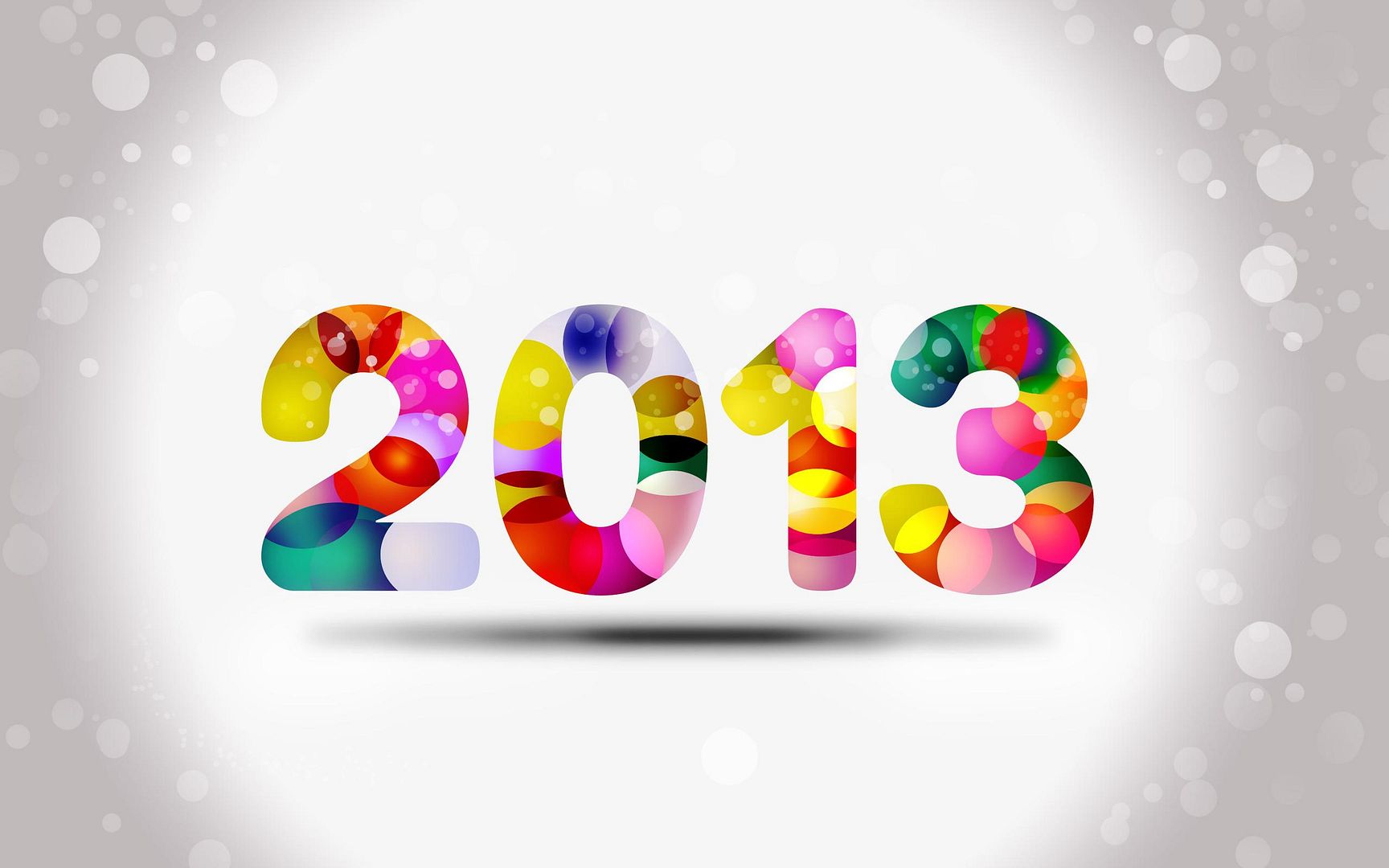 It has been fun going back and reading about some of the fun events that Clay Aiken was a part of in 2013.  I hope you will enjoy the three appearances that are listed here today.
April 18, 2013 – American Idol – Top 5, Season 12
There was lots of excitement when it was announced that Clay Aiken was going to perform on the Top 5 – results show of American Idol. The day before the performance, Clay tweeted:
@clayaiken 1m
Going "home" for the first time in seven years! Flashing back ten years since @AmericanIdol – season 2… tomorrow night at 8/7c on @FoxTV
As a returning guest on American Idol, Clay presented himself as a gentleman who is intelligent, talented, handsome, and caring.  Before he entered the studio, he talked about his life since Idol.  He talked about The National Inclusion Project and about his work with UNICEF.  He said that Idol gave him the microphone to sing and he made sure he used it to talk about things that are important to him and to the world.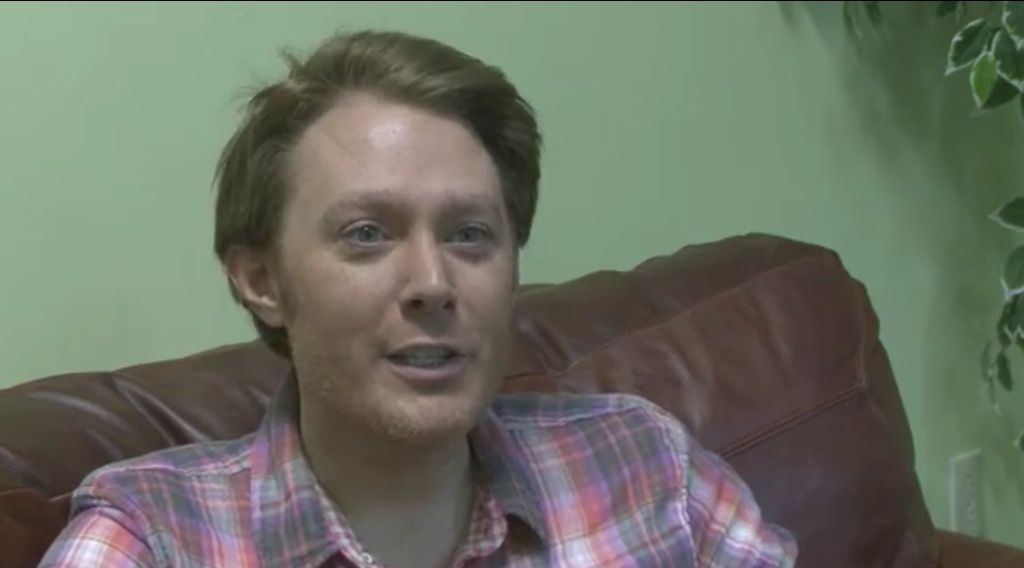 Clay performed a beautiful rendition of Bridge Over Troubled Water and knocked it out of the park. He was dressed in a very stylish outfit and his hair was done with care.  This was an outstanding appearance!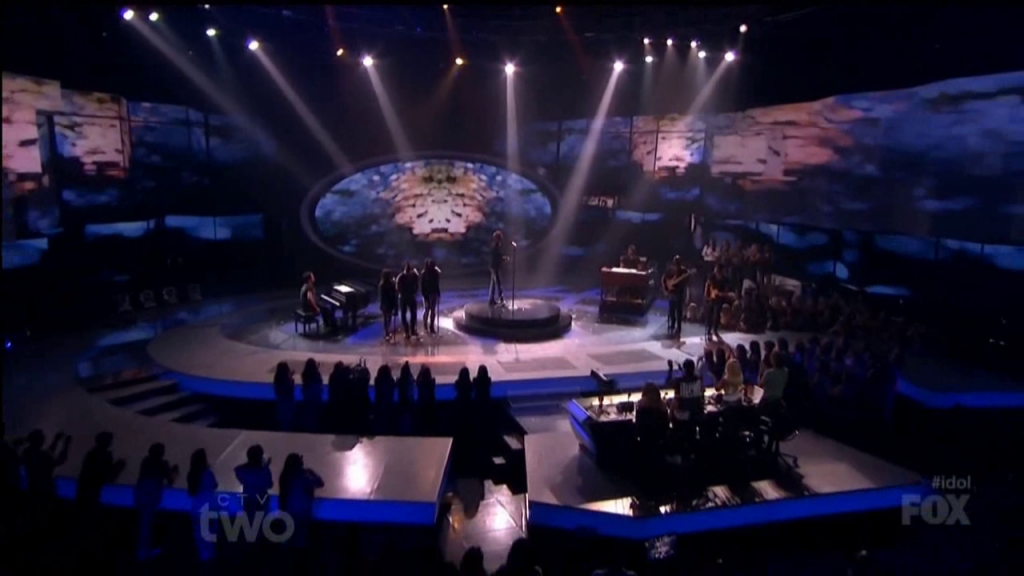 Clay received a great deal of support from many of his celebrity friends. Some of the interesting support was:
Merle Dandridge, the Lady of The Lake from Spamalot was in the studio to support Clay
Debbie Gibson sent Clay a few tweets including a congratulations for a wonderful performance
Clay's friend Arsenio Hall tweeted congrats to Clay
UNICEF  tweeted best wishes to Clay
NC Theatre reminded their readers that Clay would be performing Thursday
Peisha McPhee tweeted that Clay was fabulous
Debra Byrd tweeted  "Loved you on Idol. Made my heart smile "pigs flyin" everywhere! Was honored to sing on your "Bridge Over..on AI2.  Luv 2 u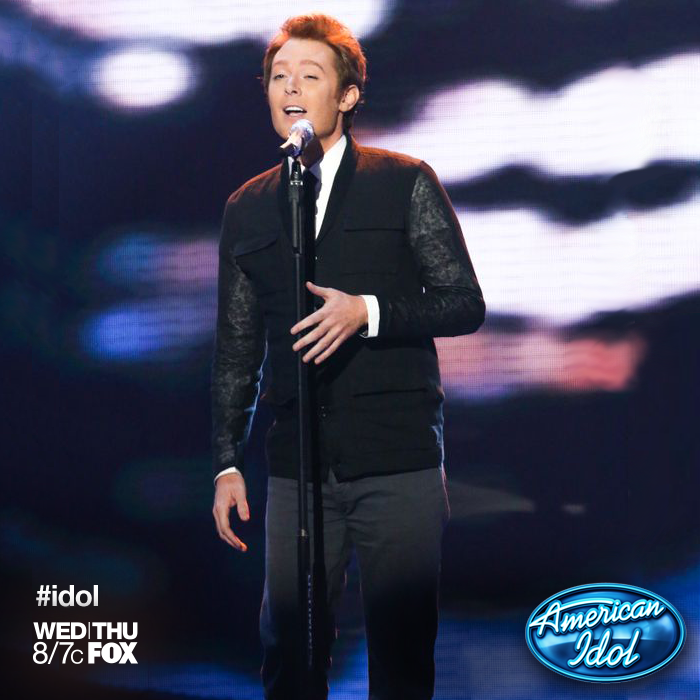 The press had a lot to say about Clay's appearance and most was very positive.  It seemed everyone was glad to see Clay back on American Idol

April 20, 2013 – Master Class – The Singer's Art Voice Studio and The Theatre In The Park 
On Saturday afternoon, the Singer's Art Voice Studio and The Theatre In The Park presented a master class with Clay Aiken.  Held in the Theatre In The Park in Raleigh, Clay discussed some special moments behind the scenes of his professional appearances.  He also answered some audience questions about the entertainment field.
Alison Lawrence, who was one of Clay's music teachers at school, currently runs the Singer's Art Studio. She joined Clay on stage and kept the program going smoothly.  She added some interesting questions to the afternoon and shared some "Clay stories" with the audience.
The following are a few things that were shared during the Master Class.
Clay arrived in Raleigh at 6:30 in the morning on his flight from Los Angeles.
Clay said he hoped that there would be no video of the afternoon.
The program lasted 3 hours.
Clay talked about the audition process of American Idol and said that to make the first round you had to either be really good or really bad.
 He asked each performer what type of career they wanted and gave them hints for that particular genre.
He helped a young girl with some physical tips to help reach the high notes.
Clay told a couple of Broadway hopefuls that he would see then there!!
Alison took over at one point and played the role of James Lipton of The Actor's Studio.  James always asks his guests the same ten questions.  Clay answered a few and passed on some too:
1.  He said his favorite sound is the sound of his voice!
2. The profession he would NOT like to do is garbage collector.
3. Alison asked (a James question) What turns you on…answer…nothing lately!!
4. What would you like to hear God say when you arrive at the Pearly Gates?…"Take A Nap"
According to those in attendance, Clay combined his performer life with his teacher life and made the Master Class a huge success.

Thursday, May 9, 2013 – The Office
Did you see Clay on the popular TV show, The Office?  It was a Thursday night and although Clay did not have a large role, it was lots of fun.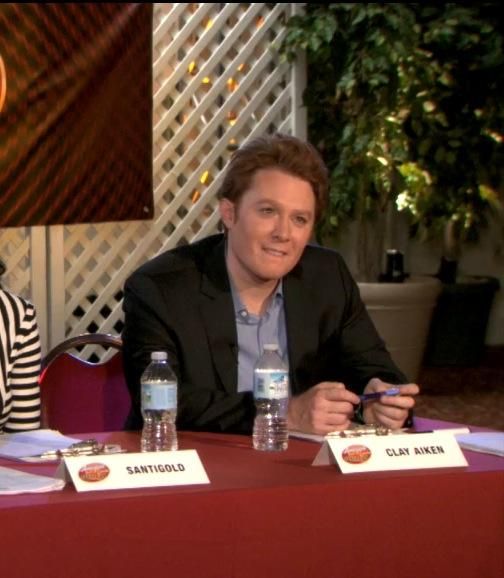 This special episode of The Office, featured three super random cameos. Clay Aiken  appeared alongside Green Bay Packers Quarterback Aaron Rodgers and singer Santigold as judges on a spoof talent show called America's Next A Capella Sensation.
Yahoo Music posted a bit about the show:
Clay Aiken & Santigold Judge Fictional-But-Awesome New Singing Show

By Lyndsey Parker

Did you think you'd ever see the day when "American Idol's" Clay Aiken, "The X Factor's" Rachel Crow, Green Bay Packers quarterback Aaron Rodgers, and electro-diva Santigold would all share the small screen? No? Well, think again. That day gloriously, bizarrely arrived this week, thanks to the producers of the penultimate episode of NBC's "The Office."…

…But with rumors  flying that the entire "American Idol" judging panel will be replaced next year, maybe Fox should just consider hiring Clay and Santigold, and maybe even this Aaron guy….
It is always fun to see Clay Aiken on television.  Maybe he will do some more TV appearances.

Did you see these performances last spring?
Which one was your favorite?
Clay Aiken News Network is an unofficial fansite. We are not affiliated in any way with Clay Aiken or his management. This website was made by fans for fans and makes no impression or impersonation of the official site, which can be found under the domain
clayaiken.com.